Mukumuqi residents block road against tourists
Residents of the Truku Aboriginal village of Mukumuqi, a popular tourist attraction in Hualien County because of its natural scenery, yesterday blocked the only road leading to the village in protest against crowds of tourists who the villagers said harm residents' quality of life and the environment.
Holding up banners reading: "There is only destruction, not ecology," "There is tourism, but no respect" and "We are not Jiuzhaigou [九寨溝] of Hualien" — referring to a comparison that some tour operators make between the Mukumuqi Gorges and a tourist destination also known for its natural scenery in China — residents stopped minibuses full of tourists at the entrance to the village yesterday.
Prior to blocking the road, the residents performed a ritual at a monument erected in remembrance of 39 villagers who were buried by mudslides triggered by Typhoon Ofelia in 1990 by firing gunshots into the air and sending up smoke signals, declaring to their ancestral spirits their determination to defend their traditional territory.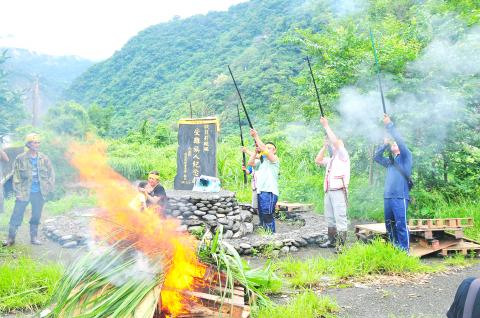 Residents of Mukumuqi Village in Hualien County's Sioulin Township send up smoke signals and fire hunting rifles yesterday next to a memorial for victims of Typhoon Ofelia in 1990.
Photo: Hua Meng-ching, Taipei Times
"It's not that we do not welcome visitors, but since our village has been opened to outside visitors in 2006, there have been on average more than 100 minibuses bringing in about 3,000 visitors per day on holidays," village council chairman Masaw said.
"The large number of vehicles has polluted the air, creates traffic jams on the roads and makes it difficult for us to go to work in the fields," he added.
Rakaw Didi, a spokesman for the village, which is administratively known as Tongmen Village (銅門), said that to maintain the village's ecology and quality of life, the village council passed resolutions at the end of last month to close off the village for a year and to ask future visitors to enter into the village on foot, not in cars.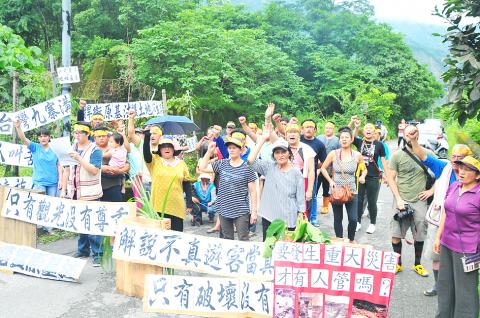 Truku villagers hold protest banners as they block the road leading to Mukumuqi Village in Hualien County's Sioulin Township yesterday.
Photo: Hua Meng-ching, Taipei Times
"Masses of tourists have caused too much damage to the environment in our village, so we would like to ask the police to stop issuing entry permits for a year, so that the ecosystem can recover," Rakaw said.
"After a year, we would also like to ask tourists to visit on foot, not in cars," Rakaw said.
Rakaw added that the resolutions have been forwarded to the township office.
In addition, Rakaw said that tourism has not only damaged the environment, but has also caused misunderstandings about the tribe's history and culture.
"Most of the tour guides are from outside [the village]. They do not understand our history and culture, and do not study our history and culture, so they often dish out misinformation to tourists," he said.
"Some tour agencies gave Mukumuqi the title 'Jiuzhaigou of Hualien,' but we do not want to be compared to the tourist destination in China. We are Mukumuqi," he said.
Some tourists decided to cancel their trips after running into the protest, while others agreed to get off their buses and go into the village on foot.
Responding to the call by the villagers, Jian Police Precinct deputy chief Wen Chun-ming (溫俊明) said police are not authorized to turn down legal applications for entry permits.
Yesterday's protest was the villagers' latest move to protect their traditional territory, following a successful action at the end of last year and early this year to stop the Forestry Bureau from unilaterally deciding to cut down trees in the village and shipping them out.
Comments will be moderated. Keep comments relevant to the article. Remarks containing abusive and obscene language, personal attacks of any kind or promotion will be removed and the user banned. Final decision will be at the discretion of the Taipei Times.