China 'destabilizing' force, US says at Asia security forum
The US and China squared off at an Asian security forum yesterday, with the US defense secretary accusing Beijing of destabilizing the region and a top Chinese general retorting that the comments were a "threat and intimidation."
Using unusually strong language, US Secretary of Defense Chuck Hagel took aim at Beijing's handling of territorial disputes with its Asian neighbors.
"In recent months, China has undertaken destabilizing, unilateral actions asserting its claims in the South China Sea," Hagel said.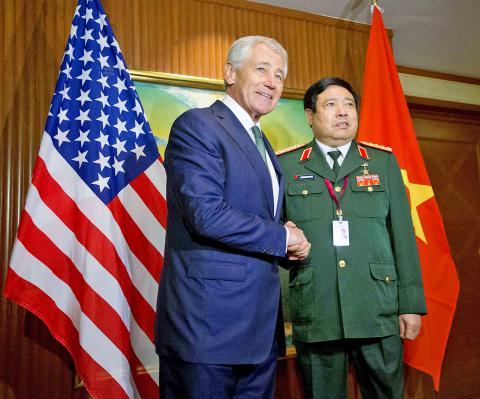 US Defense Secretary Chuck Hagel, left, shakes hands with Vietnam Defense Minister Phung Quang Thanh before the start of their meeting in Singapore yesterday.
Photo: AFP
He warned Beijing that the US was committed to its geopolitical rebalance to the Asia-Pacific region and "will not look the other way when fundamental principles of the international order are being challenged."
Hagel said the US took no position on the merits of rival territorial claims in the region, but added: "We firmly oppose any nation's use of intimidation, coercion or the threat of force to assert these claims."
His speech at Singapore's Shangri-La Dialogue, Asia's biggest security forum, provoked an angry reaction from the deputy chief of staff of the Chinese Army, Lieutenant-General Wang Guanzhong (王冠中).
"I felt that Secretary Hagel's speech is full of hegemonism, threat and intimidation," he told reporters just after the speech.
Wang said the speech was aimed at causing trouble in the Asia-Pacific.
Hagel's comments followed the keynote address by Japanese Prime Minister Shinzo Abe at the same forum on Friday evening, who pledged "utmost support" to Southeast Asian countries, several of which are locked in maritime disputes with China.
"I felt that they were just trying to echo each other," Wang said.
Hagel later held a bilateral meeting with Wang, where the Chinese military leader expressed his surprise at the US defense secretary's speech.
"You were very candid this morning, and to be frank, more than our expectations," he said. "Although I do think those criticisms are groundless, I do appreciate your candor, likewise we will also share our candor."
A senior US defense official said that, despite Wang's opening remarks, the tone of the meeting had been "businesslike and fairly amicable."
While Hagel went over ground he covered in his speech, Wang spent most of the meeting talking about US-China military-to-military contacts, including Chinese participation in forthcoming military exercises, the official said.
Wang, China's deputy chief of staff, also snubbed an offer for talks with Japan made by Japanese Minister of Defense Itsunori Onodera, the China News Service said.
"This will hinge on whether the Japanese side is willing to amend the erroneous policy towards China and improve relations between China and Japan," he said. "Japan should correct its mistakes as soon as possible to improve China-Japan ties."
"To ensure that the rebalance is fully implemented, both President Obama and I remain committed to ensuring that any reductions in US defense spending do not come at the expense of America's commitments in the Asia-Pacific," he said.
Comments will be moderated. Keep comments relevant to the article. Remarks containing abusive and obscene language, personal attacks of any kind or promotion will be removed and the user banned. Final decision will be at the discretion of the Taipei Times.