India's Modi gets a hero's welcome as new era begins
Hundreds of Indians thronged the leafy streets of New Delhi yesterday to greet Indian prime minister-elect Narendra Modi's triumphant march into the capital after he decimated the Nehru-Gandhi dynasty and the ruling Indian National Congress party in the biggest election victory the country has seen in 30 years.
Modi leaned far out of his car, waving a victory sign to jubilant supporters, in a drive from the airport to the headquarters of his Bharatiya Janata Party (BJP) in the center of town.
A Hindu nationalist who critics fear will be divisive and autocratic, Modi toned down religious issues in his pitch to India's 815 million voters and won the world's biggest-ever election with promises of economic development for all.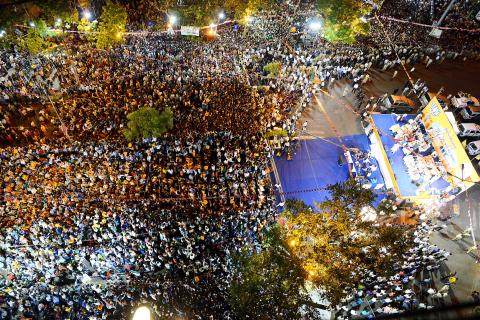 Bharatiya Janata Party supporters attend a rally by Indian prime minister-elect Narendra Modi in Ahmedabad, India, on Friday.
Photo: AFP
The three-time chief minister of the western state of Gujarat is an outsider to Delhi's power circle. The low-caste son of a tea stall owner, his rise to power signals the end of an era dominated by the descendants of India's first prime minister, independence hero Jawaharlal Nehru.
"Four to five generations have been wasted since 1952; this victory has been achieved after that," Modi said, in a jibe at the Nehru-Gandhi family and the Congress it dominates.
Describing himself as a "worker," he hailed grassroots campaigners who showered him with pink rose petals as he arrived at party headquarters. There, he met other party leaders and was expected to start discussions about forming a Cabinet.
Modi will not formally take office until after Tuesday, the party said.
Modi has given India its first parliamentary majority after 25 years of coalition governments, with his party winning more than six times the seats garnered by Congress.
With almost all 543 seats declared by yesterday morning, Modi's BJP looked set to win 282 seats, 10 more than the majority required to rule. With its allied parties, it was heading for a comfortable tally of about 337 — the clearest result since the 1984 assassination of then-Indian prime minister Indira Gandhi propelled her son Rajiv to office.
During the campaign, Modi was explicit about wanting to end the dominance of the Nehru-Gandhi family. He may have achieved the goal, with Congress reduced to just 44 seats, less than half of its previous worst showing.
Comments will be moderated. Keep comments relevant to the article. Remarks containing abusive and obscene language, personal attacks of any kind or promotion will be removed and the user banned. Final decision will be at the discretion of the Taipei Times.