Family says delayed rescue caused woman's death
A female driver who was found unconscious after her car became stuck in an underpass in Greater Taichung on Thursday evening due to flash floods died yesterday morning, prompting accusations from her family that her death was caused by a delayed rescue by the fire department.
Chen Jui-ching's (陳瑞琴) two children who were with her at the time survived.
Chen's husband and family members accused the Greater Taichung Government of failing to close the underpass in the first instance when the area was hit by a rainstorm on Thursday.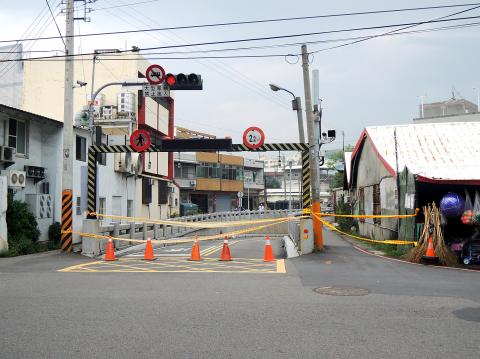 The Dajia underpass in Greater Taichung, where a woman's car was stuck due to a flash flood on Thursday night, is pictured yesterday.
Photo: Chang Hsuan-che, Taipei Times
Local media reports said the underpass floods whenever there is heavy rain, and the city government has ignored repeated appeals by local residents for the underpass to be replaced with a bridge.
Democratic Progressive Party Taichung Councilor Hsu Shui-pin (許水彬) said at a council meeting yesterday that city government officials had neglected their duty and should be held responsible for the incident.
According to a report by the city's fire department, Chen drove her car into the underpass on Mingsheng Road in Dajia District (大甲).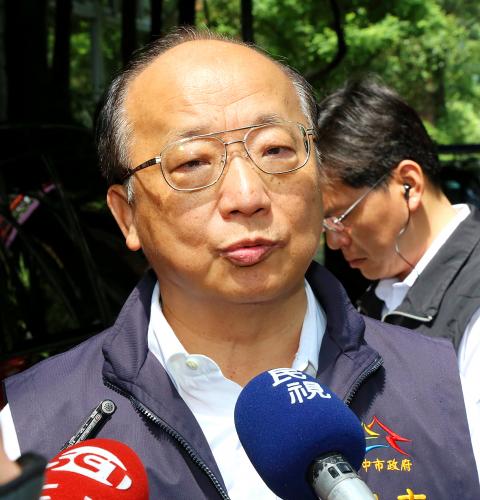 Greater Taichung Mayor Jason Hu expresses his condolences yesterday over the death of a woman whose car got trapped in a flooded underpass in Greater Taichung on Thursday evening.
Photo: Chang Jui-chen, Taipei Times
The department received Chen's call at 7:48pm, with the 35-year-old mother saying her car was stuck in the flood and she and her children could not get out.
When rescue personnel from the fire department arrived, they broke through the glass and saved Chen's 10-year-old daughter and eight-year-old son in the backseats. Chen, who was in the driver's seat with her seatbelt on, was found unconscious.
She was rushed to a hospital, but died yesterday morning.
The fire department said it had put a yellow strip outside the underpass to warn drivers, and an LED sign on top of the entrance reads: "Flooding inside. Do not enter."
The heavy rain might have prevented Chen from seeing the warning sign, it added.
"The instant rainfall was heavy and the underpass was flooded in minutes. Although the fire department did its best effort to rescue them, they were only able to save the children. I am really sorry," Greater Taichung Mayor Jason Hu (胡志強) said yesterday.
Hu said the city government would consider setting up barriers outside the underpass to prevent drivers from entering during heavy rains.
Comments will be moderated. Keep comments relevant to the article. Remarks containing abusive and obscene language, personal attacks of any kind or promotion will be removed and the user banned. Final decision will be at the discretion of the Taipei Times.