CEC's Chang Po-ya nominated to head the Control Yuan
President Ma Ying-jeou (馬英九) has nominated Central Election Commission (CEC) Chairperson Chang Po-ya (張博雅) to be president of the Control Yuan, looking to make her the first female head of one of the five branches of the government, local media reported last night.
Ma also nominated former Council of Indigenous Peoples minister Sun Ta-chuan (孫大川) as vice president of the Control Yuan, the government watchdog, local media reports said.
Chang is a veteran politician, having served as interior minister, Chiayi mayor, a legislator and minister of the now-defunct department of health.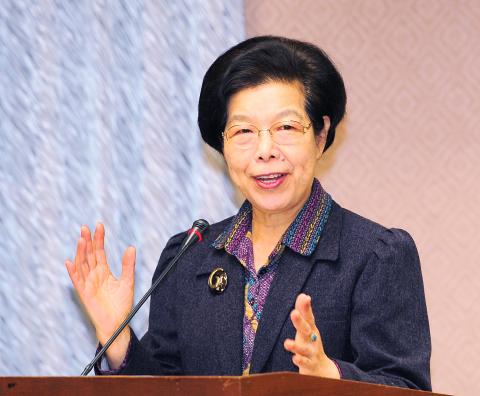 President Ma Ying-jeou's nominee for the Control Yuan president Chang Po-ya gestures at the Legislative Yuan in Taipei on April 24.
Photo: Lo Pei-der, Taipei Times
The 71-year-old was designated CEC chairperson in 2010 and her term is due to expire on Nov. 3 this year.
If approved, Chang's nomination would dash the renomination hopes of Control Yuan President Wang Chien-shien (王建煊), who has made several controversial remarks during his six-year tenure, such as describing college students who take on part-time work as "very stupid."
Meanwhile, local media also reported that Wu Jin-lin (伍錦霖) has been promoted from vice president to Examination Yuan president, while Examination Yuan member Kao Yuang-kuang (高永光) has been appointed to succeed him.
A former secretary-general at the Presidential Office and a former deputy secretary-general of the Chinese Nationalist Party (KMT), of which Ma is chairman, Wu has played an important role in Ma's political career.
Wu was put in charge of formulating strategies for Ma's first presidential campaign in central and southern Taiwan in 2008. He also campaigned for the president when Ma sought re-election in 2012.
Wu served as Examination Yuan interim president between September and November 2008.
Under the Constitution, the president is entitled to nominate the president and vice president of the Control Yuan and the Examination Yuan.
The nominations have to be approved by the Legislative Yuan.
Comments will be moderated. Keep comments relevant to the article. Remarks containing abusive and obscene language, personal attacks of any kind or promotion will be removed and the user banned. Final decision will be at the discretion of the Taipei Times.