Lin I-hsiung hospitalized on seventh day of strike
'LIVE ON': Lin was taken to hospital after visiting his family's cemetery. It was not clear whether he would continue after vows to suspend the plant's construction
Former Democratic Progressive Party (DPP) chairman Lin I-hsiung (林義雄) yesterday was hospitalized on the seventh day of his hunger strike against the Fourth Nuclear Power Plant and whether he could continue his protest remained unknown.
Lin was taken to National Taiwan University (NTU) Hospital emergency center at about 3:40pm for an examination after briefly leaving the site of his hunger strike in Taipei and paying tribute to his deceased family members in a cemetery in his hometown in Yilan County earlier in the day.
Lin spokesperson Chen Shang-chih (陳尚志) initially told reporters that the examination "does not mean the hunger strike is over," but revised his comment afterward, saying that "the more precise answer would be I don't know."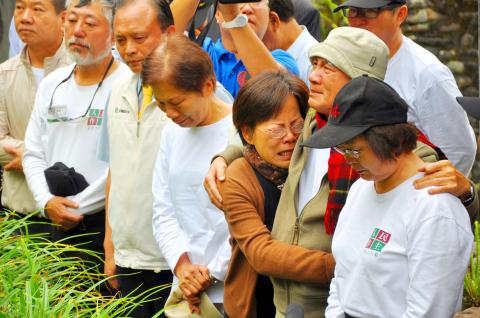 Former Democratic Progressive Party chairman Lin I-hsiung, second from right, embraces his sister and wife while standing at the tomb of his mother and twin daughters in Yilan County yesterday.
Photo: CNA
The 73-year-old remained in the hospital as of press time. The hospital did not comment on Lin's condition, citing privacy.
Volunteers began to remove the temporary furniture in the church set up for Lin's hunger strike at about 5pm.
A volunteer said that the furniture would be shipped back to Yilan, but did not elaborate.
Lee Min-yung (李敏勇), a poet and a friend of Lin, was quoted by Newtalk, an online news Web site, as saying that Lin would be leaving Taipei for Yilan.
While the Chinese Nationalist Party (KMT) on Sunday, and Premier Jiang Yi-huah (江宜樺) yesterday, agreed not to continue the construction of the plant's No. 1 reactor and to suspend the construction of the No. 2 reactor, Lin has yet to respond to the pledge.
Lin left Gikong Presbyterian Church (義光長老教會) at about 9am yesterday for Yilan and returned to the church at 2:20pm to continue his protest.
The church was converted from the Lin family's former residence, where Lin's mother and twin daughters were murdered on Feb. 28, 1980, while his eldest daughter survived despite multiple stab wounds.
Appearing physically weak due to the hunger strike, Lin had to be assisted by his wife, Fan Su-min (方素敏), and younger sister, Lin Li-chen (林麗貞), on the 300m walk from the gate of the cemetery to the tomb of his mother and twin daughters.
Teary-eyed and silent, Lin I-hsiung bowed to the tomb and appeared to be trying very hard to contain his emotions. He walked around the tomb and bowed again three times before leaving.
Lin I-hsiung's letter to his surviving daughter, Judy Linton, was published on Lin I-hsiung's Web site, in which the antinuclear advocate said that he was energized by the trip back home and he had always tried to double his efforts to pursue his ideals to honor the passing of his mother and twin daughters.
He asked for the family's forgiveness for his action, saying that he believed he was doing the right thing and "God had it all planned out," which was why he staged the hunger strike without thinking about the consequences.
As Lin I-hsiung appeared to be bidding farewell to his family and friends with the visit, former premier Chang Chun-hsiung (張俊雄) of the DPP urged him to "live on and keep fighting for Taiwan's future."
Meanwhile, in other developments, the DPP legislative caucus told a press conference yesterday afternoon that it would demand that Premier Jiang Yi-huah (江宜樺) to report to the Legislative Yuan in accordance with Constitutional Interpretation No. 520.
Jiang should pledge that no additional budget would be allocated to the Fourth Nuclear Power Plant in the future and that the already allocated budget would not be spent so that people would be convinced that the government "was not playing tricks with its promise to discontinue the nuclear power plant," DPP caucus whip Ker Chien-ming (柯建銘) said.
The DPP's preferred option remained terminating the construction, Ker said, adding that its second option is a special statute on a national referendum on the plant.
Comments will be moderated. Keep comments relevant to the article. Remarks containing abusive and obscene language, personal attacks of any kind or promotion will be removed and the user banned. Final decision will be at the discretion of the Taipei Times.