Lee urges Ma, Wang to initiate dialogue with protest leaders
Former president Lee Teng-hui (李登輝) yesterday called on President Ma Ying-jeou (馬英九) and Legislative Speaker Wang Jin-pyng (王金平) to take positive steps to ease tensions triggered by the ongoing student-led protest at the Legislative Yuan, including convening a citizens' constitutional conference.
Wang, as speaker, should visit the students in the legislative chamber and initiate unofficial dialogues by offering his personal views and by listening to what the students have to say, Lee said at the Taipei High-Speed Rail Station in response to reporters' questions.
Ma should do the same, the 91-year-old Lee said.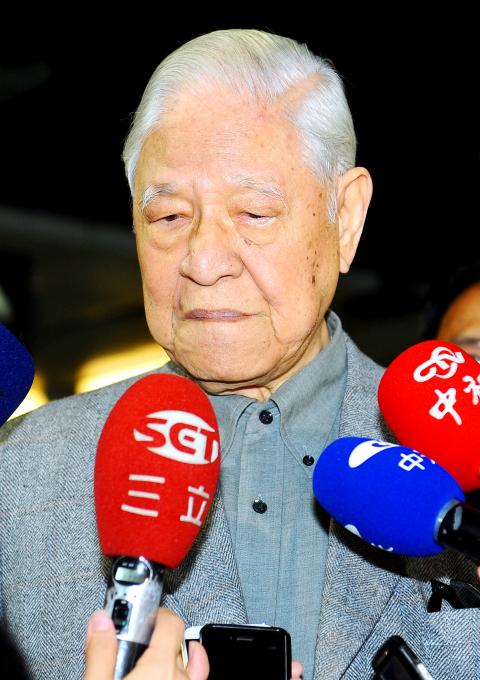 Former president Lee Teng-hui talks to reporters at the Taipei High-Speed Rail Station in Taipei yesterday.
Photo: Chang Chia-ming, Taipei Times
Leaders should always have compassion and the patience to explain to the public whatever they do not understand, he said.
Student protesters should not be seen as rioters and those people who want their voices to be heard should not be labeled as "bad citizens," Lee said as his eyes began to fill with tears.
Lee also questioned the government's decision to use riot police to evict the students who had tried to occupy the Executive Yuan, saying the students were "very sympathetic."
At one point, Lee became emotional and had to pause for a few moments before he could talk again.
Citing his experience in handling the "Wild Lily" student movement in 1990, in which student protesters demanded legislative reforms, Lee said he met with the protest leaders, telling them what he could do and could not do, and later organized a national affairs conference to develop a reform agenda.
The former president encouraged Ma and Wang to take the same active approach to resolve the long-running controversy over the cross-strait service trade agreement, which was signed in June last year.
Comments will be moderated. Keep comments relevant to the article. Remarks containing abusive and obscene language, personal attacks of any kind or promotion will be removed and the user banned. Final decision will be at the discretion of the Taipei Times.