Taiwanese abroad show support
SUNFLOWER SOLIDARITY: The cross-strait pact has generated strong feelings and demonstrations by Taiwanese living abroad as well as other people
Taiwanese students and expatriates gathered in central London on Sunday afternoon to show their support for the occupation of the Legislative Yuan and democracy back home.
More than 200 people marched from London's Piccadilly Circus to the Houses of Parliament, passing the British prime minister's official residence at 10 Downing Street on the way. Many carried Republic of China (ROC) flags, while others displayed sunflowers or placards criticizing the cross-strait service trade pact.
Meanwhile, in the US, about 100 Taiwanese-Americans gathered on the National Mall in Washington over the weekend, waving placards and chanting in support of the student action in Taipei.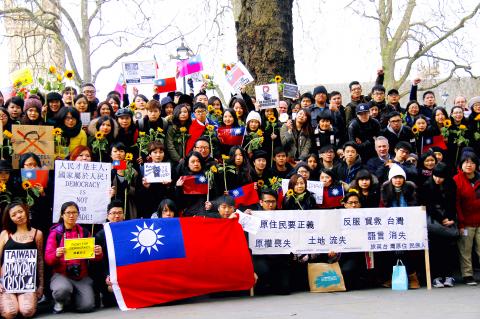 Taiwanese students and others on Sunday gather in Parliament Square in London, England, to show their support for the protest movement in Taiwan against the cross-strait service trade agreement.
Photo: Courtesy of Chen Szu-wei
In front of London's iconic Big Ben and the Houses of Parliament at Parliament Square, speakers voiced their support for the "Sunflower Revolution" and the crowd sang Do You Hear the People Sing? from the musical Les Miserables, an unofficial anthem of various recent protests in Taiwan.
Events at the Legislative Yuan galvanized Chen Szu-wei (陳思維) to use social media to organize Sunday's march in London.
"Due to the Taiwanese government's stubborn attitude on the cross-strait agreement with China, which is a far-reaching agreement that has not been carefully reviewed and has not been subject to transparent review, we decided to rally together and stand up to fight against the decision of the Taiwanese government and protect the democracy of our country," he said.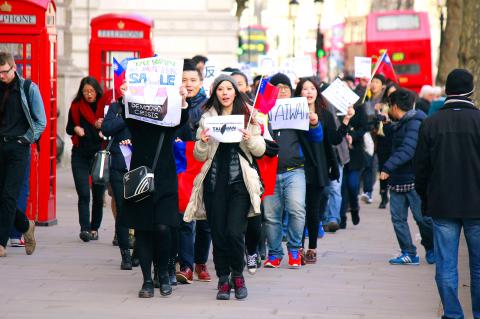 Taiwanese students and other expatriates on Sunday walk along Whitehall on their way to Parliament Square in London, England, to show their support for the protest movement in Taiwan against the cross-strait service trade pact.
Photo: Courtesy of Chen Szu-wei
Chen, 30, works in London and was keen to show solidarity with protesters.
"We can't fly back to support them, but we can show our determination to preserve democracy," the Greater Taichung native said.
Ukrainian tourist Viktor Kripak saw the protest and felt obliged to address the crowd in light of recent events in his homeland.
"I think it's very important to show people in London that in Taiwan there is such a situation," Kripak said.
A 27-year-old from Hong Kong — who gave only the name Chas — was also sympathetic.
"Recently the government in China has been curtailing freedom of speech [in Hong Kong], so that's why I can understand how bad [the Taiwanese protesters] feel. I guess it's good to come out and give support to them," Chas said.
A Chinese student also declared his encouragement, expressing his wish that one day young people in China would have their voices heard.
Anna Peng from Taipei, who is studying for a master's degree in psychology in London, also addressed the crowd.
"I felt the need to come out to kind of stand up for my country and express my opinions to the [ROC] government that we are not comfortable with the way the government is dealing with China at the moment," she said.
Long-time London resident Liu Yu-chuan (劉鈺娟) said that Taiwanese of all political persuasions should be concerned about the way the service trade agreement has been handled.
"It's a simple request for transparency," she said. "The service agreement impacts on immigration and Taiwan's tax, health and benefit systems, and hence deserves a public hearing and thorough scrutiny."
Londoner George Mills, who is married to a Taiwanese, was worried about the potential effects of the cross-strait pact and wanted to attend Sunday's event to give his backing to the struggle for freedom.
"A lot of people in Taiwan know what it's like to live in a dictatorship, and it's a young democracy that they have, and I'm here to support that," Mills said.
Additional reporting by William Lowther
Comments will be moderated. Keep comments relevant to the article. Remarks containing abusive and obscene language, personal attacks of any kind or promotion will be removed and the user banned. Final decision will be at the discretion of the Taipei Times.