Tsai Ing-wen announces bid for DPP chair
Former Democratic Progressive Party (DPP) chairperson Tsai Ing-wen (蔡英文) yesterday announced a bid to run for the post again, saying that the party and the public need to "take a step forward" or be "eliminated" by the world.
"Many people told me that I do not have to, at this time, run in the party chairmanship election and that instead I need to be protected to run in the 2016 presidential election. For all this advice, I can only say: 'Thank you,'" Tsai told a press conference.
"I am a politician, a mature politician, [I] do not need to be protected. The country has many people needing more protection than I. In view of the plight of the people, we have no choice but to come forward and shoulder the load," she added.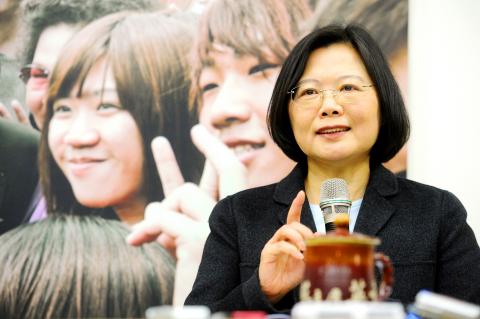 Former Democratic Progressive Party (DPP) chairperson Tsai Ing-wen announces her bid for the DPP chairmanship at a press conference in Taipei yesterday.
Photo: George Tsorng, Taipei Times
By running for the top DPP post, Tsai said she hopes to strengthen public trust in the party and rebuild confidence in public institutions.
Electoral victories, while important, must not be built "on the back of disappointments with the current administration, but on the hopes and expectations that the public has of the DPP," she said at a press conference to declare her candidacy.
The DPP therefore has to boldly embark on a transformation, said Tsai, who was party boss from 2008 to 2012.
Tsai, in her statement titled "Rebuilding trust; Revitalize Taiwan," said that the party must be more future-oriented, more inclusive and more proactive.
She added that the DPP would also work to rebuild confidence in the party and formulate a new social contract between itself and the public.
Most people feel that Taiwan is in "a quagmire" and the country is "crumbling," she said.
What is even more worrying, she said, is the discovery that public trust in the political process and political parties has been steadily declining.
Although it is a good thing to see the rise of social movements as a reflection of the people's anxiety and demand for change, it represents a robust challenge to the DPP as the nation's major opposition party, she said.
Both the times and the environment have changed, she said.
"If we insist on living in the past, we will be eliminated by the world at large," Tsai said.
By making the announcement, Tsai, 57, pitted herself against incumbent DPP Chairman Su Tseng-chang (蘇貞昌), 66. Both are said to be interested in running for president in 2016.
In response to media calling her bid an advance showdown between her and Su, or "two suns within the party," before their potential 2016 presidential pursuits, Tsai said the description is too "dramatic."
There is always competition to a certain extent within a party, she said, and a party without competition is a party lacking vigor.
Separately yesterday, when asked for comments, Su said that running for party chairmanship election is a party member's right.
"Taking good care of the party and completing the party's missions are my responsibility as the chairman now. I work very hard to bear a heavy burden and hope everyone will help me," Su added.
Former party chairman Frank Hsieh (謝長廷) said he supports Tsai's bid, but added that it is inappropriate for one to double as party chairman and a presidential candidate, and that he would advise Tsai to think twice if she is aiming for both positions.
The party election is to be held on May 25.
Su has indicated that he plans to run for re-election. Hsieh has also announced his bid for the post.
Comments will be moderated. Keep comments relevant to the article. Remarks containing abusive and obscene language, personal attacks of any kind or promotion will be removed and the user banned. Final decision will be at the discretion of the Taipei Times.