Mexico confirms killing of 'dead' drug capo
A Mexican drug lord mistakenly reported dead more than three years ago was killed on Sunday in a clash with armed forces in western Mexico, officials said.
The killing of Nazario Moreno, nicknamed "El Mas Loco" or "the Craziest One," is another coup in Mexico City's battle against organized crime, following the arrest last month of the world's most wanted and single most powerful drug lord, Joaquin Guzman.
Soldiers discovered Moreno early on Sunday near a town in western Michoacan State and tried to arrest him, said Monte Alejandro Rubido, the executive secretary of Mexico's National Public Security System.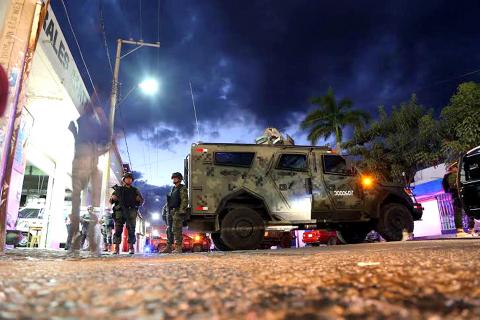 Troops guard the morgue where the corpse of Nazario Moreno was being kept in Apatzingan, Mexico on Sunday.
Photo: AFP
"But he attacked the federal forces, who were forced to repel the aggression, thus killing the presumed criminal," Rubido said at a press conference, giving no further details of the incident.
Authorities spent most of the day seeking to confirm that the dead man was indeed Moreno, the founder of the La Familia drug gang and a leader in its spinoff group, the Knights Templar.
The criminal's identity was confirmed by comparing his fingerprints with those they had on file, the authorities said. To be extra sure, they are also carrying out genetic testing on the body.
La Familia burst onto the scene in 2006 when gang members rolled five severed heads onto a nightclub dance floor.
The previous administration under former Mexican president Felipe Calderon announced in December 2010 that Moreno was killed in a gunbattle, but his body was never located and reported sightings fueled speculation he was alive.
La Familia crumbled after Moreno's disappearance, leading to the creation of the Knights Templar.
The government deployed more than 9,000 troops and federal police in Michoacan's Tierra Caliente ("hot land") region in January after new gunfights erupted between the cartel and vigilantes.
Comments will be moderated. Keep comments relevant to the article. Remarks containing abusive and obscene language, personal attacks of any kind or promotion will be removed and the user banned. Final decision will be at the discretion of the Taipei Times.