Pro-Russia forces mount pressure on Ukrainians
Moscow mounted pressure on Ukraine yesterday, with Russia's foreign minister denouncing the new Ukrainian authorities as puppets of armed radicals and pro-Russia forces in Crimea trying to flush Ukrainian soldiers out of the few military bases still under their control.
The regional parliament in Crimea has set a referendum on leaving Ukraine to join Russia for Sunday next week, and senior lawmakers in Moscow said they would support the move, ignoring sanctions threats and warnings from US President Barack Obama that the vote would violate international law.
The strategic peninsula in southern Ukraine has become the flashpoint in the battle for Ukraine, where three months of protests sent Ukrainian President Viktor Yanukovych fleeing to Russia.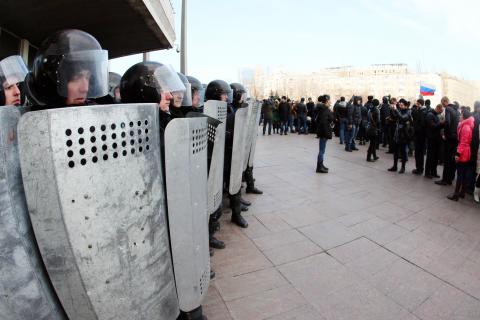 Ukrainian riot policemen stand guard outside the regional state administration building during a rally by pro-Russian protesters in the eastern Ukrainian city of Donetsk yesterday.
Photo: AFP
A majority of people in Crimea identify with Russia, and Moscow has a major naval base on the Black Sea.
While the US and the EU urged Russia to engage in dialogue with new Ukrainian authorities who came to power on the wave of protests that sent Yanukovych fleeing to Russia, the Kremlin has refused to do so, denouncing the change of power in Ukraine as an "unconstitutional coup."
Russian Minister of Foreign Affairs Sergey Lavrov yesterday said that Moscow sees no sense in having a dialogue with Ukraine's new authorities because, in his view, they kowtow to radical nationalists.
"The so-called interim government isn't independent, it depends, to our great regret, on radical nationalists who have seized power with arms," he said at a news conference.
He said that nationalist groups use "intimidation and terror" to control Ukraine.
Meanwhile in Crimea, pro-Russia soldiers late on Friday tried to take over a Ukrainian base in a tense standoff that lasted for several hours.
Lieutenant Colonel Vitaly Onishchenko, deputy commander of the base, said three dozen men wearing unmarked camouflage uniforms arrived late on Friday. While one group climbed over a wall on one side of the base, another crashed a heavy military truck through the gates, Onishchenko said.
He yesterday said that they turned off power, cut telephone lines and demanded that about 100 Ukrainian troops, who barricaded themselves into one of the base's buildings, surrender their weapons and swear allegiance to Russia. The invaders left at about midnight.
No shots were fired in and no injuries were reported, but the incident reflected tensions running high on the Black Sea peninsula. In the week since Russia seized control of Crimea, Russian troops have been neutralizing and disarming Ukrainian military bases there.
However, some Ukrainians have refused to give up. Crimea's new leader has said pro-Russian forces numbering more than 11,000 now control all access to the region and have blockaded all military bases that have not yet surrendered.
Russia has denied that its forces are active in Crimea, describing the troops who wear green uniforms without insignia as local "self-defense forces."
However, many of the troops, who are armed with advanced heavy weaponry, are being transported by vehicles with Russian license plates.
Comments will be moderated. Keep comments relevant to the article. Remarks containing abusive and obscene language, personal attacks of any kind or promotion will be removed and the user banned. Final decision will be at the discretion of the Taipei Times.