More than 130,000 protest over nuclear power plants
'NOWHERE TO RUN': Organizers said 80,000 attended the protest in Taipei, in which activists stopped traffic by lying on the road, and 50,000 others marched across the nation
Tens of thousands of people braved the rain yesterday afternoon to take part in nationwide demonstrations calling for an end to nuclear power plants in Taiwan.
The protests, staged three days ahead of the third anniversary of the Fukushima Dai-ichi nuclear disaster in Japan, took place simultaneously in Taipei, Greater Taichung, Greater Kaohsiung and Taitung.
The National Nuclear Abolition Action Platform — the event's organizer, an alliance of more than 100 civic groups — demanded that the government immediately halt construction of the Fourth Nuclear Power Plant in New Taipei City's Gongliao District (貢寮) and remove nuclear waste from Orchid Island (Lanyu, 蘭嶼).
Taiwanese people take part in a protest march during an anti-nuclear demonstration in Taipei yesterday.
Photo: EPA
The group asked lawmakers to cut the budget allocated for the new plant, pass a resolution calling for an end to nuclear power and amend the Referendum Act (公民投票法) to lower the referendum threshold.
In Taipei, a woman using a wheelchair held a handmade sign that read: "In a nuclear disaster, people in wheelchairs cannot escape," while gender and gay rights advocacy groups held rainbow-colored signs that read: "We want orgasms, not nuclear waste" and "We may not have the same sexual preference, but we have the same anti-nuclear opinion."
Dozens of young people danced to loud electronic dance music as they paraded while shouting: "My electro music does not want to use electricity generated by nuclear energy; my party does not fear oppressive authority."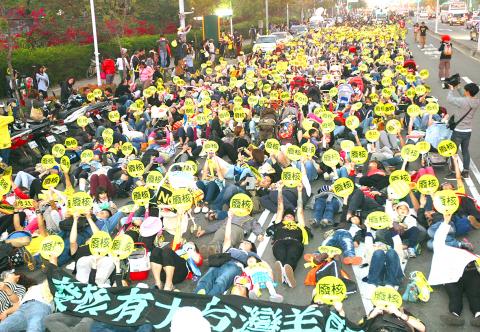 Anti-nuclear protesters play dead while simulating a nuclear disaster on Boai Street in Greater Kaohsiung yesterday.
Photo: Huang Chih-yuan, Taipei Times
"How can I not stand up today," said a 76-year-old fisherman surnamed Lu (盧) from New Taipei City's Jinshan (金山), adding that he has lived in Jinshan all his life, with his home only about 5km from the plant, between two operating nuclear power plants.
"I didn't know there were so many spent fuel rods in the plants until we had the chance to visit one of them, and I became worried, because the spent fuel pools are almost full. Will they take the fuel rods out of the water?" Lu said. "We have nowhere to run to if a disaster occurs and Taipei will be in danger."
A highlight of the parade yesterday took place at the intersection of Zhongxiao W Road and Zhongshan S Road, where a group of residents living near nuclear facilities, young people, artists and civic groups stopped traffic by lying or sitting down on the road, as a fake nuclear accident siren sounded.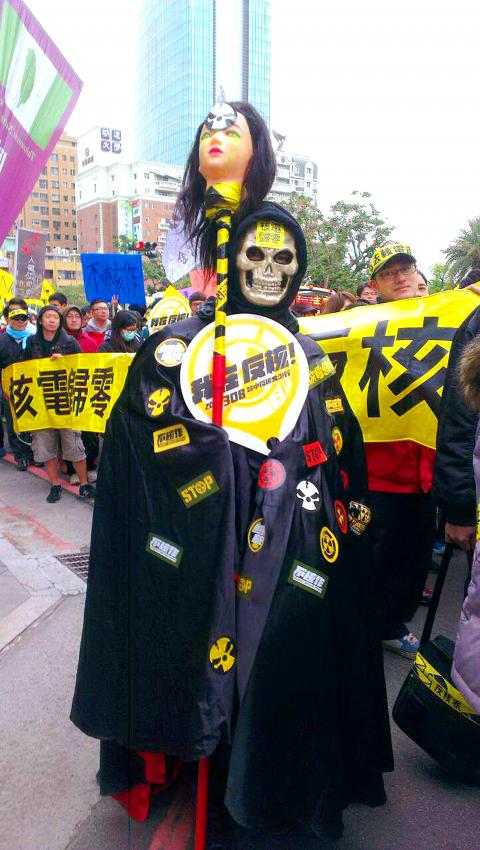 An activist dressed up as Death participates in an anti-nuclear demonstration in Greater Taichung yesterday.
Photo: Hsu Kuo-chen, Taipei Times
The action prompted police intervention.
Green Citizens' Action Alliance secretary-general Tsuei Su-hsin (崔愫欣) said that since the Fukushima Dai-ichi accident, annual anti-nuclear parades in Taiwan held in 2011, 2012 and last year all showed that most of the public are against nuclear power.
"The government is still stubbornly ignoring public opinion. When it wanted to push nuclear power, it said the policy was already decided and it was only acting according to the law, so people living near the facilities had no right to refuse. Now the government is using our tax money to threaten and lie to us, when it should communicate with the public and let us decide," she said.
Tsuei said this year will be the beginning of a "citizens won't cooperate" movement, which would make an oppressive government understand that "Taiwan doesn't want nuclear power, the people can decide their own future."
According to the event's organizers, the Taipei protest drew more than 80,000 people, while other rallies held simultaneously across the country had a combined turnout of more than 50,000.
The nation has three active nuclear power plants that generate about 20 percent of its electricity.
The state-run Taiwan Power Co (Taipower, 台電) yesterday said that the Fourth Nuclear Power Plant will meet the highest safety standards before beginning operations.
Taipower vice president Chen Pu-tsan (陳布燦) said a safety review of the plant's 126 systems is expected to be completed by the end of June, after which a report will be submitted to the Atomic Energy Council for review.
Chen stressed that passing safety inspections is just one of 75 requirements that the power plant needs to meet before fuel rods can be installed in its No. 1 reactor.
Additional reporting by AFP and CNA
Comments will be moderated. Keep comments relevant to the article. Remarks containing abusive and obscene language, personal attacks of any kind or promotion will be removed and the user banned. Final decision will be at the discretion of the Taipei Times.