Legislature's extra session concludes, food sanitation act passes third reading
The Legislative Yuan's two-day extra session concluded yesterday with a controversial amendment to the Act Governing Food Sanitation (食品衛生管理法) passing its third reading and the legislature approving the Executive Yuan's veto of the amendment of the Land Administration Agents Act (行政士法).
After lengthy negotiations, parties reached a consensus on legislation that would place stricter regulations on compound additives and labeling, and tracing of genetically modified (GM) foods.
In an effort to prevent food scandals, food manufacturers can only use compound additives made from the 799 additives currently approved by the Ministry of Health and Welfare's Food and Drug Administration (FDA) and they are required to register previously unlisted additives with the agency so that the ingredients can be monitored and supervised.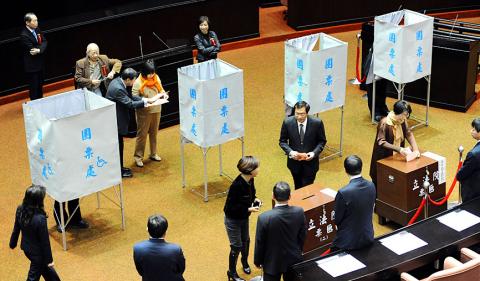 Lawmakers attending an extra legislative session in Taipei yesterday vote on the Cabinet's request to rescind an amendment to the Land Administration Agent Act.
Photo: Chang Chia-ming, Taipei Times
Compound additives are not required to be registered if it could be interpreted by foreign companies and countries as a trade barrier in violation of WTO regulations.
Regulations on GM food labeling, tracing and risk assessment are to be tightened after the passage of the amendment, but a two-year cushion period would help manufacturers deal with the transition.
FDA Director Yeh Ming-kung (葉明功) said the final amendment was a win-win situation which enhanced food safety and trade practices at the same time.
However, Democratic Progressive Party (DPP) Legislator Tien Chiu-chin (田秋堇) described the amendment as a "reluctant concession."
The act will be renamed the Act Governing Food Safety and Sanitation (食品安全衛生管理法).
Lawmakers also approved the Executive Yuan's veto of an amendment to the Land Administration Agents Act, the primary reason for convening the extra session.
The result meant that any land administration agent who fails to submit correct information on a property transaction within 30 days of the deal could be punished.
The previous amendment stipulated that land agents should be given a "correction period" of between seven and 15 days, the same span that property sellers and buyers are given, after the 30-day "submission period" before a fine.
The Executive Yuan said it vetoed the amendment because it could create loophole that might undermine the actual-price registration system for property transactions launched on Aug. 1, 2012, to curb property speculation and increase transparency in the housing market.
Comments will be moderated. Keep comments relevant to the article. Remarks containing abusive and obscene language, personal attacks of any kind or promotion will be removed and the user banned. Final decision will be at the discretion of the Taipei Times.