Independence pioneer Chai dies at 78
'LOSS FOR THE COUNTRY': Politicians in Taiwan and the US paid tribute to the staunch independence activist, lauding the efforts he made to foster democracy in Taiwan
Former Democratic Progressive Party (DPP) legislator Chai Trong-rong (蔡同榮), a strong advocate of Taiwan's democracy and independence, died of multiple organ failure at National Taiwan University Hospital early yesterday morning. He was 78 years old.
The veteran politician was rushed to the National Taiwan University Hospital on Dec. 18 after he was found unconscious at his residence in New Taipei City's (新北市) Banciao District (板橋). He was diagnosed to have suffered a brainstem hemorrhage and lapsed into a severe coma.
Chai never regained consciousness after emergency surgery and was declared dead yesterday.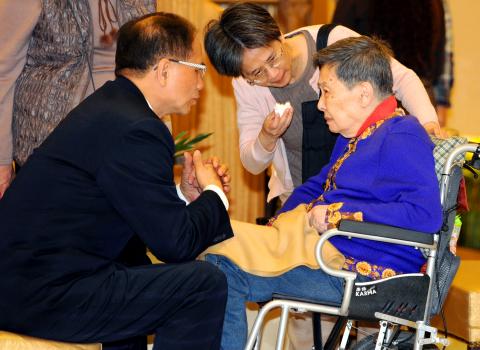 Former premier Yu Shyi-kun, left, talks to Chai Trong-rong's widow at the mourning hall for Chai in Taipei yesterday.
Photo: Liao Chen-huei, Taipei Times
Correcting its earlier report that Chai died after his two daughters agreed to have his life support removed, Formosa Television (FTV), which Chai cofounded, said there was no such consent.
"The life support was not removed. It was a natural death," FTV vice president Wang Ming-yu (王明玉) said.
No date has been set for a memorial ceremony, she added.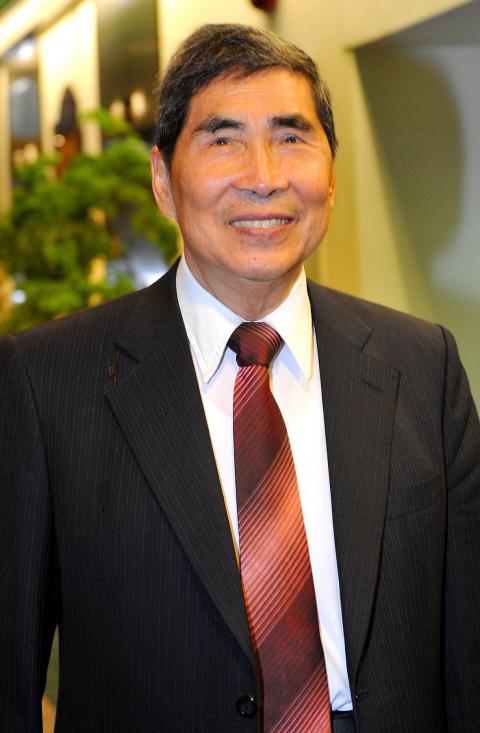 Late former Democratic Progressive Party legislator Chai Trong-rong is pictured on July 15, 2012.
Photo: Chien Jung-fong, Taipei Times
Known as an earnest pro-independence activist, Chai served six terms in the legislature from 1993 to 2012. He was a member of the DPP's Central Executive Committee.
In a Facebook post yesterday, DPP Chairman Su Tseng-chang (蘇貞昌) said: "From [his time] abroad to [his return to] Taiwan, party member Chai had dedicated his life to further democracy. Today we have lost a comrade that had long fought by our side."
Su said Chai had the respect of party members due to his efforts to uphold the nation's democracy, adding that the party would take up where Chai left off.
The party would also help Chai's family in whatever way it can, Su added.
"It's a loss for the country, because Chai had many political ideas and goals that he wanted to pursue," Legislative Speaker Wang Jin-pyng (王金平) said yesterday.
Wang Jin-pyng said Chai helped push for legislation on the Referendum Act (公民投票法), which played an important role in Taiwan's political development.
Also, Chai contributed a lot to Taiwan's democratic movement and the development of Taiwan-US relations, and to the DPP as well, he said.
Numerous members from the pan-green camp, including Su, former DPP chairperson Tsai Ing-wen (蔡英文), former premier Frank Hsieh (謝長廷) and DPP caucus whip Ker Chien-ming (柯建銘) yesterday paid their final respects to Chai at a memorial service hall set up near the Taipei City First Funeral Parlor.
Meanwhile, in Washington, Formosan Association for Public Affairs (FAPA) president Mark Kao (高龍榮) said Chai won Taiwan's respect with his pioneering initiatives and the respect of the US Congress with his determination and conviction to "make Taiwan a better place."
FAPA is a Washington-based nonprofit organization, which Chai and several Taiwanese pro-independence activists co-founded in 1982 to seek worldwide support for Taiwan's independence and for the interests of Taiwanese.
Chai was the organization's first president in 1982.
Calling Chai a pioneer of democracy, Kao said the politician's devotion to making Taiwan a better country has won him the respect of Taiwanese and the US Congress.
US Congressional leaders also expressed their sorrow on Friday at the news of Chai's death.
"He was a good friend and a great Taiwanese patriot," said the chairman of the US House of Representatives subcommittee on Asia, US Representative Steve Chabot.
Chabot said that he was "deeply saddened" by Chai's death.
"Those of us in the Congress who advocate for the cause of Taiwanese freedom will miss him greatly," Chabot said.
Former chairwoman of the House Foreign Affairs Committee US Representative Ileana Ros-Lehtinen said that as a lifelong friend of Taiwan and a founding member of the Congressional Taiwan Caucus, she remembered Chai as a "true leader."
"He was a familiar face to many of us on Capitol Hill, where he would often meet with members of Congress to discuss the importance of freedom and democracy in Taiwan," Ros-Lehtinen said.
Additional reporting by Rich Chang
Comments will be moderated. Keep comments relevant to the article. Remarks containing abusive and obscene language, personal attacks of any kind or promotion will be removed and the user banned. Final decision will be at the discretion of the Taipei Times.