President seeks support for liberalization policies
RECURRENT THEME: President Ma Ying-jeou urged opposition parties to support government efforts to implement the proposed cross-strait service trade pact
President Ma Ying-jeou (馬英九) pledged to boost the nation's economy in his New Year's Day address yesterday, while seeking public support for his administration's economic liberalization policy.
"I am fully aware that everyone is concerned about the economy. On the first day of the year, I promise every Taiwanese that the government is determined to make [improving] the economy the foremost priority, and to make this year a breakthrough year for the economy," he said.
Ma said his administration would focus on public investment, venture investment, and large-scale land revitalization and urban renewal, as well as on the establishment of free economic pilot zones.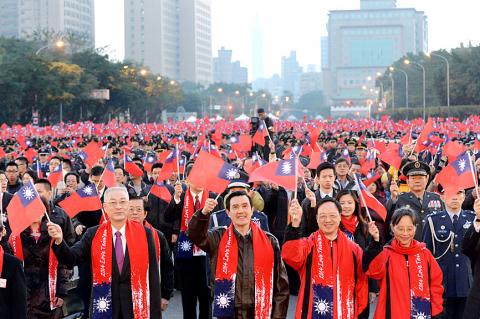 President Ma Ying-jeou, front, second left, Vice President Wu Den-yih, left, Premier Jiang Yi-huah, second right, and other people attend the New Year's Day flag-raising ceremony in front of the Presidential Office in Taipei yesterday.
Photo: CNA
He acknowledged that the nation has fallen behind many other countries in economic performance in recent years and stressed the need to take part in regional economic integration.
"We must actively engage in regional economic integration, as Taiwan is an island with few natural resources and a relatively small economy. Taiwan had signed very few free-trade agreements (FTA) in the past. How can we not be in a hurry to catch up?" he said.
Ma said he would supervise an international economic and trade strategy task force, and prioritize efforts to facilitate cross-strait service and goods trade agreements.
The task force would present proposals to facilitate the nation's participation in the Trans-Pacific Partnership (TPP) and Regional Comprehensive Economic Partnership (RCEP), he said.
"To maintain economic growth, we must participate in regional economic integration. There's no free ticket to integration, and we should be cautious and prepared. At the same time, we should not lose confidence or fear competition," he added.
The FTAs Taiwan signed with trade partners during the former Democratic Progressive Party (DPP) government only resulted in US$0.14 in tariff exemptions and reductions for every US$100 in trade, Ma said.
However, the figure increased to US$9.65 last year, thanks to the signing of trade agreements with New Zealand and Singapore, he said.
Reviving the nation's economy has been a recurrent theme in Ma's major addresses to the nation.
In yesterday's address, he reiterated the need for cross-strait development, while calling for cooperation between the government and the opposition camp for the sake of the nation.
He said that the stalled review of the cross-strait service trade agreement in the legislature has caused concern among major trade partners about the nation's determination to open up its market, adding that the economy would remain sluggish if South Korea and Japan signed free-trade agreements with China before the cross-strait trade pact is approved.
"I urge all political parties to support the government's efforts and approve the pact, which will benefit the nation's economy," he said.
The DPP yesterday said Ma's pledge of an economic breakthrough is a cliche.
"Ma has promised a better economy so many times now that people have lost count. He has never delivered on his promise and we wonder how many people still buy his slogan," DPP spokesperson Xavier Chang (張惇涵) said.
"Ma's most important task is to work hard and deliver his campaign pledge so Taiwanese can enjoy better lives and a stronger economy, not to utter empty slogans," former DPP chairperson Tsai Ing-wen (蔡英文) said separately.
Meanwhile, referring to Chinese President Xi Jinping's (習近平) New Year statement, in which he said he has "six wishes" regarding Beijing's goal for Taiwan affairs and that China's policy on Taiwan remains guided by the principle of "peaceful unification and one country, two systems," the DPP stated its new year wishes in response.
"We hope that people across the Taiwan Strait will be able to enjoy better lives and freedom, and that the governments on both sides show more sympathy toward their people. We also hope the people of Taiwan will be free from [China's] military threats and oppression of their effort to participate in international affairs. And we hope China will respect Taiwanese aspirations," DPP Policy Research Committee executive director Joseph Wu (吳釗燮) said.
Comments will be moderated. Keep comments relevant to the article. Remarks containing abusive and obscene language, personal attacks of any kind or promotion will be removed and the user banned. Final decision will be at the discretion of the Taipei Times.