Obama, world leaders to travel to South Africa
MOURNING MANDELA: Memorial events in South Africa start today, while world leaders including the US president are to attend a huge service on Tuesday
South Africa yesterday began preparations to host US President Barack Obama and other world leaders eager to pay their respects to former South African president Nelson Mandela during 10 days of mourning for the anti-apartheid icon.
On Friday, South African President Jacob Zuma announced the mourning period for Mandela, the founding father of modern South Africa and its first black leader, after he died late on Thursday aged 95, surrounded by friends and family.
Obama is to travel to South Africa next week, the White House said, joining a raft of world leaders for a huge memorial service on Tuesday.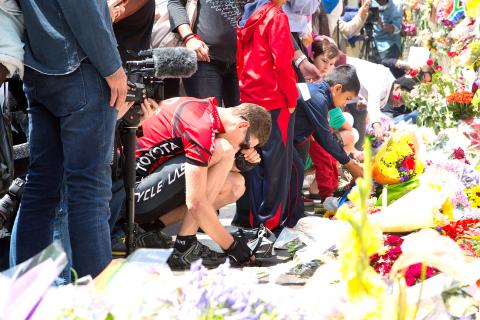 People pay tribute to former South African president and Nobel Peace prize laureate Nelson Mandela outside his Houghton home where he died yesterday in Johannesburg, South Africa.
Photo: EPA
Mandela's body is to lie in state in Pretoria for three days before he receives a state burial next Sunday in his boyhood home of Qunu in the rural Eastern Cape.
The logistics are daunting for hosting the great and the good who plan to fly in from around world to honor the universally respected statesman.
Memorial events begin today, with South Africans invited to visit churches, mosques, synagogues and other places of worship to pay their respects.
White House press secretary Jay Carney said the Obama family would "participate in memorial events," without giving details.
In a tribute shortly after the revered statesman's death was made public, Obama mourned Mandela as a "profoundly good" man who "took history in his hands and bent the arc of the moral universe toward justice."
Brazilian President Dilma Rousseff will also be among those flying in next week, her office said.
On Friday, South Africans across the country poured out onto the streets in a riot of color, dance and song to celebrate the life of their beloved ex-leader, known affectionately as Madiba — his clan name.
In Cape Town, a crowd of thousands from all races and ages gathered for a multi-faith celebration at the site where Mandela made his first public speech after nearly three decades in apartheid jail.
"Tonight we stand in solidarity as the people of Cape Town — black, white, colored, Indian, all the religions together," Cape Town Mayor Patricia de Lille said.
South Africa's archbishop emeritus Desmond Tutu, a fellow Nobel Peace Prize winner, praised Mandela as an "incredible gift that God gave us."
Mandela spent 27 years in an apartheid prison before becoming president and unifying his country with a message of reconciliation after the end of white minority rule. He shared the Nobel Peace Prize with South Africa's last white president, F.W. de Klerk, in 1993.
Palestinians and Israelis, Beijing and the Dalai Lama, Washington and Tehran all paid heartfelt tribute to Mandela, describing him as one of the towering figures of the 20th century who inspired young and old with his fight for equality.
North Korea, in its first official reaction yesterday, sent its condolences to South Africa, praising Mandela's "struggle against racism and for democracy."
Zimbabwean President Robert Mugabe paid tribute to Mandela as "a champion of the oppressed."
Even beleaguered Syrian president Bashar al-Assad paid homage on his official Facebook page, calling Mandela "a torch for the resistance and liberation from racism, hatred, occupation and injustice."
India declared five days of mourning for a man the premier labeled "a true Gandhian."
A Paris summit of about 40 African leaders was overshadowed by Mandela's death. An old associate, African Union Commission President Nkosazana Dlamini Zuma, said Mandela "was a son who became larger than the continent."
South African Foreign Minister Maite Nkoana-Mashabane said the best way to remember Mandela was to free the African continent of poverty, unrest and disease.
"We will do it in your name," she said.
Comments will be moderated. Keep comments relevant to the article. Remarks containing abusive and obscene language, personal attacks of any kind or promotion will be removed and the user banned. Final decision will be at the discretion of the Taipei Times.