Bureau to prevent civil servants from studying in China
The National Security Bureau (NSB) is considering implementing new regulations with the Mainland Affairs Council (MAC) to address the rising number of Taiwanese civil servants illegally engaged in advanced studies in China, bureau Director Tsai Der-sheng (蔡得勝) said yesterday.
The issue was raised yesterday by Democratic Progressive Party Legislator Chiu Yi-ying (邱議瑩) at a meeting of the legislature's Foreign Affairs and National Defense Committee while Tsai was giving a report on monitoring communications and preventing Chinese spying, and Taiwan's early warning system.
Chiu said that since 2003, more than 1,000 Taiwanese civil servants had made unsanctioned visits to China, adding that the number of civil servants studying in China, or taking online courses offered by schools across the Strait was steadily increasing.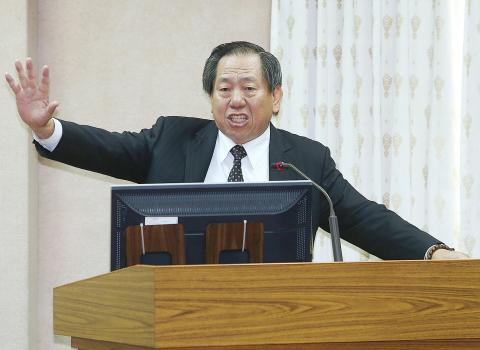 National Security Bureau Director-General Tsai Der-sheng yesterday pledges to safeguard Taiwan's own Air Defense Identification Zone (ADIZ) during a question-and-answer session at the Legislative Yuan.
Photo: CNA
Asked whether the bureau had obtained information on civil servants studying in China on government subsidies while working on academic dissertations with topics designated by Beijing, Tsai answered in the affirmative, adding that some have been punished or transferred to other jobs.
However, he said that there are some legal loopholes and that many people escape punishment by making use of them.
Tsai said that the actions of civil servants were inappropriate and risked compromising national security.
The director said that consequently the bureau, the MAC and the Directorate-General of Personnel Administration are considering adopting stricter regulations.
Asked whether the regulations would involve an amendment to the law, Tsai said he did not know of the details, saying it is under the jurisdiction of the MAC.
Comments will be moderated. Keep comments relevant to the article. Remarks containing abusive and obscene language, personal attacks of any kind or promotion will be removed and the user banned. Final decision will be at the discretion of the Taipei Times.