Time not right for political talks with China: Ma
OFF THE AGENDA: Ma Ying-jeou said that he would not meet Xi Jinping, saying that this could only occur with the support of the Taiwanese public
Taiwan will not avoid cross-strait political issues, but the time is not right for political talks with China, President Ma Ying-jeou (馬英九) said yesterday amid concerns about possible moves by his administration toward political negotiations with Beijing.
In an interview with the Washington Post, Ma said the government did not intend to pass the political issues on generation to generation when asked to comment on Chinese President Xi Jinping's (習近平) call for Taiwan to prepare for political negotiations.
He said for the two sides of the Taiwan Strait to engage in political talks and discuss the signing of a peace accord, his administration would seek a clear public consensus on the issue, while reiterating his principle in handling cross-strait issues, which is to address the easier and pressing issues first, before tackling difficult ones, such as politics.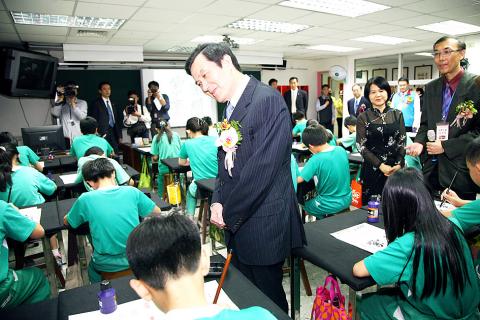 President Ma Ying-jeou admires the calligraphy of children at Greater Taichung's Yongan Elementary School yesterday.
Photo: CNA
"We are willing to discuss any issue as long as it is an urgent one," he said.
He also dismissed a direct meeting with Xi during his term, insisting that such a meeting could only take place with the support of the Taiwanese public.
While insisting on an "economics first, politics later" policy for dealing with China, Ma said the government would not avoid addressing political issues.
Citing the signing of cross-strait agreements and the proposed establishment of cross-strait representative offices, Ma said these issues carried some political significance, and the government is also promoting the service trade agreement to enhance cross-strait exchanges and enable Taiwanese to profit from them.
He dismissed concerns about the nation's sovereignty under fast-paced cross-strait development, and attributed the nation's economic pacts with Japan and other major trade partners to improved cross-strait relations.
"They say we are selling out Taiwan and that we lost something, but they never say what exactly we have lost," he said.
Ma also defended Taiwan's relations with the US during his term, and said it was vital that Washington continued to sell arms to Taiwan.
He shrugged off his record-low approval rating, and said he has no desire to change cross-strait and domestic policies, insisting that the nation has made progress in every area, he said.
"Not everyone understands this. But we have done what needed to be done, and we will keep doing so until the very end," he said.
When asked about the political rift between him and Legislative Speaker Wang Jin-pyng (王金平), Ma — who doubles as Chinese Nationalist Party (KMT) chairman — said the KMT has remained united despite the incident, adding that the case regarding Wang's alleged improper lobbying will be resolved in court.
Comments will be moderated. Keep comments relevant to the article. Remarks containing abusive and obscene language, personal attacks of any kind or promotion will be removed and the user banned. Final decision will be at the discretion of the Taipei Times.