Cross-strait political issues not being shied from: Ma
INESCAPABLE: Political exchanges with Beijing are not avoidable because cross-strait policies like the setting up of representative offices have political meaning, Ma said
The government does not avoid political issues in conducting cross-strait relations with China, President Ma Ying-jeou (馬英九) said yesterday, raising concerns about his administration's interest in starting a political dialogue with China.
"The public tends to think that the government only promotes economic exchanges in cross-strait relations and skips political issues. That is not how we handle cross-strait relations. We do not avoid sensitive political issues intentionally," Ma said at a meeting with a Chinese Nationalist Party (KMT) delegation heading to a forum with the Chinese Communist Party (CCP) in China on Saturday.
The "economics first, politics later" remains the government's policy for dealing with China, but it does not mean that the government would avoid addressing political issues, he said.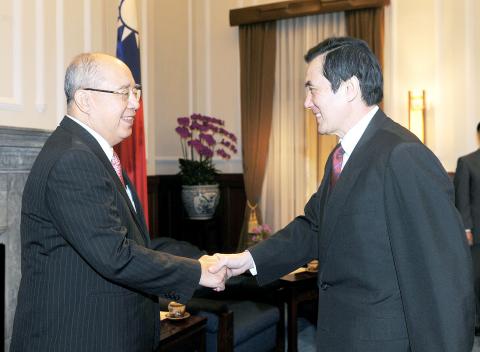 President Ma Ying-jeou, right, shakes hands with former Chinese Nationalist Party (KMT) chairman Wu Poh-hsiung at the Presidential Office in Taipei yesterday as Wu prepared to attend a cross-strait forum in Guangxi Province, China, this weekend.
Photo: CNA
Citing the signing of the cross-strait agreements on joint efforts to combat crimes and mutual legal assistance as examples, Ma said these issues carried some political significance and the government will address such issues if necessary.
"The establishment of cross-strait representative offices, for example, is neutral in nature. However, it is also without a doubt that the issue carries some political significance. If we do not address the issue, we will not be able to put high-level political issues on the table," he said.
Ma's comments came amid speculation over the KMT's response to growing Chinese pressure to accelerate political talks since Chinese President Xi Jinping (習近平) took office in March.
Led by former KMT chairman Wu Poh-hsiung (吳伯雄), the delegation will attend the forum in Nanning, Guangxi Province, on Saturday and Sunday. It will be the first forum since Xi took office.
Ma, who doubles as KMT chairman, yesterday also repeated his call for the legislature to pass the amendment to the Act Governing Relations between the People of the Taiwan Area and the Mainland Area (臺灣地區與大陸地區人民關係條例) to pave the way for the establishment of representative offices and to approve the cross-strait service trade agreement.
He also defended his Double Ten National Day speech, in which he said that cross-strait relations are "not international relations," but rather special relations because "mainland China" is part of the territory of the Republic of China, as stated in the Constitution.
"It is impossible for us to recognize [mainland China] as another nation within our territory," he said.
Wu, who has been serving as Ma's envoy to the annual forum in the past years, triggered heated debate last year when he said cross-strait relations are not state-to-state relations at the meeting.
Ma said he believed Wu would discuss the government's cross-strait policies clearly when meeting with representatives from China.
Comments will be moderated. Keep comments relevant to the article. Remarks containing abusive and obscene language, personal attacks of any kind or promotion will be removed and the user banned. Final decision will be at the discretion of the Taipei Times.