Ma's security strengthened after shoe-hurling attacks
SOLE OBJECTIVE: After a number of incidents, the president's security personnel have been increased and nets have been prepared to block objects hurled by protesters
President Ma Ying-jeou (馬英九) had yet another close encounter with a flying shoe hurled by a protester yesterday as he attended this year's Taipei Hakka Yimin Festival in Taipei.
Although Ma had security personnel surrounding him at the time, the shoe flew over the guards and landed beside his foot as he was leaving the venue. He was not hurt.
Ma also had his speech at the festival disrupted as a protester demonstrated against the government's land expropriation through forced demolitions in Miaoli County's Dapu Borough (大埔), shouting "Ma, step down" before being carried away by police officers.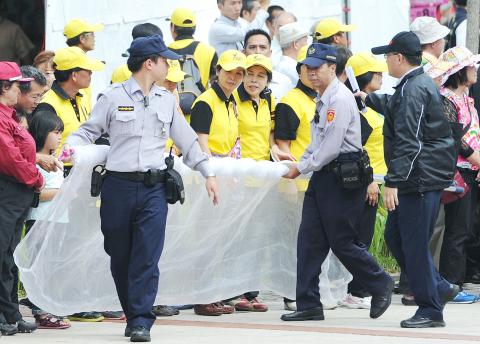 Police officers prepare a net to stop shoes thrown at President Ma Ying-jeou yesterday as he attended the Taipei Hakka Yimin Festival at the Taipei City Hakka Cultural Park.
Photo: Liao Chen-huei, Taipei Times
In recent weeks, Ma has been dogged by protesters during his appearances and therefore his security personnel have been increased and nets have been prepared to block objects hurled by protesters.
On Saturday morning when Ma attended an event in Keelung marking the National Taiwan Ocean University's anniversary, a Keelung City councilor hurled a shoe at Ma. The shoe missed him.
That evening, when giving the opening speech for the National Games Taipei 2013 at Taipei Arena, an audience member also threw a shoe toward the stage. Again, he was unharmed.
In related developments, the Chinese Nationalist Party (KMT) said it is considering setting aside an area outside the venue where its party congress will be held next month as a place where it can hear the views of and accept petitions from unregistered protesters.
Party officials who declined to be named said that Ma, who doubles as KMT chairman, respects the right of people to protest and is seeking a middle ground that will uphold such rights while ensuring that the meeting goes smoothly.
The party had planned to convene its National Congress in Taipei on Sept. 29, but postponed it after learning that more than 40 civic groups intended to hold a large-scale anti-government rally that day outside the National Sun Yat-sen Memorial Hall.
The KMT later decided to move the meeting to Greater Taichung on Nov. 10.
It is now considering ways to accommodate the protesters while holding the congress without disruptions, including setting up an area for groups without permits to protest.
Several groups are expected to apply for protest permits to voice their discontent and general dissatisfaction on a number of fronts, including the economy and a controversial services trade agreement with China.
Comments will be moderated. Keep comments relevant to the article. Remarks containing abusive and obscene language, personal attacks of any kind or promotion will be removed and the user banned. Final decision will be at the discretion of the Taipei Times.