Taiwan needs to diversify across region: Campbell
While applauding the cross-strait rapprochement of recent years under President Ma Ying-jeou (馬英九) administration, a former US official yesterday reminded Taiwan that its best strategic interests lie in deeper economic relationships with other countries in Asia.
"You have done a remarkable job in China, but the degree of diversification is in your best strategic interests," Kurt Campbell, who served as US assistant secretary of state for East Asian and Pacific affairs from 2009 to February this year, told at a luncheon in Taipei.
Whoever is in power or in the opposition, it is important for them to recognize that it is in the interests of Taiwan to have a deeper economic relationship with other countries in Asia, he said.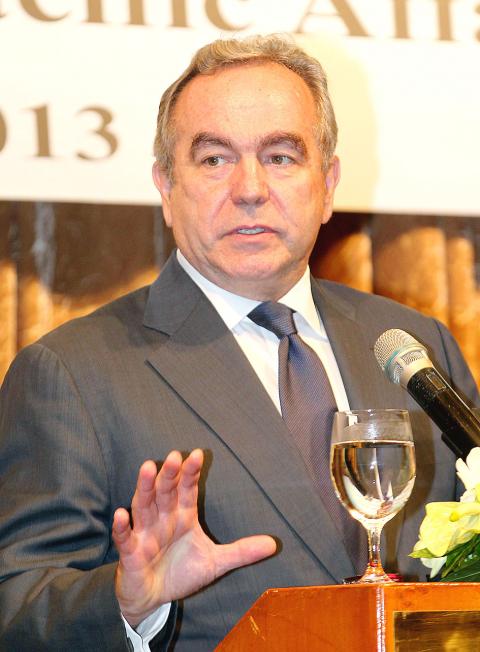 Former US assistant secretary of state for East Asian and Pacific affairs Kurt Campbell delivers a keynote speech at the Taiwan-US-Japan Trilateral Security Dialogue forum in Taipei yesterday.
Photo: CNA
Campbell was answering a question from Joanne Chang (裘兆琳), a research fellow at Academia Sinica's Institute of European and American Studies, who asked what Taiwan needs to do to establish its readiness to meet the standards of the emerging US-led Trans Pacific Partnership (TPP) framework.
The TPP offers enormous possibilities for a number of countries in the region, but "there has to be political ambition, and that has to extend beyond one political polity" for a country to join the TPP, he said.
"Every country I go to, whether is Indonesia, or Thailand, or the Philippines, they all say the same thing: I would like to join the TPP. Can you give us a special dispensation, so that we can get in like a junior membership or something? It's not gonna be possible," he said.
As an example, Campbell said the steps taken by Vietnam to liberalize its economy in just a year and a half were recognition of its desire to play on a global stage.
He recalled his experience in negotiating over trade barriers hampering the resumption of the US-Taiwan Trade and Investment Framework Agreement (TIFA).
"One of the hardest I have to deal with in the last couple of years is TIFA. It's really hard, really, really hard," Campbell said.
In response to a question about the role of China in US arms sales to Taiwan, Campbell said the US and Taiwan need to engage in "more unofficial dialogues and integration."
"I can't disagree with you that the nature of both the challenges we face were remarkable investments that China has made over periods of time and some limitations in Taiwan's defense budget made these issues critical," he said.
It was the first visit to Taiwan since Campbell, an architect of US President Barack Obama's pivot or rebalancing toward the Asia policy, left the office. He is now chairman and chief executive of The Asia Group, LLC, and on the board of the Center for a New American Security.
At the luncheon at a forum on US-Taiwan-Japan Trilateral Security Dialogue, a track 1.5 channel among the three countries, Campbell delivered a speech on security dynamics in Northeast Asia and the implications for Taiwan.
Over the last couple of years, the US-China relationship has been relatively stable, the cross-strait relationship is probably at an all-time high and the unofficial relationship between Washington and Taipei is one of the strongest in decades, Campbell said.
"The three-way relationship has a degree of stability. That is unique over the course of 30 years. Taiwan deserves remarkable credits for managing these complex and myriad relationships going forward," he added.
This story has been updated with addtional information since it was first published.
Comments will be moderated. Keep comments relevant to the article. Remarks containing abusive and obscene language, personal attacks of any kind or promotion will be removed and the user banned. Final decision will be at the discretion of the Taipei Times.