Tens of thousands rally against Ma
POSTAL PROTEST: Dismissal letters were distributed to protesters who were asked them to sign and mail them to the Presidential Office as an expression of their anger
Tens of thousands of people held a series of protests nationwide yesterday calling on President Ma Ying-jeou (馬英九) to step down over a variety of issues, from his failed promises and infringement of the Constitution in a widening wiretap controversy, to a government lawsuit against laid-off workers.
The protests began near the heavily protected presidential residence, where several hundred people, most wearing white, gathered for a protest.
"This is only the beginning of your misery rather than the end of the anti-Ma movement, Mr Ma, because we will be shadowing you wherever you may go," Shen Chih-lin (沈志霖), spokesperson of the Alliance of Civil Action Against Ma Ying-jeou told reporters.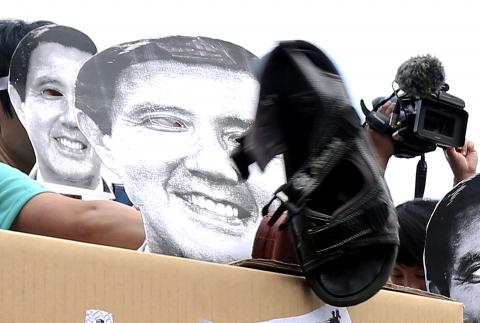 A shoe is thrown by a demonstrator at a mask of President Ma Ying-jeou during a protest near Sun Yat-sen Memorial Hall in Taipei yesterday.
Photo: patrick lin, Reuters
Protesters gathered hundreds of meters away from the presidential residence on Chongching S Road Sec. 2 and began the rally at 9:29am. The time signified yesterday's date, the day the Chinese Nationalist Party (KMT) was supposed to hold its party congress.
The congress was postponed for security reasons as various civic groups had planned protests in the wake of a wiretapping scandal and political turmoil that have shocked the nation.
The alliance was forced to cancel its original protest after Ma tried to avoid the crowds by changing his itinerary over the past few days, Shen said, adding that this was why the alliance came up with the "stroll around the presidential residence" idea since "Ma has to go home."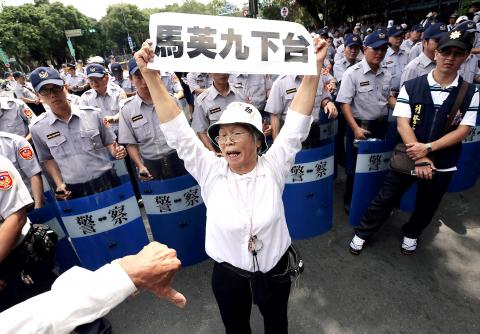 A demonstrator chants as she holds up a banner next during a rally against President Ma Ying-jeou near the presidential residence in Taipei yesterday.
Photo: Patrick Lin, Reuters
Chanting "Down with Ma" and "Ma steps down, bright future for Taiwan," the protesters began moving toward the presidential residence at about 10am, but were unable to go past the intersection of Chongching S Road and Aiguo W Road.
Police had cleared the area around the residence overnight and protected the compound with barricades and hundreds of officers.
Speaking to the protesters, Shen accused Ma of betraying almost all of his campaign pledges and criticized the president for hiding from the people during the past week.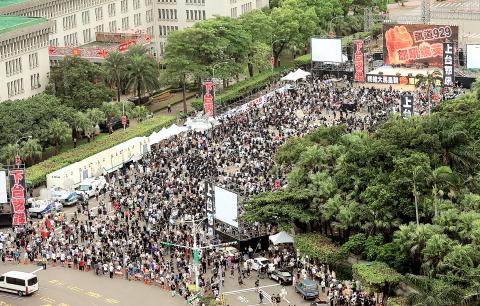 Anti-government protesters gather in front of the Presidential Office Building on Ketagalan Boulevard yesterday.
Photo: Fang Pin-chao, Taipei Times
Organizers distributed dismissal letters to protesters and asked them to sign and mail the letters to the Presidential Office as an expression of their anger against Ma.
Award-winning writer Neil Peng (馮光遠), one of the celebrity speakers, told the protesters that while Ma had pledged an end to illegal wiretapping when he took office, the public were left with "no hope" that this would happen.
National Taiwan University Hospital physician Ko Wen-je (柯文哲) urged Ma to follow his own advice by stepping down. Ma, whose approval rating has plummeted to as low as 9.2 percent, asked former president Chen Shui-bian (陳水扁) to resign in 2007, when Chen had a approval rating of 18 percent.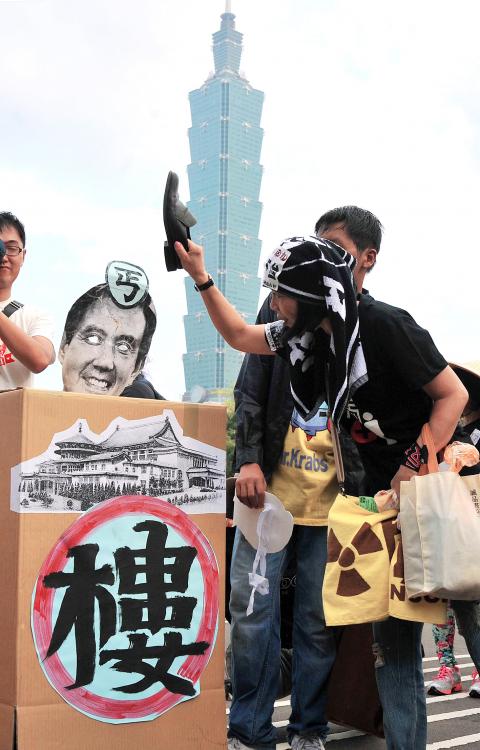 Demonstrators throw shoes at portraits of President Ma Ying-jeou during a rally in front of Sun Yat-sen Memorial Hall in Taipei yesterday.
Photo: AFP
Unable to move closer to the residence, the organizers asked the protesters to disperse and go home at about 11am, about 30 minutes after police had warned them about the illegal assembly.
Hundreds of people who refused to leave began circling the compound after the organizers left the scene. While no physical confrontations occurred, some protesters briefly engaged in arguments with the police.
Early in the afternoon hundreds of people took part in a running event mocking Ma and the KMT for cancelling the party congress, while vowing to launch flash mob shoe-throwing protests.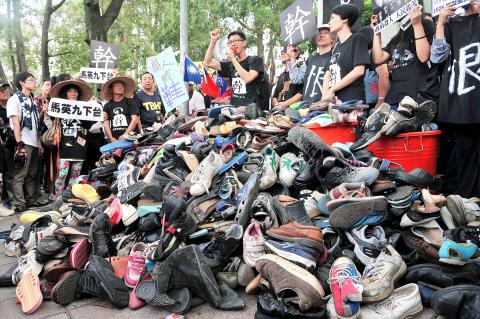 Organizers of yesterday's anti-government demonstration at National Sun Yat-sen Memorial Hall oversee a mountain of donated old shoes to be thrown during the demonstration.
Photo: Chien Jung-fong, Taipei Times
"Ma Ying-jeou, don't run away!" The crowd shouted as a group of runners wearing masks with Ma's face departed from National Sun Yat-sen Memorial Hall, followed by another group holding shoes.
"Politicians should pay for the government's killings," the runners and the people chasing them chanted as they ran through the streets surrounding the hall.
"The running competition is meant to mock Ma and the KMT for running away and hiding from the public by canceling the KMT congress originally scheduled for today [yesterday] at National Sun Yat-sen Memorial Hall," Chen Hsiu-lien (陳秀蓮), spokeswoman for the National Alliance for Workers of Closed Factories (NAWCF), told the crowd.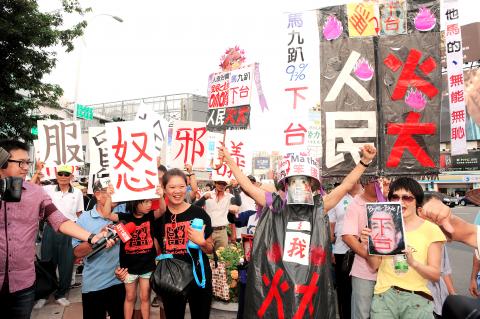 Participants in an anti-government demonstration taking place in Greater Kaohsiung hold up banners and signs yesterday.
Photo: Chang Chung-yi, Taipei Times
"They eventually decided to postpone the event after civic groups announced their plan to hold a massive demonstration outside the memorial hall as the meeting took place," she said.
"They can hide from the people for now, but they can't hide forever — wherever and whenever they are going to hold their national congress, we will make sure to be there," Chen said.
Taiwan International Workers' Association policy researcher Wu Yung-yi (吳永毅) echoed Chen, saying that if the KMT is holds its national congress at the Chungshan Building on Yangmingshan, as some media outlets have reported, "we will lie down on Yangde Boulevard that leads up to the building."
A boy throws a shoe at pictures of government officials and legislators during an anti-government demonstration that took place at National Sun Yat-sen Memorial Hall in Taipei yesterday.
Photo: Chang Chia-ming, Taipei Times
Taiwan Rural Front (TRF) secretary-general Frida Tsai (蔡培慧), accused Ma and other government officials of abusing the power that the people have given them, and called on the public to take part in flash mob shoe-throwing protests.
"We the people have given government officials the power, expecting that they will solve the nation's problems for us, that young people will have jobs and that the elderly can enjoy their retirements," Tsai said. "However, they have failed to meet our expectations. They tore down private homes and seized private lands to benefit big corporations. They are more interested in political infighting than solving the rising unemployment rate and caused the deaths of innocent people. It is therefore justified that people throw shoes at them in protest."
"From now on, if you happen to see them, make your shoes into weapons," Tsai added.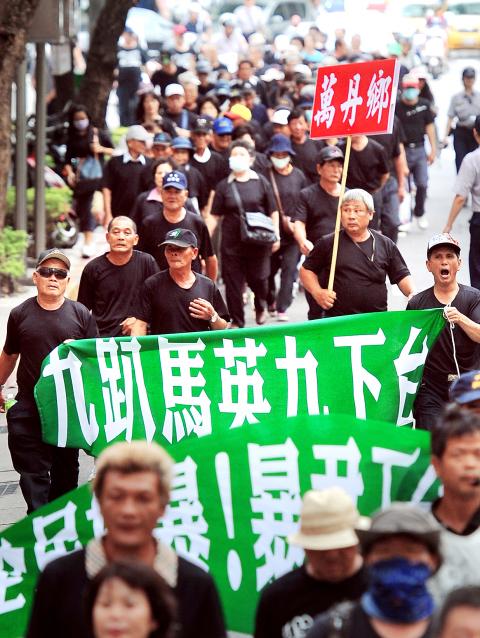 Participants in one of the anti-government demonstrations in Taipei walk toward the demonstration end point at Ketagalan Boulevard in front of the Presidential Office Building yesterday.
Photo: Fang Pin-chao, Taipei Times
The groups also called for shoe donations to prepare for future protests, and people responded by bringing bags of old shoes to donate to the groups.
"We the people must stick together to kick Ma out of power," Alliance of Referendum for Taiwan convener Tsay Ting-kuei (蔡丁貴) said. "He would have nowhere to go if the people stand united."
Meanwhile, the NAWCF also held a brief memorial service for union members who they say have lost their lives due to government actions, as well as workers who have died as the result of overwork.
"All of us who are alive should never give up, we must remember the struggle of those who have died and carry on until we make meaningful changes to the system," TRF member Hsu Po-jen (許博任) said.
Protests were also held in the south yesterday afternoon, where the Anti-Ma Southern Citizens' Alliance to Save Taiwan and several local groups also staged a rally in Greater Kaohsiung to echo their northern counterparts' calls for the president's immediate resignation.
The rally departed from the Kaohsiung Mass Rapid Transit's (KMRT) Central Park Station at 3pm and was attended by residents from 11 townships and districts from Greater Kaohsiung, Pingtung County and Penghu.
Democratic Progressive Party (DPP) Legislator Kuan Bi-ling (管碧玲), Taiwan Solidarity Union legislators Hsu Chung-hsin (許忠信) and Yeh Chin-ling (葉津鈴), as well as Ko and Hung Tzu-chien (洪慈綪), the eldest daughter of a 65-year-old fishermen who was killed by Philippine Coast Guard personnel in May, also participated in the protest.
Additionally, several young participants, who referred to themselves as "independent citizens concerned about the nation's society," gave speeches at the rally, saying that they wanted to let an "openly apathetic government" hear the people roar.
Han Ming-jung (韓明榮), head of the pro-independence Taiwan Southern Society that founded the southern anti-Ma alliance, said the rally had three main demands: that Ma and the "gang of four" step down immediately, that the cross-strait service trade pact be rescinded, and that any future international agreements be signed in a transparent manner, thoroughly explained to the public and subjected to supervision of and scrutiny at the legislature.
The "gang of four" refers to Representative to the US King Pu-tsung (金溥聰), Premier Jiang Yi-huah (江宜樺), former Presidential Office spokesman Lo Chih-chiang (羅智強) and Prosecutor-General Huang Shih-ming (黃世銘), because they were part of Ma's alleged premeditated plan to oust Legislative Speaker Wang Jin-pyng (王金平), protesters said.
Later in the afternoon, thousands of protesters gathered on Ketagalan Boulevard to urge Ma to apologize and step down as KMT chairman.
They also demanded a lowering the threshold for a recall, the abolition of the Supreme Prosecutors' Office Special Investigation Division (SID).
Protesters took turns making one-minute speeches to the crowds on topics covering a wide range of issues, including Ma's personal failures, as well as the incompetence of his administration, which was given the nickname ma-hsi-tuan (馬戲團) — meaning "circus."
The participants seemed to represent various political affiliations, with several DPP politicians and supporters joining pro-KMT protesters at the event.
"The non-partisan rally wanted to provide an opportunity for ordinary citizens to have their voices heard by the Ma administration. We've never thought about a revolution, but we do hope for comprehensive reform," said Ge Shu-ren (葛樹人), one of the eight event organizers.
Other than voicing opposition to Ma, Ge said the protest wished to lend support to the underprivileged, hoping that "there would never be another Chang Sen-wen (張森文) and Liu Chin-yi (劉進義)," referring to two men from Miaoli County and Taipei respectively who died recently.
However, Ge said that the organizers and the event had been treated unfairly by the media and received very little media coverage.
With the event being held on the Ketagalan Boulevard — rather than at National Sun Yat-sen Memorial Hall where the other protests were staged, the organizers were accused of of diverting crowds and shifting the public's attention away from Ma and the KMT.
Taipei police said that about 6,000 people attended the rally, far below the organizers' estimate of 50,000.
Comments will be moderated. Keep comments relevant to the article. Remarks containing abusive and obscene language, personal attacks of any kind or promotion will be removed and the user banned. Final decision will be at the discretion of the Taipei Times.