Thao perform exorcism outside Executive Yuan
SOURCE OF EVIL: The Thao were protesting against a resort that has been approved on their traditional lands without consulting them, which they say will not benefit them at all
Performing a traditional exorcism ritual, a group of Thao Aborigines yesterday protested against a build-operate-transfer (BOT) resort project near Sun Moon Lake on Thao traditional lands, for which the government gave initial approval without consulting them.
Sprinkling self-brewed alcohol into the sky with her fingers while reciting spells, an elderly Thao shaman performed the traditional ritual to drive away evil spirits in front of the Executive Yuan.
"The evil is in there," she said, pointing at the Executive Yuan compound.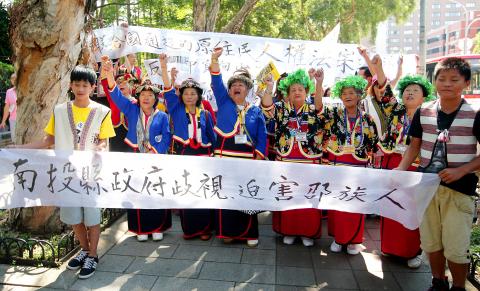 Thao Aborigines protest in front of the Executive Yuan in Taipei yesterday against a resort project at Siangshan near Sun Moon Lake in Nantou County.
Photo: CNA
Following the shaman were dozens of Thao Aborigines in their traditional dress, holding banners accusing the government of exploiting the Thao and urging the government to return their traditional domains to them.
"Sun Moon Lake and the surrounding areas are traditional territories of the Thao, but now the government is introducing Chinese capital to build a resort without having consulted us as the Aboriginal Basic Act [原住民族基本法] requires," Thao National Assembly Speaker Banu Bagamumu told reporters.
While the government promised that the resort would bring jobs to locals, Banu Bagamumu said that Chinese tour agencies always bring along their own business partners and "the project will not benefit us at all."
He called on the Executive Yuan to nullify its initial approval for the project and suspend all BOT plans before a program to revive traditional Thao culture is in place.
Indigenous Peoples' Action Coalition secretary-general Omi Wilang, an Atayal, said that currently, there are only a few thousand Thao left in the country, who are struggling to keep their tribe and their culture alive.
"What the government should do for an ethnic group that is in such a disadvantaged position is protect, not to accelerate its peril," Omi Wilang said.
Democratic Progressive Party Legislator Tien Chiu-chin (田秋堇) said that besides assessing the impact of the development project on the environment, the government "should equally assess its impact on the Thao culture."
The Sun Moon Lake National Scenic Area Administration Office and the Nantou County Government are planning to work with a developer to build a four-star resort hotel costing more than NT$2 billion (US$66 million) near the lake.
The project is financed by Hong Kong's Bonds Group. If it goes ahead as planned, the resort will be completed and opened in 2017.
Thao Aborigines and their supporters are expected to protest in front of the Environmental Protection Administration in Taipei on Friday.
Comments will be moderated. Keep comments relevant to the article. Remarks containing abusive and obscene language, personal attacks of any kind or promotion will be removed and the user banned. Final decision will be at the discretion of the Taipei Times.