Groups hold sing-along to protest nuclear policy
"Who covered up the rainbow in the children's sky?" more than a thousand people sang at the Chiang Kai-shek Memorial Hall Plaza in Taipei yesterday morning during an event organized by Mom Loves Taiwan, an association of mothers opposed to nuclear power, and nine civic anti-nuclear groups, to make a music video for an anti-nuclear song.
Mom Loves Taiwan founder Irene Chen (陳藹玲) said her group is calling on the government to find a viable nuclear waste treatment method as soon as possible, to implement energy and environmental education, and to fix a schedule and enforcement rules for achieving a nuclear-free homeland.
Writer-turned-TV host Kevin Tsai (蔡康永) said that in addition to the possible risks of a radiation leak, what worries him most is the spent nuclear fuel that the government has not yet found a way to deal with.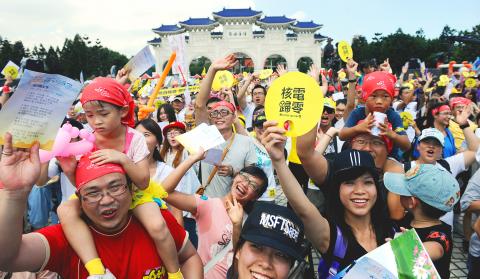 More than a thousand people gather in Liberty Square in Taipei yesterday to sing an anti-nuclear power song at an event organized by Mom Loves Taiwan.
Photo: Lo Pei-der, Taipei Times
"It's like handing medicine to a mother to give to her children, but telling her that its side effects can cause cancer … if we cannot deal with nuclear waste, then we cannot use nuclear power just because we want to power our air conditioners, and allow dangerous spent nuclear fuel to be stored close to where we live," he said.
"The logic should be — if we cannot deal with nuclear waste, then we have no right to use nuclear power," he said, adding that "once the land is contaminated [by nuclear radiation], we leave an uninhabitable ghost island to our children, so we must remind decisionmakers to stop an irreversible mistake before it is to late."
A woman surnamed Kuo (郭), who brought her three-year-old twin sons to the event, said that after Japan's Fukushima Dai-ichi nuclear disaster, she started to think about "the kind of environment we want to leave for our children."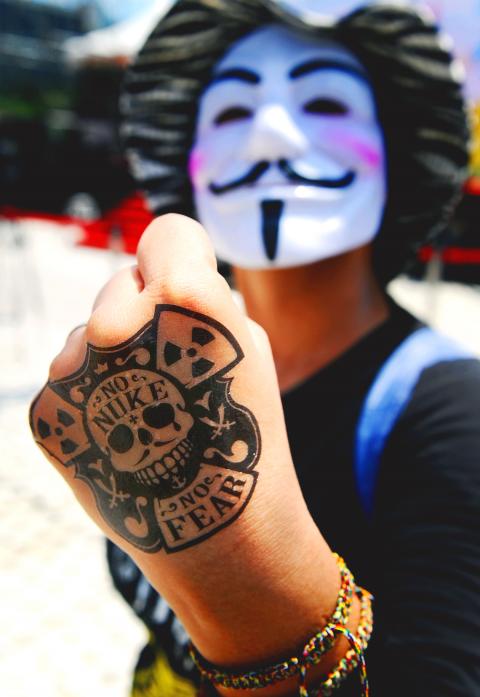 A protester wearing a Guy Fawkes mask holds up his inked fist at an event organized by Mom Loves Taiwan at Liberty Square in Taipei yesterday to record an anti-nuclear power video.
Photo: Lo Pei-der, Taipei Times
"The future belongs to our children, so I want them to understand the danger of nuclear power and that the Earth needs to be protected as early as possible," added a man surnamed Hung (洪), who brought his four-year-old and two-year-old daughters to take part in the event.
"I think the information we get from the government is always biased, so we should gain more information about the issue from the Internet or events such as this one," he said. "I want to know whether nuclear power is necessary, and whether nuclear power is the only option or the worst option."
Masaka Uemae, a Japanese woman from Fukushima who brought her daughter with her to Taiwan after the disaster, said that although the Japanese government suggested an evacuation zone of 30km around the damaged plant, media reports have shown high levels of nuclear radiation even at 60km from the plant and that recently 43 children from Fukushima Prefecture were suspected to have developed thyroid cancer.
At the sing-along yesterday, organizers handed out brochures on how to save electricity, such as boiling drinking water and keeping it in thermos bottles instead of keeping the hot water dispenser on all day, efforts the anti-nuclear activists said could reduce electricity consumption by 6 percent — approximately the percentage of electricity supply the Fourth Nuclear Power Plant is expected to provide.
Comments will be moderated. Keep comments relevant to the article. Remarks containing abusive and obscene language, personal attacks of any kind or promotion will be removed and the user banned. Final decision will be at the discretion of the Taipei Times.