Trami brings heavy rain, landslides
NO LET-UP: The Central Weather Bureau said that even after the storm moves away today, more rain is forecast for the center and south through tomorrow morning
Heavy rainfall brought by Tropical Storm Trami disrupted transportation systems yesterday, causing hundreds of people to evacuate their homes and triggering landslides in some parts of northern Taiwan.
At press time, the only injury reported by the Central Emergency Operation Center was that of a 33-year-old Taipei woman surnamed Su (蘇), who suffered a minor injury falling off her motorcycle on Tuesday night. She checked out of the hospital early yesterday morning.
Nearly 1,400 residents of New Taipei City (新北市) and Hsinchu, Miaoli and Hualien counties were forced to evacuate their homes because of the storm.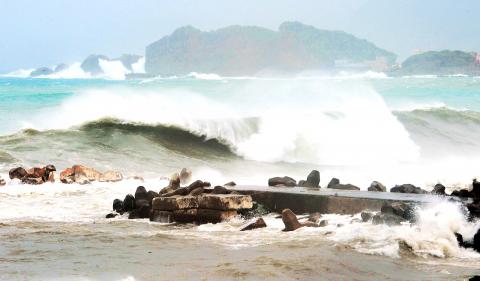 Strong waves brought by Tropical Storm Trami yesterday pound the Badouzih fishing port in Keelung.
Photo: Lo Pei-der, Taipei Times
As of 4pm, 195 inbound and outbound flights at Taiwan Taoyuan International Airport had been canceled, about 38 percent of the airport's daily flights.
The Taiwan Railways Administration canceled all express train services between Taipei and Hualien between 1pm yesterday and 12am today.
The Pingsi (平溪) branch line and the Alishan Forest Railway services were suspended at 1pm. The operation of the Jiji (集集) branch line was suspended at 6:30pm.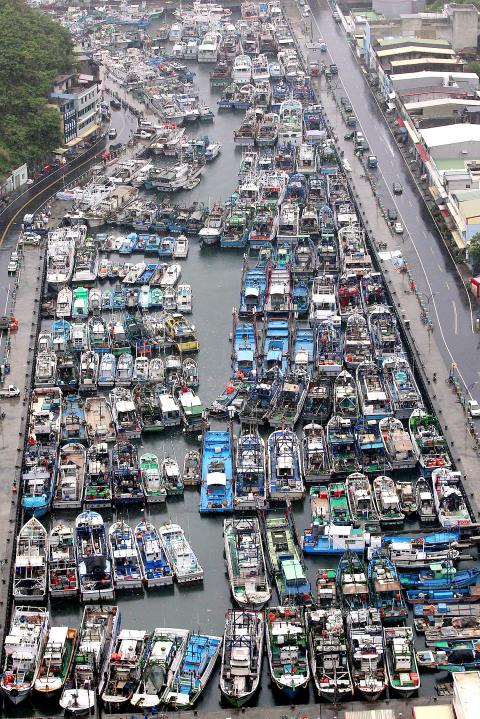 Fishing boats yesterday are docked in a harbor in Nanfangao, Yilan County, ahead of Tropical Storm Trami.
Photo: Pichi Chuang, Reuters
Taiwan High Speed Rail Corp (台灣高鐵) yesterday canceled all the express trains after 5pm, but kept the slower service trains that stop at every station running as usual. Passengers were able to sit anywhere in economy class cars without having a reserved seat.
The Central Weather Bureau (CWB) warned that Trami could bring a massive amount of rain to the mountainous areas in central Taiwan, including those in Greater Taichung, and Nantou and Chiayi counties. Each area could see accumulated rainfall of more than 1,100mm, it said. An equal amount of rain could also fall in the mountainous areas of Greater Kaohsiung and Hsinchu, Miaoli and Pingtung counties.
Chen Yi-liang (陳怡良), head of the bureau's forecast center, said the radius of the storm had reached northern Taiwan and would bring heavy rainfall nationwide. He said that the bureau had also detected strong wind in Cigu District (七股) in Greater Tainan and Wuci District (梧棲) in Greater Taichung, with the wind force reaching levels 8 to 9 on the Beaufort scale.
The bureau also warned that the storm could produce "cloudbursts" — more than 100mm of rain per hour — in some areas.
As of 5:30pm, the center of Trami was 180km northeast of Taipei, with its radius expanding to 180km. It was moving west at 25kph.
The bureau forecast the center of the storm would cruise through the sea north of Pengjia Islet (彭佳嶼) as it heads toward China's Fujian Province.
This means that Trami is not a typical northwest typhoon, which have caused severe flooding in the past, it said.
The bureau defines a northwest typhoon as one where the center of the storm moves from the sea off the east coast of Taiwan to the waters between Keelung and Pengjia Islet, generating a northwesterly wind that can bring heavy rainfall to the northern and central regions of the island. Because the direction of the wind forms a right angle with the coastlines in these two regions, it is difficult for the overflowing rivers to discharge into the sea.
As of 6:30pm, Niaozueishan (鳥嘴山) in Hsinchu County's Jianshih Township (尖石) was leading the nation in accumulated rainfall over the past two days with 537mm. Meihua (梅花), also in Jianshih, has seen the second-highest accumulation, with 461mm. Anbu (鞍部) on Yangmingshan was ranked third, with 414mm.
Chen said that Trami is expected to move away from Taiwan proper by early this morning if its speed remains unchanged, but that heavy rain in central and southern parts of the nation would continue after the storm leaves.
"Rain in these two regions is expected to continue for some time, possibly until Friday morning," he said.
President Ma Ying-jeou (馬英九), who returned home early yesterday from his trip to the Caribbean and Paraguay, urged all local government heads to take extra precautions.
Ma said Taipei should strengthen its anti-flooding measures as Trami was following a path similar to that of Typhoon Nari in 2004, which caused serious flooding in the city.
Taipei Mayor Hau Lung-bin (郝龍斌) said the city has prepared enough sandbags and enhanced flood-prevention barriers in mountainous areas and low-lying areas to prevent serious flooding.
According to Taipei's Disaster Response Center, the heaviest accumulated rainfall in the city was on Yangmingshan, where more than 300mm had fallen since Tuesday night. While there were several incidents of rainwater accumulation, no flooding was reported in the city.
Yeh Chun-hsin (葉俊興), a division chief in Taipei's Fire Department, said that about 2,000 households in Zhongshan District (中山) lost power, but the Taiwan Power Co (台電) had fixed the problem.
Hau inspected the Zhitan Water Treatment Plant near the Feitsui Reservoir (翡翠水庫) to ensure that the turbidity of water is at a safe level.
The plant, which began operations in June, is the city's sixth water treatment plant. Hau said the plant will help ensure that the reservoir continues to offer clean water to the 6 million residents of Taipei and New Taipei City (新北市).
When asked about his administration's decision to cancel work and school yesterday despite the lack of heavy rains or strong wind, he said the decision had been made in tandem with New Taipei City and Keelung based on the weather bureau's forecast at 9pm on Tuesday night.
"The forecast suggested that the rainfall would reach 350mm today, and wind gusts would be reach more than level 10, which meets the criteria for school and work cancelation," Hau said.
"It is important that we take precautions and do not overlook Trami's power," he said.
The cities agreed in June last year to make joint decisions on when to cancel school and work days for typhoons or tropical storms to avoid inconveniencing people who commute between the cities.
All three cities said today would be a regular working/school day.
Additional reporting by CNA
Comments will be moderated. Keep comments relevant to the article. Remarks containing abusive and obscene language, personal attacks of any kind or promotion will be removed and the user banned. Final decision will be at the discretion of the Taipei Times.