Presidential adviser resigns over service trade pact
STRONG WORDS: Rex How said Ma must either be an 'autocrat' or 'impossibly stupid' not to understand how the pact affects public livelihoods and national security
In a strongly worded letter to President Ma Ying-jeou (馬英九), publisher Rex How (郝明義) resigned as an adviser to Ma, whom he said was either an "autocrat" or was "impossibly stupid."
How, chairman of Locus Publishing Co (大塊文化), who has been pushing for the government to renegotiate a cross-strait service trade agreement signed on June 21, said he was resigning because of the way the president had dealt with those who oppose the agreement.
The past month has seen growing opposition to the agreement from people from all walks of life, but Ma's response has shown that not only is he "biased" against those who oppose the agreement, but he also has a "wrong understanding of three fundamental issues" that are vital to national interests, How said.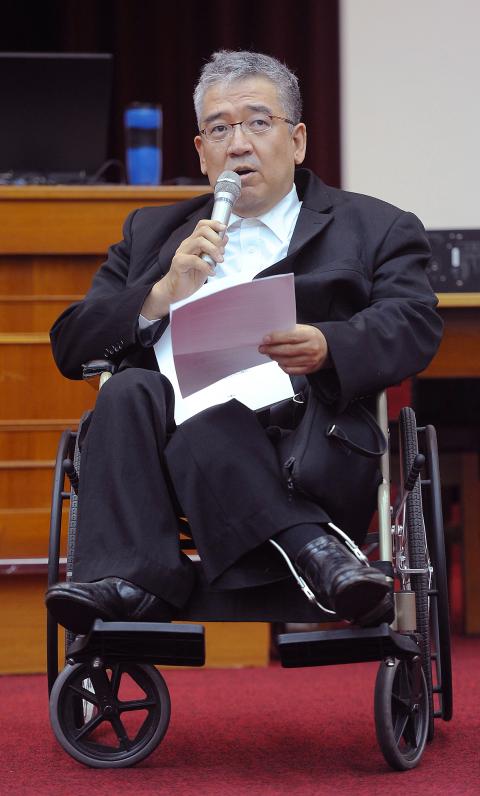 Locus Publishing Co chairman Rex How expresses his opposition to the cross-strait service trade agreement at a public hearing at the legislature in Taipei yesterday. How also read his letter of resignation from his post as a presidential adviser.
Photo: Liu Hsin-de, Taipei Times
Ma was "derelict in his duty" because he did not take seriously criticism of the agreement, which could deprive people of their property and livelihood, having failed to conduct an assessment of the impact of the agreement on the nation's economy, society and security before it was signed, he said.
How said he had advised Ma two years ago that China is not an ordinary signatory to the WTO, but a country that has more than 1,000 missiles targeting Taiwan.
How added that Ma also took notes when he advised him in 2009 that the government should handle cross-strait negotiations in a public and transparent way, and tell the opposition parties about these negotiations so that they can form a consensus and get their endorsement.
"The truth about cross-strait ties is the two sides are in a state of war," but money has replaced artillery shells in this war, he said.
Cross-strait policy is a "matter of life and death" and the government should not ignore national security in handling cross-strait agreements, he said.
Ma has also failed to recognize the seriousness of signing an agreement through backroom negotiations, which places the Ma administration in opposition to "decades or efforts to promote democracy in this nation," he said.
The way the government signed the agreement with China on service trade — which contributes about 70 percent to the nation's GDP and provides employment to about 4 million to 5 million people — without discussing it first with the legislature has "seriously undermined the convictions and values in a democracy, and violated due process that an elected government should observe," How said.
He added that the Ma administration has avoided questions about the agreement — who were behind the negotiations, how were the industries selected and what was discussed in the negotiations?
"Having an agreement like this, which has caused such fierce controversy, we only knew who signed off on it, nothing more," he said. "No one has ever told us who was the mastermind, what was the strategic thinking it was based on."
How said that he could only think of two possibilities — Ma is either an "autocrat" or "impossibly stupid" — to have signed such an agreement, which could endanger the nation's 23 million people and only increase economic growth by a marginal 0.025 to 0.034 percent, as an official report has predicted.
How reiterated that the president must either be an "autocrat" or "impossibly stupid" to have said that criticism of the pact is deliberately facricated rumors.
How made public his letter of resignation when he attended a public hearing hosted by a joint committee led by the legislature's Internal Administration Committee. The agreement is pending ratification to take effect.
The government has warned opposition lawmakers not to revise the agreement during the deliberation, saying that any changes made to the pact could derail ongoing negotiations on similar trade agreements with other countries.
How said that responsibility for any controversy arising from the signing of the agreement, for any damage that could undermine the nation if the legislature were to demand that the government renegotiate the pact with China, and for other fallout resulting from a delay in implementation of the agreement "all lie with you [Ma]."
They could have been avoided if the government had made the negotiation process transparent and had thoroughly communicated with affected industries in advance as well as assessed its impact on national security, he said.
Comments will be moderated. Keep comments relevant to the article. Remarks containing abusive and obscene language, personal attacks of any kind or promotion will be removed and the user banned. Final decision will be at the discretion of the Taipei Times.