Soulik leaves two dead, 104 injured
CAPITAL PUNISHMENT: As Typhoon Soulik swept the nation, 59,000 homes in Taipei lost power in the worst storm damage the city has weathered in years
Two people died, one person remained missing and another 104 were injured as Taiwan was battered by heavy rains and strong winds from Typhoon Soulik, the Central Emergency Operation Center said yesterday.
In Miaoli County, a 54-year-old woman died after falling from a rooftop, while in Greater Taichung a person was reported to have fallen into a river. The person was still missing at press time last night.
Chen Ching-rong (陳錦榮), a 50-year-old police officer stationed in New Taipei City's (新北市) Tamsui District (淡水), was hit in the head by a brick that was blown off a house under construction while driving his scooter home yesterday morning after finishing his shift. He suffered severe head trauma and was pronounced dead soon after being taken to Mackay Memorial Hospital.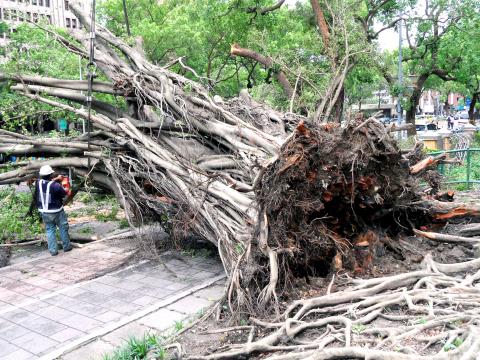 A large camphor tree felled by strong winds during Typhoon Soulik blocks part of Taipei's Xuzhou Road yesterday. An official with the Taipei Geotechnical Engineering Office said the tree, which is about 50 years old, was the oldest and heaviest tree damaged by the typhoon in the city.
Photo: Shih Hsiu-chuan, Taipei Times
President Ma Ying-jeou (馬英九) visited the hospital yesterday to offer his condolences to Chen's family and promised them the best possible state support.
New Taipei City Mayor Eric Chu (朱立倫) accompanied Ma to the hospital, where he said that since Chen was killed while on duty, the New Taipei City Government would offer the best compensation plan to his next of kin and inscribe his name in the National Revolutionary Martyrs' Shrine.
The Presidential Office said Ma canceled a trip he was meant to take to Greater Taichung yesterday afternoon to promote the cross-strait service trade agreement at the Dajia Jenn Lann Temple and celebrate his birthday with locals, so that he could monitor the situation in Taipei.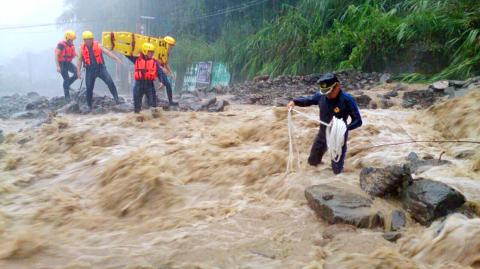 Rescue personnel from the Taian branch of the Miaoli County Government's Fire Department cross a flooded stream yesterday to rescue a pregnant woman who was stranded after roads were flooded during Typhoon Soulik.
Photo courtesy of the Miaoli County Fire Department
The office said Ma was keeping in close contact with Premier Jiang Yi-huah (江宜樺) and other top government officials to obtain the latest information on the typhoon.
Most of the injured incurred minor injuries from falling trees or flying debris and have already been discharged from the hospitals that treated them, the center said.
Soulik made landfall on the northeast coast at about 3am yesterday, packing winds of up to 190kph, the Central Weather Bureau (CWB) said. The eye of the storm left Taiwan at 8am after passing over Hsinchu County, it added.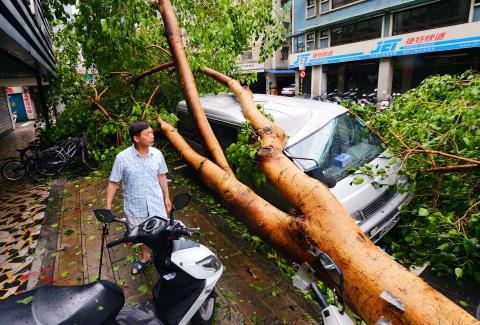 A man looks at a vehicle damaged by fallen trees after Typhoon Soulik hit Taipei yesterday.
Photo: AFP
Hsinchu's Bailan Township (白蘭) accumulated the most rainfall in the nation, receiving 823mm between midnight on Thursday and 8am yesterday, the CWB said.
As of 6:15pm, the typhoon was centered 70km west-northwest of Matsu, moving north-northwest 25kph, the bureau said.
It was packing sustained winds of 108kph, with gusts reaching 137kph, the bureau added.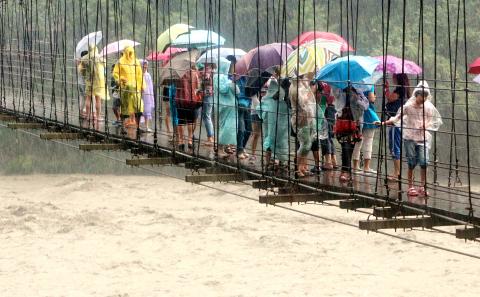 Chinese tourists walk across a suspension bridge in a scenic area at the foot of Alishan yesterday after roads up the mountain were closed off yesterday due to the heavy rain and strong winds brought by Typhoon Soulik.
Photo: CNA
Nearly 960,000 homes across Taiwan experienced power cuts yesterday, half of which saw their electricity restored by the afternoon, Taiwan Power Co (Taipower, 台電) said.
Officials at Taiwan Taoyuan International Airport, the country's main gateway, said that Soulik disrupted 362 flights at the airport between midnight and 4pm yesterday.
Windows at boarding gates B4, B8 and B9 were damaged by strong winds.
Islandwide, 633 flights were affected by the storm, including 208 delays and 154 cancellations, officials said.
Before the typhoon struck, about 8,000 people had evacuated their homes and hundreds of soldiers were deployed to high-risk areas.
In the Siangshan (向善) area of Puli (埔里), a township in Nantou County, nine people were rescued from flooded homes after a swollen rover broke its banks.
"The water came very fast, catching residents totally unprepared. In some areas, it was one story deep," a township official surnamed Wu (吳) said.
The nine people caught in the flood waters were rescued by firefighters in rubber boats, Wu said.
"Flooding and landslides were widespread in the town, especially in the areas near mountains," he added, calling the effects of the typhoon "more serious than predicted."
Landslides reached the backyards of some residents' homes, but they had already been evacuated, Wu said, adding that the ground may have been loosened by an earthquake last month.
In Keelung, some streets were submerged under 30cm of seawater, the National Fire Agency said, adding that flooding was also reported in Yilan and New Taipei City.
Low-lying houses along the Sindian River (新店溪) were also flooded, including one Aboriginal village which had been evacuated on Friday, a police officer said.
Roofs were ripped from homes in Keelung and Taipei, where strong winds and downpours disrupted power, uprooted trees and left the streets strewn with trash.
"I was very worried, I couldn't sleep the whole night because the sound of the wind was so loud and my building was shaking almost like there was an earthquake," Taipei resident Josephine Lin said.
Typhoon Soulik battered the capital, where about 59,000 households lost power and 1,667 trees lining the streets were uprooted.
The Taipei City Government said the damage was the most serious in the five years since Typhoon Jangmi hit in 2008.
Taipower division chief Lo Wen-yi (羅文毅) said most of the power outages happened in Shilin (士林), Beitou (北投) and Nangang (南港) districts, adding that downed trees that crushed utility poles were the main reason for the outages.
Taipower sent extra workers to fix the problem and the power will be back in all affected households by noon today, he said.
Taipei Department of Public Works Commissioner Chang Pei-yi (張培義) said the department will clear felled trees from major roads and around hospitals by today, and all obstructions on the streets will be removed by tomorrow.
The Taipei MRT's Wenhu Line was closed until 10:20am yesterday after iron sheets fell on the rail tracks.
No heavy damage was reported at the Hsinchu Science Park, although the wind tore down more than 10 trees, Hsinchu Science Park Administration deputy director-general Tu Chi-hsiang (杜啟祥) said, adding that the fallen trees had already been removed.
Water and power supplies were not affected, he said.
The other industrial and science parks around the country were all also undamaged, Ministry of Economic Affairs officials said.
However, the building housing the Greater Taichung Council was leaking in several places and its basement flooded.
Since the newly completed building cost more than NT$2.6 billion (US$86.6 million), the leaking and flooding prompted criticism from city councilors across party lines.
The weather bureau lifted the land warning at 5:30pm as the threat from the typhoon diminished and it headed toward China, although the bureau said there would be continuous torrential rain in central and southern Taiwan.
The storm made a landing in the heavily populated Chinese coastal province of Fujian later in the afternoon, packing winds of 119kph, according to China's National Meteorological Center. That was down from the 163kph winds the typhoon had boasted on making landfall in Taiwan around dawn.
About 300,000 people in Fujian were evacuated from their homes, Xinhua news agency reported. In Fujian and Zhejiang, another coastal province, train services were suspended, flights canceled and fishing boats called back to port. China's weather service warned of possible floods and landslides.
Torrential rain and landslides in China have left more than 200 people dead or missing in recent days, state media and the government said.
Landslides and floods in Sichuan Province in the southwest had killed 31 people by Thursday, according to data from the Chinese Ministry of Civil Affairs, with 166 more missing. More than 2 million people had been affected in the region, it added.
Another 13 people had died, with four missing, since Sunday in Yanan in the northwest, where local authorities warned of a high risk of flooding and landslides, Xinhua said.
Official figures also showed deaths in several other parts of China, from the central provinces of Henan and Hubei to the northern region of Ningxia.
The Chinese government raised the flood alert status on the Yangtze River, warning of potential downpours and windstorms in the waterway's middle and lower reaches yesterday as Soulik moves closer, news portal people.com.cn said.
Chinese President Xi Jinping (習近平) has called on the authorities to "spare no efforts" in searching for people left missing in the landslides, according to a statement sent by the General Office of the Communist Party of China to Xinhua.
Additional reporting Mo Yan-chih
Comments will be moderated. Keep comments relevant to the article. Remarks containing abusive and obscene language, personal attacks of any kind or promotion will be removed and the user banned. Final decision will be at the discretion of the Taipei Times.