Land warning for typhoon possible tomorrow: CWB
The Central Weather Bureau (CWB) yesterday said it could issue a land warning tomorrow night for Typhoon Soulik if its speed and path remain unchanged.
Soulik was upgraded from a tropical storm at 8am yesterday. By 5pm, the center of the typhoon was 1,960km east of Oluanpi (鵝鑾鼻), with maximum sustained winds of 126kph and gusts up to 162kph. The radius of the typhoon had expanded to 200km. It was moving northwest at 22kph.
Chen Yi-liang (陳怡良), a bureau forecaster, said the typhoon was still gaining strength, adding that it could become a stronger typhoon as it comes closer.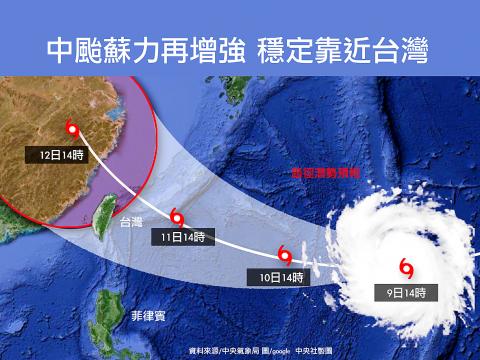 A map based on the Central Weather Bureau's forecast shows a range of possible routes for Typhoon Soulik, indicating that the storm's eye is likely to pass over or close to Taiwan tomorrow night and Friday morning.
Photo: CNA
The nation's weather is expected to be affected by Soulik on Friday and Saturday, depending on its distance from the coast, he said.
"Once the typhoon comes very close to Taiwan, it will facilitate the occurrence of drastic weather. Not only the northern and the northeastern regions, whose residents in particular should be prepared for potential disasters, but the rest of the nation should also be on alert," Chen said.
Daniel Wu (吳德榮), the former director of the bureau's weather forecast center who is now an adjunct associate professor of atmospheric sciences at National Central University, said that Soulik's force could continue to increase due to high sea temperatures, given that its structure has not been altered by terrain.
He said that the bureau's forecast of the typhoon's path is quite similar to those made by the Japan Meteorological Agency and US Navy, which all indicated that the typhoon will approach the nation's northeast coast.
Meanwhile, hot weather is forecast nationwide today and tomorrow. Temperatures could hit 34oC to 35oC and chances of afternoon thundershowers remain high in some regions.
Comments will be moderated. Keep comments relevant to the article. Remarks containing abusive and obscene language, personal attacks of any kind or promotion will be removed and the user banned. Final decision will be at the discretion of the Taipei Times.