Residents of Dapu protest renewed demolition order
Upset about Miaoli County's renewed demolition order for the last four households in the farming village of Dapu (大埔) in Jhunan Township (竹南), affected residents and their supporters yesterday protested outside the Executive Yuan, calling on Premier Jiang Yi-huah (江宜樺) to intervene on their behalf.
Holding up a large banner that read "The Dapu dispute is not solved yet" and placards that read "Save Dapu on July 5," dozens of people — including affected Dapu residents and supporters — rallied outside the Executive Yuan ahead of the self-demolition deadline set for Friday next week.
"The government is no different from a robber. The land on which our family house was built is for residential use, but the county government wants to flatten our home to make way for a science park," said Ko Chih-chuan (柯智傳), one of the affected residents. "Does this make any sense to any of you?"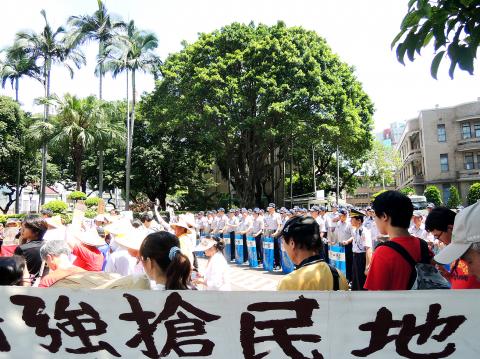 Residents of the last four households in the farming village of Dapu in Jhunan Township and their supporters yesterday protested outside the Executive Yuan.
Photo: Taipei Times
Taiwan Rural Front chairman Hsu Shih-jung (徐世榮) said that, amid protests three years ago against land seizure by the government in Dapu to make way for a science park, Vice President Wu Den-yih (吳敦義), who was premier at the time, called a meeting attended by Miaoli County Commissioner Liu Cheng-hung (劉政鴻), Straits Exchange Foundation Secretary-General Lin Join-sane (林中森), who was the Cabinet secretary-general at the time, and Jiang, who was minister of the interior.
The meeting reached a conclusion to preserve the remaining four houses, while finding a plot of land where the affected families could relocate their houses and farms.
However, the Ministry of the Interior later decided to flatten the houses anyway and, while Dapu residents are still in the middle of an administrative lawsuit against the county government and the ministry, they received a renewed demolition order last week, asking them to demolish their own houses by July 5 or face forced demolition by the county.
"We are here because Jiang, as interior minister at the time, also made the promise along with Wu, and in fact, Wu came to the conclusion to preserve the remaining houses because the ministry said there would be no problem after an assessment," said Liao Pen-chuan (廖本全), an associate professor at National Taipei University's Department of Real Estate and Built Environment.
"Jiang is a liar," he added.
Acting Construction and Planning Agency director-general Hsu Wen-lung (許文龍), who received the protesters, said that the agency would try its best to help.
"However, ultimately it is the county government that has final say," Hsu said.
Comments will be moderated. Keep comments relevant to the article. Remarks containing abusive and obscene language, personal attacks of any kind or promotion will be removed and the user banned. Final decision will be at the discretion of the Taipei Times.