DPP fully committed to Taiwan's self-defense, Su says
Taiwan must demonstrate that it is serious about its defense, Democratic Progressive Party (DPP) Chairman Su Tseng-chang (蘇貞昌) said on Thursday in Washington.
"I guarantee you, a future DPP government will be fully committed to Taiwan's self-defense," Su told the Brookings Institution.
He said that US-Taiwan relations needed to be rebalanced and that Taipei should not ask what the US could do for Taiwan, but rather ask what Taiwan could do to earn Washington's support.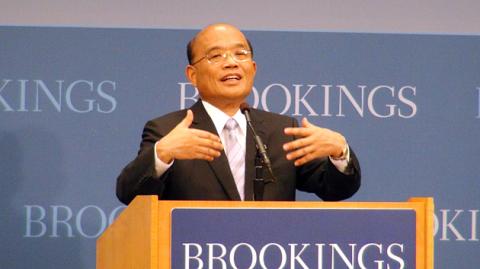 Democratic Progressive Party Chairman Su Tseng-chang delivers a speech at the Brookings Institution in Washington on Thursday.
Photo: CNA
"Democracy and security do not fall from heaven — they come with a cost," he said.
"In the past few years, the cross-strait military imbalance has become more serious, but Taiwan's investment in defense is growing smaller. It is time for us to demonstrate that we are serious," Su added.
The DPP had always considered the US to be Taiwan's most important democratic, security and economic partner, Su said.
Peppered with questions about how the DPP would handle cross-strait relations, Su said it would not provoke Beijing.
"We understand that China is getting stronger and stronger, and people are doing business across the Taiwan Strait and we support that," he said.
Stressing that he was both principled and pragmatic, Su said the sovereignty of Taiwan could not be negotiated.
"We look forward to good relations and friendship with China," he said.
However, at the same time Su said that China should shoulder more international and regional responsibilities, and be more conducive to regional peace and stability.
"We urge the PRC [People's Republic of China] not to push Taiwan into a corner," Su said. "Taiwan definitely needs to reinforce its self-defense capabilities — the idea is to safeguard Taiwan's sovereignty and the people's security."
Taipei must maintain a minimum capability and demonstrate determination that if China attacks Taiwan it will "pay a huge price," he said.
A minimum defense budget — higher than the current budget — has to be maintained to ensure that Taiwan could survive an attack, he said.
Su said there was no need for China to target a large number of missiles at Taiwan and that if Beijing really wanted to win Taiwanese hearts and minds it should use goodwill and sincerity.
He said he was conducting "very candid" discussions in Washington and had assured the US that under a DPP administration there would be "no surprises" and policies would be consistent.
"The DPP will be responsible, but we will not give up on principles," he said. "I have made tremendous efforts to show that the DPP is credible in cross-strait relations."
Su said China had never given up its goal to lock Taiwan into a "one China" framework. The more China tried to pressure Taiwan, the more it would find the nation to be like a seagull on a beach.
"The more you try to catch it, the more it will fly away," he said.
Su said that Taiwan needs to open its markets to the world and engage in a series of structural reforms.
"We should promote more efficiency in government to attract more investment," he said.
Yesterday, Su was scheduled to formally open the new DPP offices in Washington and attend a banquet organized by the American-Taiwanese community.
"History has left its imprint and the DPP has to work hard to regain the confidence of our international friends," Su said.
He said that many inside and outside of Taiwan do not really understand the DPP.
"Even though our policy principles are sound and in line with Taiwan's majority, there seems to be a gap in perception," Su said. "I know this is what we need to overcome if the DPP is to make a comeback."
Taiwan, he said, is a sovereign country and any change must be approved by democratic means, such as a referendum.
"Taiwan should engage a rising China with self-confidence," Su said. "We should not only pursue interaction and dialogue with the Chinese government, but also the Chinese people. More interaction means more mutual understanding and less distrust."
There is no such thing as a "magic formula" to resolve all cross-strait differences, he said.
Comments will be moderated. Keep comments relevant to the article. Remarks containing abusive and obscene language, personal attacks of any kind or promotion will be removed and the user banned. Final decision will be at the discretion of the Taipei Times.