Academics criticize Hsinchu City over probe of foreign academic's work permit
Academics yesterday warned that the Hsinchu City Government's investigation into Austrian lecturer Max Gufler's work permit after he criticized the city government was reminiscent of the White Terror era.
In an open letter released on May 10, Gufler, a lecturer at National Hsinchu University of Education and an environmentalist, urged the city government not to sponsor three firework shows in October as part of Double Ten National Day celebrations because the shows would cause air pollution and waste public funds.
Lu Chung-chin (呂忠津), Taiwan Association of University Professors (TAUP) president, told a news conference that Hsinchu's Department of Labor began a probe into Gufler's work permit on May 14.
From left to right, professors Chu Ping-tzu, Lu Chung-chin and Liu Chun-hsiu take part in a press conference in Taipei yesterday to criticize the Hsinchu City Government's investigation into the work permit status of Max Gufler, an Austrian lecturer at the National Hsinchu University of Education.
Photo: CNA
The probe was widely criticized and prompted a city councilor to question Hsinchu Mayor Hsu Ming-tsai (許明財) about the investigation, Lu said.
Hsu has officially apologized to Gufler, but the TAUP, Taiwan Democracy Watch (TDW) and National Chiao Tung University's Chufeng Society said the government and Hsu should apologize for jeopardizing Taiwan's proud democracy with their "disgusting behavior."
Chu Ping-tzu (祝平次), a National Tsinghua University professor who represented TDW at the news conference, said the incident showed that the mentality of some government officials "is pretty much the same as the government's mentality in the Martial Law era."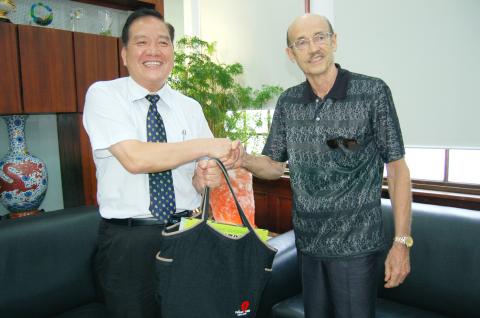 Hsinchu Mayor Hsu Ming-tsai, left, accepts a reusable shopping bag from National Hsinchu University of Education lecturer Max Gufler on Friday last week after thanking him for his suggestions regarding environmental protection.
Photo: Chen Wei-jen, Taipei Times
Citing US whistleblower Edward Snowden, the source behind the recent leaks of information about the US National Security Agency's activities, Chu said the county government's practice "was perhaps not that surprising since that even the US government violates democracy from time to time."
Chu said a series of recent incidents nationwide have worried academics and rights advocates about the status of Taiwan's "campus democracy," citing the Ministry of Education's letters to students who participated in a protest, National Taiwan University's request for police officers to maintain order on campus and the suppression of students' speech of freedom at several schools.
Liu Chun-hsiu (劉俊秀), a professor at National Chiao Tung University, said the harassment of Gufler was the kind of strategy the government used during the White Terror era, along with lawsuits, so that the victims would eventually be subdued through fear.
"The perpetrators' primary objective is intimidation, which would be enough to silence the protesters and advocates, because no one wants to endure prolonged legal proceedings and constant harassment," Liu said.
Comments will be moderated. Keep comments relevant to the article. Remarks containing abusive and obscene language, personal attacks of any kind or promotion will be removed and the user banned. Final decision will be at the discretion of the Taipei Times.