Taiwan sees second jet crash within a week
A Mirage 2000 jet fighter crashed into the sea yesterday morning, but its two crewmembers managed to eject to safety and were rescued.
It was the second air force jet fighter to be lost in less than a week after an F-16 crashed into the sea on Wednesday. Its pilot was also rescued.
All of the air force's F-16s were grounded after the incident.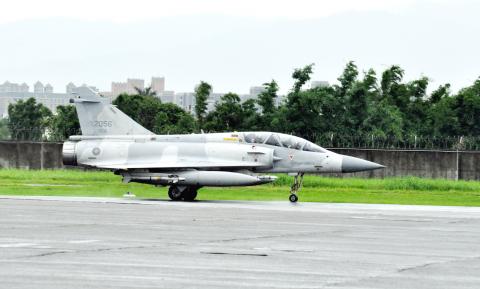 A Mirage 2000 jet fighter stands on a runway at an unspecified airfield in Taiwan in this undated photograph.
Photo: CNA
The air force said contact with the Mirage 2000 was lost at 10:18am, while the aircraft was on a training mission off Hsinchu County.
The air force said the crew, Lieutenant-Colonel Liu Yuan-hsiang (劉永祥), 38, and First Lieutenant Cheng Yu-teng (鄭育騰), 27, were rescued from the sea by an S-70C helicopter.
The pair, who were sent to a Hsinchu hospital, suffered only slight injuries.
The air force said the Mirage took off at 9:54am from Hsinchu Air Base and its crew ejected from the fighter in accordance with flight regulations after a red alarm light began to flash.
It said an investigative task force has gone to Hsinchu to look into the incident.
Taiwan procured 60 Mirage 2000s from France in 1992. Counting yesterday's incident, four have now crashed.
Asked by reporters whether Taiwan's air defense capabilities have been compromised with both F-16 and Mirage jets grounded, Air Force Chief of General Staff Major General Ding Chung-wu (丁忠武) said the air force's 144 F-16s had all been cleared for operations yesterday, so the nation's air defense was not weakened.
The military had originally planned to dispatch two F-16s to participate in a joint drill conducted by navy and Coast Guard Administration personnel on Thursday in waters south of Taiwan, but following last week's crash, Mirage 2000 jet fighters were deployed from Hsinchu to take part instead.
The joint drill was held to show the government's determination to protect Taiwanese fishermen operating there, following the fatal shooting of fisherman Hung Shih-cheng (洪石成) by Philippine Coast Guard personnel in waters where the exclusive economic zones of Taiwan and the Philippines overlap.
Comments will be moderated. Keep comments relevant to the article. Remarks containing abusive and obscene language, personal attacks of any kind or promotion will be removed and the user banned. Final decision will be at the discretion of the Taipei Times.