US seeks to calm tensions, sources say
CONCERNED: While refusing to be drawn on details, a spokesman said the US hopes there will be no escalation of the dispute over the death of a Taiwanese fisherman
The US may be playing a major behind-the-scenes role in trying to calm growing tensions between Taiwan and the Philippines over the killing of a Taiwanese fisherman last week, a US Department of State official indicated on Wednesday.
"We urge the Philippines and Taiwan to take all appropriate measures to clarify disagreements and prevent recurrence of such tragic events," acting deputy US Department of State spokesman Patrick Ventrell said.
Ventrell confirmed the US was in close communication with both sides, but refused to give details of Washington's diplomatic involvement.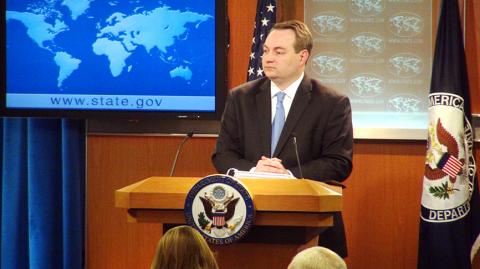 Acting deputy US Department of State spokesman Patrick Ventrell speaks in Washington on Wednesday about the US' stance on the dispute between Taiwan and the Philippines.
Photo: CNA
"We're concerned by the increase in tensions between two neighboring democracies and close partners of the United States in the Asia-Pacific region," Ventrell said.
He said that Philippine President Benigno Aquino III had appointed a personal representative to Taiwan to convey his deep regret and to apologize.
Another diplomatic source told the Taipei Times that Washington was "actively engaged" in trying to stop the incident from escalating and that there had been talks at the highest levels.
Speaking at the daily US Department of State press briefing, Ventrell said the US continued to urge both parties to ensure maritime safety and refrain from actions that could "further escalate tensions" in the region, and undermine the prospects for a rapid and effective resolution of differences.
"These are partners with whom we have extensive relationships," he said. "I'm not going to get into the day-to-day readout of our diplomacy, whether it's from Washington or our posts overseas. I'm just not going to get into that level of detail."
He added that he did not know when the Philippine investigation into the shooting would be completed.
"It appears the incident took place in or near disputed waters, where the Philippines and Taiwan both claim fishing rights," Ventrell said.
The US does not take a position on the proper location of a maritime boundary in that area.
Ventrell was reminded at the hearing that President Ma Ying-jeou (馬英九) had rejected the Philippines' apology as lacking sincerity.
Asked if the US considered the apology to be sincere, Ventrell said that was a determination for Taiwan to make and discuss "as appropriate" with the Philippines.
Ventrell was asked if the Taiwan-Philippines "conflict" could undermine US interests in the Asia-Pacific region.
"I'm not going to draw that broad a conclusion, other than to say that we're concerned about this increase in tension," Ventrell said. "These are two partners that we have a robust relationship with ... and we want them to work through their differences on this issue as expeditiously as they can."
Ventrell said that it was "precisely incidents such as this" which underscore the need for a code of conduct in the Pacific Ocean, where there are numerous disputed areas of territorial waters.
Asked if the US had dissuaded Taiwan from sending a military vessel to protect its fishermen in waters near the Philippines, Ventrell said he had no information on that suggestion "one way or the other."
Comments will be moderated. Keep comments relevant to the article. Remarks containing abusive and obscene language, personal attacks of any kind or promotion will be removed and the user banned. Final decision will be at the discretion of the Taipei Times.