Philippines holds vital elections
DEADLY POLLING: Seven people died in the south of the country yesterday as politicians' security forces battled each other or launched attacks on voters
The Philippines held elections yesterday seen as crucial for President Benigno Aquino III's bold reform agenda, as deadly violence and graft-tainted candidates underlined the nation's deep-rooted problems.
Aquino called for the mid-term polls, in which thousands of local leaders plus national legislators will be elected, to be a referendum on his efforts to transform a corrupt political system and an underperforming economy.
"The president is asking voters to put their confidence in those on the administration slate to help him carry out the rest of his reform agenda," presidential spokeswoman Abigail Valte said.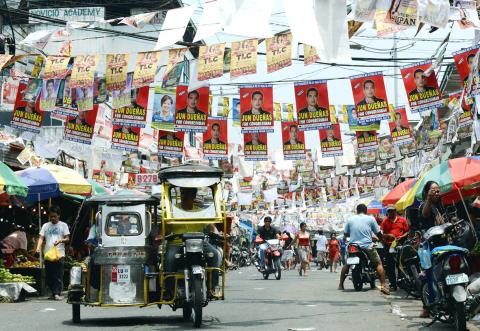 Election posters are seen in Manila yesterday. The Philippines went to the polls yesterday in what was seen as a referendum on the presidency of Benigno Aquino III.
Photo: AFP
Aquino swept into power in 2010 on a promise to fight corruption that he blames for the country's crushing poverty.
Opinion polls show he remains one of the country's most popular presidents, with the Philippines enjoying faster economic growth than every other nation in the Asia-Pacific except for China.
However, with presidents only allowed to serve one term of six years, Aquino is in a rush to implement more ambitious reforms and make an enduring impact on graft.
Yesterday's elections — in which more than 18,000 positions, from town councillors up to provincial governors and members of the legislature, were being contested — are vital to shore up support for his efforts.
Most crucial is control of both houses of Congress.
Aquino is confident of securing big majorities in both houses from an alliance of a wide range of parties, enabling him to pass legislation much more easily than his first three years when he did not have control of the Philippine Senate.
One of Aquino's biggest reforms is a planned peace deal with Muslim rebels to end an insurgency in the south of the country that has claimed an estimated 150,000 lives.
The peace accord would require parliamentary endorsement.
Aquino's aides have also said he is focused on passing legislation that would expand the tax base, including from the mining sector, to pay for more social security services.
Nevertheless, amid the hope, the elections highlighted the enduring nature of many of the darkest traditions that affect Philippine politics.
Yesterday, seven people were killed in the south as politicians' security forces battled each other or launched attacks on voters. More than 60 people were killed in pre-poll violence.
Comments will be moderated. Keep comments relevant to the article. Remarks containing abusive and obscene language, personal attacks of any kind or promotion will be removed and the user banned. Final decision will be at the discretion of the Taipei Times.