DPP to sue minister over Chen dispute
'CHICKEN': Chen Shui-bian's transfer to Taichung led DPP lawmakers to storm Minister of Justice Tseng Yung-fu's office, who they called a 'chicken' for trying to hide from them
The Democratic Progressive Party (DPP) caucus yesterday said it would file a lawsuit against Minister of Justice Tseng Yung-fu (曾勇夫) for fraud, assault and coercion following a dispute between DPP lawmakers and Tseng over the abrupt transfer of former president Chen Shui-bian (陳水扁) from Taipei to a Taichung prison hospital.
The Ministry of Justice relocated Chen from Taipei Veterans General Hospital to Taichung Prison's Pei-te Hospital in Greater Taichung on Friday morning, without giving prior notice to Chen or his family.
Later that day, incensed DPP lawmakers interrupted a press conference at the ministry before charging into Tseng's office and demanding an explanation. During the incident, DPP Legislator Chiu Yi-ying (邱議瑩) kicked the door open, damaging it in the process.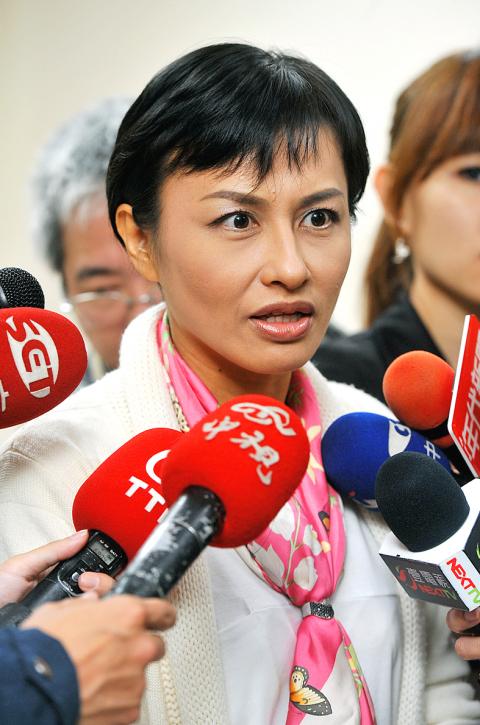 Democratic Progressive Party (DDP) Legislator Chiu Yi-ying yesterday tells reporters in Taipei about the DPP's plan to file a lawsuit against Minister of Justice Tseng Yung-fu.
Photo: Chien Jung-fong, Taipei Times
DPP Legislator Wu Ping-jui (吳秉叡), a former judge, told a press conference yesterday that the ministry has failed to fulfill its obligation to protect Chen, who is serving a 20-year sentence for corruption and has been battling numerous health problems, including severe depression.
"This malfeasance pretty much constitutes assault," Wu said, adding that the ministry was also guilty of coercion because it had relocated Chen at 5am in the morning without notifying the ex-president or his family.
DPP Legislator Yeh Yi-jin (葉宜津) said the party caucus would because Tseng's secretary had told the DPP lawmakers that the minister was out of the office, when Tseng had actually been hiding in the office with the lights off.
President Ma Ying-jeou (馬英九) and the ministry both responded to the incident, with Ma saying it was a matter of "obstructing an officer in the discharge of his duties," which is an offense.
The Taipei Prosecutors' Office launched an investigation into the incident yesterday and may prosecute the lawmakers.
Chinese Nationalist Party (KMT) lawmakers urged Tseng to file a defamation lawsuit against the DPP lawmakers, who called Tseng a "chicken."
DPP Legislator Lee Chun-yi (李俊俋) said that differences of opinion between the legislative and administrative branch were common and lawmakers should not be punished for trying to communicate with the ministry.
Lee also said he suspected that the ministry had not intended to make a move until Ma commented on the matter, which "indicated that Ma was interfering with the judiciary, which is a violation of the Constitution."
Meanwhile, debate over whether Chen — who has been diagnosed with severe depression, sleep apnea, non-typical Parkinson's disease, a speech disorder and mild cerebral atrophy — should be granted medical parole continued yesterday during a meeting of the legislature's Judiciary and Organic Laws and Statutes Committee.
KMT Legislator Lu Hsueh-chang (呂學樟) asked Tseng to broadcast video footage played on television news channels showing Chen walking in a yard of the Taipei Veterans General Hospital.
Tseng said local TV stations and the ministry's Agency of Corrections had both shot the footage. The minister broadcast three videos during the meeting.
DPP Legislator Chen Chi-mai (陳其邁) said the ministry had seriously undermined Chen's human rights and medical welfare, and was Ma's "lackey."
The legislator asked Tseng why he did not show footage of KMT Taipei City Councilor Lai Su-ju's (賴素如) life in a detention center.
Lai has been detained for allegedly accepting bribes in the bidding for the Taipei Twin Towers.
Tseng said the Chen footage was shown because it concerns public affairs and could give the public "correct" information about Chen's condition.
DPP caucus whip Ker Chien-ming (柯建銘) said Chen told him in the prison hospital that in two days, only an orthopedist had visited him, but Tseng said Chen's medical team consists of 11 doctors who provided him with the best possible care.
Comments will be moderated. Keep comments relevant to the article. Remarks containing abusive and obscene language, personal attacks of any kind or promotion will be removed and the user banned. Final decision will be at the discretion of the Taipei Times.