Currents turn swim race into a disaster
AGAINST THE TIDE: More than 300 swimmers had to be rescued after strong currents swept them out to sea, and seven had to be sent to hospital after coming ashore
Seven competitors in a long-distance swimming race were hospitalized yesterday after they were caught in a strong current off the coast of Kenting (墾丁) and could not make it back to shore, event organizers said. One of them was unconscious as of press time.
The swimmers were among 4,000 people aged five to 89, including more than 200 from China, trying to swim a 3km distance in the annual "International Olympic Hengchun Open Water Swimming for All" in Kenting's South Bay (南灣).
Hosted by the Kaohsiung Adult Swimming Association, the participants were to swim 15 stages in a straight line.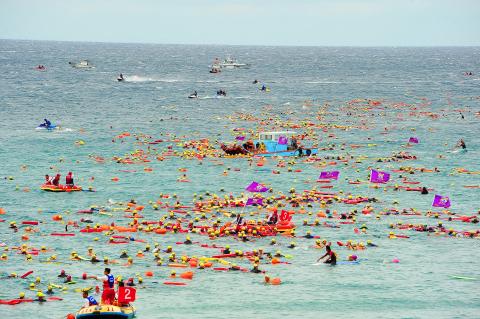 Lifeguards stand by as swimmers take part in a race in the sea off Kenting in Pingtung County yesterday.
Photo: Tsai Tsung-hsien, Taipei Times
However, 30 minutes after the event kicked off at 8am, the association noticed that the weather was beginning to worsen, with strong winds generating high waves, so it shortened the event from 15 stages to 12, and eventually to just five.
The association terminated the event at 9am when swimmers increasingly began to be brought in by lifeguards, but by then, more than 300 swimmers had been swept by currents toward the northern part of the bay. Some swimmers were swept as far as the Houbihu area (後壁湖), near the outflow of the Ma-anshan Nuclear Power Plant in Ma-anshan (馬鞍山), Pingtung County.
One swimmer, surnamed Chang (張), said the currents swept swimmers out toward the northern edge of the South Bay and they were unable to swim back.
"We just couldn't swim back," another swimer surnamed Chang (張) said, adding there were a lot of elderly couples and children who used their swimming caps like flags to attract the attention of rescuers on jet skis dashing around trying to rescue the swimmers.
Liang Ming-te (梁明德), a commander at the Combined Armed Forces Training Base participating in the event, led more than 100 soldiers who were also taking part to help rescue efforts.
The Ministry of National Defense said that once the military was alerted to the incident, it placed several S-70C helicopters on stand-by in the Chiayi Air Force Base.
Local jet-ski rental owners also offered their jet skis to aid police and firefighters in pulling the people out of the water.
The Pingtung County Government and civilian organizations also mobilized personnel once they were informed, with the last swimmer finally pulled from sea at noon.
Of the people sent to the hospital, 63-year-old Shih Nan-ching (施南靖) from New Taipei City (新北市) was showing no signs of life after he was brought ashore and despite restoring blood flow to the body after administering mouth-to-mouth resucitation, Shih remained unconscious as of press time.
Another swimmer, a 73-year-old woman named Wang Ching-tzu (王靜子) from Greater Tainan, was confirmed as stable after undergoing tracheal intubation.
Since an incident five years ago in which a swimmer drowned, the event had not seen any major accidents until yesterday.
The Central Weather Bureau's marine meteorology center said it had noticed an aberration in wave patterns early yesterday morning, adding that it had warned both yesterday and on Saturday that winds at Kenting would be at level 6 or 7 on the Beaufort Scale, with some gusts reaching level 9.
According to the center, buoys in Oluanpi (鵝鑾鼻) showed currents were flowing in a southeasterly direction on Saturday and on Friday, while waves yesterday morning had no distinct directional flow.
The center said the statistics sent back by its buoys were extremely odd, adding that it had not yet determined if the strange data was linked to the opposing currents.
Additional reporting by CNA
Comments will be moderated. Keep comments relevant to the article. Remarks containing abusive and obscene language, personal attacks of any kind or promotion will be removed and the user banned. Final decision will be at the discretion of the Taipei Times.