Chen Shui-bian's transfer to Taichung Prison ignites furor
The Ministry of Justice early yesterday morning transferred former president Chen Shui-bian (陳水扁) from a hospital in Taipei to Taichung Prison's Pei Teh Hospital, a sudden and unannounced move that prompted condemnation from Chen's family and the Democratic Progressive Party, who accused the Chinese Nationalist Party (KMT) government of placing political considerations above Chen's medical needs.
Chen, who has been staying at Taipei Veterans General Hospital (TVGH) since Sept. 17 last year and has been diagnosed with severe depression, sleep apnea, non-typical Parkinson's disease, a speech disorder and mild cerebral atrophy, was transferred from TVGH at 5:30am and arrived at Pei Teh at 7:20am.
Deputy Minister of Justice Chen Ming-tang (陳明堂) told a press conference later yesterday that because the former president's condition does not warrant medical parole, sending him to Taichung Prison's Pei Teh Hospital would ensure that he receives proper medical attention.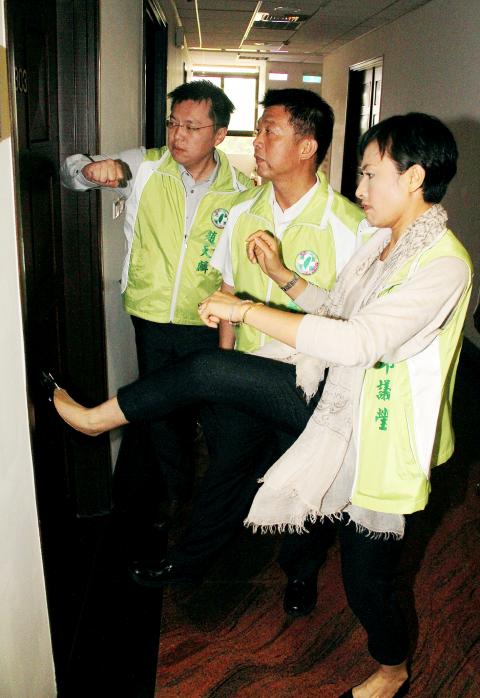 Democratic Progressive Party Legislator Chiu Yi-ying kicks on the door to the minister of justice's office after the ministry held a press conference to explain the medical condition of former president Chen Shui-bian yesterday.
Photo: CNA
Chen Shui-bian is serving a 20-year jail sentence for corruption.
The arrangement was made in consideration of his status as a prison inmate, patient and former president, Chen Ming-tang said.
Chou Yuan-hua (周元華), a psychiatrist and the attending physician for the former president at TVGH, earlier this month told the legislature that it would be better for Chen Shui-bian to be looked after at home or moved to a hospital closer to home so that he could benefit from the support of his family.
However, the ministry said yesterday that home-based convalescence for convicts is not legal in this country.
Chen Shui-bian's condition can be treated while he is serving his prison term and he does not qualify for medical parole, the ministry said, adding that there is no precedent of an inmate with a mental disease being granted parole.
Chen Ming-tang said Pei-te has set up a special medical zone for Chen Shui-bian, adding that it is partly an outdoor environment with a grass lawn.
The former president is free to move within the special zone and his family members can visit him as often as they like, he said.
The prison hospital is also closer to Greater Kaohsiung, where Chen Shui-bian's family lives.
Pei Teh has a psychiatry department and the hospital has arranged caretakers for the former president 24 hours a day, he said.
The medical team consists of doctors at Pei Teh, Taichung Veterans General Hospital and China Medical University Hospital, he added.
Condemning the ministry for "smuggling" his father to Pei Teh, Chen Chih-chung (陳致中), son of the former president, said the ministry's decision was "inhumane and cruel."
Chen Chih-chung said the family was unaware of the transfer and that he received a text message from the TVGH later notifying him of his father's relocation.
DPP Taipei City Councilor Chiang Chi-ming (江志銘) rushed to Pei-te with Chen Chih-chung at 11:40am to visit the former president.
Chiang said the former president had attempted suicide on Thursday evening in a bathroom in a bid to resist the relocation.
DPP lawmakers were also outraged upon learning of Chen Shui-bian's sudden transfer to a prison hospital.
DPP caucus whip Ker Chien-ming (柯建銘) said the ministry's action was "an early morning assault," adding that the caucus would sue Minister of Justice Tseng Yung-fu (曾勇夫) for malfeasance.
A group of DPP lawmakers rushed into the ministry yesterday morning, demanding to see Tseng.
Finding Tseng's office door closed, DPP Legislator Chiu Yi-ying (邱議瑩) and other lawmakers kicked the door, barged in, surrounded the minister and demanded answers.
"If former president Chen commits suicide, President Ma Ying-jeou (馬英九) and you [Tseng] are the murderers," Chiu said.
"Chen [Shui-bian] is not only a patient, he is a prisoner too, so we have to have other considerations," Tseng said.
DPP Chairman Su Tseng-chang (蘇貞昌) said: "Ma's action [to allow the transfer] has caused disharmony in Taiwanese society. [The transfer] is not good for Chen Shui-bian's health, nor is it good for society as a whole."
Former vice president Annette Lu (呂秀蓮) criticized the ministry's move as "shady and deceitful," while former DPP chairperson Tsai Ing-wen (蔡英文) said "the sudden transfer, handled in a rough manner, violates Chen Shui-bian's right to receive proper medical treatment."
Presidential Office spokesperson Lee Chia-fei (李佳霏) said Ma respected the ministry's decision.
"It is the ministry's responsibility to make a professional assessment on [Chen Shui-bian's medical condition] in accordance with medical expertise and the law," she said.
Disagreeing with the criticism that the ministry moved the former president "surreptitiously," Legislative Speaker Wang Jin-pyng (王金平) said the matter was "within the ministry's mandate."
Meanwhile, KMT Legislator Liao Cheng-ching (廖正井), who recently voiced his support for Chen Shui-bian being granted medical parole, said that having the former president treated at Pei Teh was "an appropriate arrangement."
Additional reporting by Shih Hsiu-chuan, Mo Yan-chih, Lee Hsin-fang and CNA
Comments will be moderated. Keep comments relevant to the article. Remarks containing abusive and obscene language, personal attacks of any kind or promotion will be removed and the user banned. Final decision will be at the discretion of the Taipei Times.