Pair suspected in bomb attempts sent back from China
Two men suspected of planting suitcase explosive devices on a high-speed rail train and near a lawmaker's office on Friday last week were repatriated from China yesterday, investigators said.
Investigators made the announcement at a press conference presided over by National Police Agency Director-General Wang Cho-chiun (王卓鈞) yesterday afternoon.
Police said that the two men, surnamed Chu (朱) and Hu (胡), were apprehended and repatriated under the Cross-Strait Agreement on Joint Crime-Fighting and Judicial Mutual Assistance, and arrived at Taiwan Taoyuan International Airport at about 3:30pm under police escort.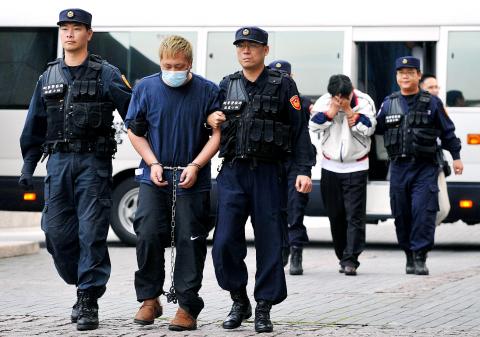 Two men suspected of planting suitcases loaded with explosive devices on high-speed train and outside a legislator's office on Friday last week, Hu, second left, and Chu, fourth left, are escorted to the Criminal Investigation Bureau in Taipei yesterday after their extradition from China.
Photo: Mandy Cheng, AFP
The pair left for Macau at about 4pm on Friday, just hours after they allegedly planted explosives on a high-speed rail train traveling from Greater Kaohsiung to Taipei, as well as outside Chinese Nationalist Party (KMT) Legislator Lu Chia-chen's (廬嘉辰) constituency office in New Taipei City (新北市), police said.
The suitcases contained gasoline, electric detonators and timers, with some holding gas cartridges, hydrochloric acid and sodium cyanide, police said.
Preliminary investigations indicated that Chu was in charge of planting the suitcases, while Hu was thought to be responsible for driving Chu to the locations and manufacturing the explosive devices, Wang said.
He said that Chu had confessed to the allegations made against him and had given a statement while being questioned by Chinese police, but Hu, a lawyer from Greater Taichung, had denied any involvement in the case.
Although police had suspected the incidents could be politically motivated because a note that included President Ma Ying-jeou's (馬英九) name had been attached to the suitcases outside Lu's office, no evidence has been uncovered to suggest politics were a motive, Wang said.
Investigators identified Hu as a possible suspect on Friday night after DNA traces collected from the suitcases pointed to him, only to realize that he had boarded a flight to Macau earlier that day, Wang said.
After contacting the Macau police, investigators found that Hu had gone to Zhuhai City in Guangdong Province at 7pm on Friday, Wang said.
Wang said investigators named Chu as an accomplice after fingerprints collected from a minivan that was used to transport the suitcases reportedly matched Chu's and because he had been on the same flight to Macau as Hu.
"We then immediately activated the cross-strait crime-fighting mechanism to alert Chinese police so they could apprehend the pair," Wang said.
The men were arrested in a hotel in Zhongshan City, Guangdong Province, at about 1am on Sunday, he said.
Huang Chi-chih (黃繼智), director of the Criminal Investigation Bureau's 5th Investigation Brigade and a specialist in bomb prevention, said the suspects could have learned to make explosives from the Internet.
"Although the explosives were crudely made, they could still have caused devastating damage had they been detonated," Huang said.
Comments will be moderated. Keep comments relevant to the article. Remarks containing abusive and obscene language, personal attacks of any kind or promotion will be removed and the user banned. Final decision will be at the discretion of the Taipei Times.