DOH rings bird flu alarm bells
PRECAUTIONS: The Department of Health yesterday listed H7N9 bird flu infection as a notifiable disease, while barring Chinese tourists from visiting poultry farms
The Department of Health (DOH) designated infections of the H7N9 avian influenza strain as a notifiable disease yesterday, one day after four more cases of the bird-flu virus new to humans were reported in China.
Meanwhile, Chinese authorities later yesterday reported that two more people had contracted the new bird flu, one of whom has died, bringing the total number of known cases to nine and the number of deaths to three.
"We have decided to list H7N9 infection as a category five notifiable disease," Department of Health Minister Chiu Wen-ta (邱文達) said after hosting a meeting with disease control experts.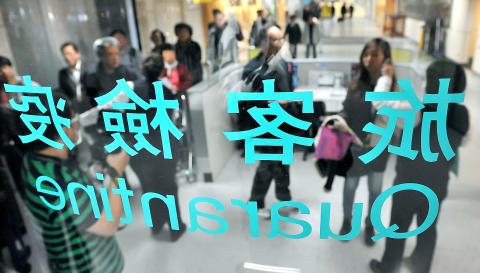 Workers at Taiwan Taoyuan International Airport yesterday check the ear temperature of Chinese tourists after Taiwan's Department of Health designated infections of the H7N9 avian influenza strain as a category five notifiable disease.
Photo: Yao Chieh-hsiu, Taipei Times
The department has also decided to raise the quarantine alert for the H7N9 flu strain from Grade 2 to Grade 3, Chiu said.
A national-level H7N9 epidemic prevention and control center was also activated at 6pm yesterday, with Premier Jiang Yi-huah (江宜樺) presiding over the center's opening.
Centers for Disease Control Director-General Chang Feng-yee (張峰義) will serve as the new control center's chief, Chiu said.
Chinese health authorities said on Tuesday that three women and a man, from various cities in Jiangsu Province, have fallen critically ill from the H7N9 virus. The cases were the second batch to be confirmed in China after three in Shanghai and in Anhui Province on Sunday.
Chinese authorities reported yesterday that a 38-year-old cook became ill early last month while working in Jiangsu Province. He died in hospital in Hangzhou on Wednesday last week, the Xinhua news agency reported.
Samples taken from him tested positive yesterday for the new H7N9 strain.
The second patient, also in Hangzhou, is a 67-year old who is under treatment. Xinhua said no connection between the two cases had been discovered and no one in close contact with either patient had developed any flu-like symptoms.
The Chinese news Web site Chinanews.com said the four patients in Jiangsu all reported varying symptoms of dizziness, fever, coughing and breathlessness.
The Chinese Ministry of Agriculture said it had yet to find any animals infected with the H7N9 virus, but added it was possible that H7N9 had been brought to China by migratory birds.
In Taipei yesterday, Council of Agriculture Deputy Minister Wang Cheng-teng (王政騰) said tourists from China have been barred from visiting poultry farms nationwide over concerns about avian influenza.
Huang Kuo-ching (黃國青), deputy head of the Bureau of Animal and Plant Health Inspection and Quarantine, said the bureau has advised poultry farm operators to reject visits by Chinese tourists.
On Tuesday, when commenting on Taiwan's ability to cope with a possible threat from the disease, Steve Chan (詹啟賢), chairman of the Taichung-based Adimmune Corp (國光生技), said that although there is no specific vaccine for H7N9 — a new variant — it is a "sibling" of the more commonly seen H5N1 virus, for which a vaccine already exists.
Should there be a major outbreak of H7N9, he said, it would take Adimmune just two months to produce between 5 million and 10 million doses of the vaccine.
Comments will be moderated. Keep comments relevant to the article. Remarks containing abusive and obscene language, personal attacks of any kind or promotion will be removed and the user banned. Final decision will be at the discretion of the Taipei Times.