Cabinet unveils outlines of plan for free economic pilot zones
The Cabinet yesterday unveiled the general principles of a plan to set up "Free Economic Pilot Zones" aimed at ushering in a new wave of liberalization to "build momentum for economic growth and industrial upgrading," and to "create conditions for the country to take part in regional economic integration."
Under the plan, in certain pilot zones, Taiwan would augment its WTO commitments by having WTO-plus provisions for the liberalization of investment in the manufacturing and services sectors, and movement of goods and services, flow of capital, movement of labor and transfer of technology for investors from other countries besides China.
Restrictions imposed on Chinese investors within the cross-strait Economic Cooperation Framework Agreement — less preferential than treatment under the WTO — would not be applied to Chinese investors in the pilot zones.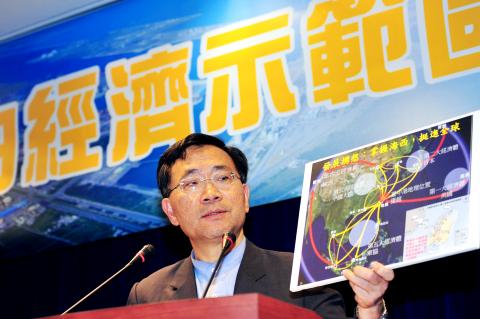 Greater Taichung Deputy Mayor Tsai Bing-kun holds up an image yesterday, saying that the city is ready as the government appoints Taichung Port as a free economic pilot zone.
Photo: Liao Yao-tung, Taipei Times
"What we have planned is that, in the manufacturing sector, Chinese investors will receive access to exactly the same treatment as foreign investors in pilot zones, as long as national security is not a concern," Council for Economic Planning and Development Minister Kuan Chung-ming (管中閔) said.
Kuan said the policy would mean that Chinese investors in pilot zones would not be subject to an ownership limit of 50 percent in the so-called seven major core technology-based industries.
Taiwan bans Chinese investors from holding more than a 50 percent stake in its metal cutting machine tools, LED technology, contract chipmaking services, semiconductor packaging and testing, semiconductor machinery and equipment, and solar battery and flat panel industries.
Asked whether Chinese investors may then participate in the industries in zones with no limits on equity holdings, the government did not give a specific answer.
Vice Minister of Economic Affairs Francis Liang (梁國新) said the ministry would review the national security implications of Chinese investment on a case-by-case basis.
It is "not a blank check" given to Chinese investors to invest in the industries, as investment by Chinese nationals would require the government's permission to avoid any negative impact on local industries, Liang said.
In the services sector, the plan proposes that restrictions on Chinese investors in pilot zones be relaxed and brought in line with WTO provisions in phases.
For example, Deputy Minister of Health Lin Tzou-yien (林奏延) said healthcare institutions in pilot zones are currently open to foreign investors, with the exception of Chinese investors.
According to the plan, the project would be implemented in two stages.
In the first stage, the Executive Yuan has designated the nation's six free-trade zones — Suao Port in Yilan County, Keelung Port in Keelung City, Taipei Port in New Taipei City (新北市), Taichung Port in Greater Taichung, Kaohsiung Port in Greater Kaohsiung and the Taoyuan Aerotropolis in Taoyuan County — as pilot zones, Vice Premier Mao Chi-kuo (毛治國) said.
After the legislature enacts a special law for the project's implementation, each and every local government would be entitled to apply to create a pilot zone, Mao said.
Kuan said the government had factored a number of things into its plan to attract investors, including Taiwan's skilled workforce, information, technology and communication industries, and its strategic location and relationship with China.
The project is aimed at attracting investors to use the pilot zones as bases to establish international logistics centers, to operate international medical services, to manufacture value-added agricultural products and to cooperate with local industries to promote industrial innovation and integration, Kuan said.
Within the zones, limitations on domestic investment would be relaxed and the rules concerning land acquisition, employment of skilled and white-collar workers, visa requirements and taxation would be adjusted, he said.
For example, foreign and Chinese professionals would not need to meet the country's two-year work experience requirement, foreign businesspeople would be allowed to enter Taiwan without a visa for a short stay and Chinese professionals would be granted multi-entry visas valid for three years, the plan showed.
Imports of agricultural and industrial materials for processing and manufacturing in pilot zones would be exempted from tariffs, business tax and commodity tax, it said.
The government did not unveil details of the whole package of investment incentives, with Kuan saying that revisions needed to be made.
In pilot zones, investors would be allowed to import 830 types of currently banned Chinese agricultural products, a policy severely criticized by the opposition as a breach of a pledge made by President Ma Ying-jeou (馬英九).
Council of Agriculture Minister Chen Bao-ji (陳保基) said that agricultural products for processing in pilot zones could come from all over the world, not just China.
To protect local farmers, investors in the agricultural processing business in pilot zones would not be allowed to sell semi-manufactured or manufactured food products on the Taiwanese market.
However, the ban is not applied to investors in other industries that use imports from China as industrial materials, Kuan said.
Currently, there are a total of 110 businesses in the country's six free-trade zones, with a total value of trade of NT$500 billion (US$16.7 billion).
The government expects the pilot project to increase the number of businesses in pilot zones to 200 and double the value of trade in two years, Kuan said.
Comments will be moderated. Keep comments relevant to the article. Remarks containing abusive and obscene language, personal attacks of any kind or promotion will be removed and the user banned. Final decision will be at the discretion of the Taipei Times.