Hau picks real-estate pro as his new deputy mayor
Taipei Mayor Hau Lung-bin (郝龍斌) yesterday named real-estate expert Chang Chin-oh (張金鶚) as the city's new deputy mayor, saying that Chang is well equipped to lead efforts to resolve the deadlock on the Wenlin Yuan (文林苑) urban renewal project in Shilin District (士林) and facilitate overall urban development.
Chang, 60, will on April 1 assume the post left vacant by Executive Yuan Secretary-General Chen Wei-zen (陳威仁) last month.
As a land economics professor at National Chengchi University and outspoken critic of the skyrocketing prices in the real-estate market, Chang also drew the attention of the pan-green camp, which enlisted him to help draft a white paper on housing policy for Democratic Progressive Party Chairman Su Tseng-chang (蘇貞昌) when Su ran for Taipei mayor in 2010.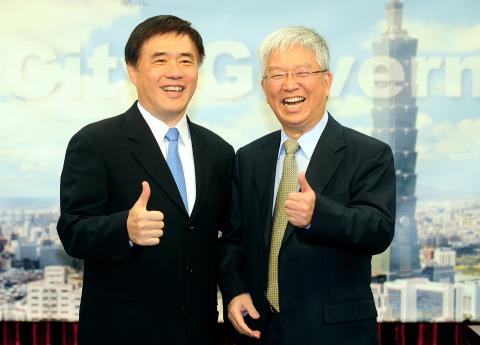 Taipei Mayor Hau Lung-bin, left, and incoming Taipei deputy mayor Chang Chin-oh attend a press conference in Taipei yesterday.
Photo: Lin Cheng-kung, Taipei Times
Chang yesterday promised to address the issue of housing prices and promote urban development.
"Taipei will not move forward if it does not continue to carry out urban development projects. However, the Wenlin Yuan case has sparked some concern about urban renewal, so my priority is to resolve these concerns and restart the city's urban renewal," he said.
The Wenlin Yuan project involves the demolition of decades-old apartment buildings to make way for a high-rise luxury apartment complex.
While the majority of the neighborhood's residents — 36 households — agreed to the project, one of the households, the Wang (王) family, which owned two townhouses, refused to give up their properties.
The city government forcefully tore down the houses in March last year, sparking an ongoing protest from the family and their supporters. No consensus has yet been reached between the developer, the Wang family and the residents of the 36 other households.
Chang served on the Taipei urban renewal advisory panel that last year studied urban renewal regulations and mechanisms in a failed attempt to resolve the standoff. Yesterday, he proposed solving the issue by providing a negotiation platform by mediated civic groups.
Hau yesterday expressed confidence that he and Chang would find a solution to the stalled project, adding that he would arrange meetings between the concerned parties within the next two weeks.
Hau also said he expected the new deputy mayor would be able to put his real-estate expertise to good use in pushing forward other public housing projects and urban renewal developments to provide residents with affordable housing, a priority of the Taipei City Government.
"The housing market in Taipei is overpriced and living in the city is becoming increasingly harder for younger residents. We hope that having Chang on board will help us tackle issues of housing justice and urban renewal," Hau said.
Although he promised to address the Wenlin Yuan project, Chang said he is not aiming to become known as the "Wenlin Yuan deputy mayor." He pledged to focus on a range of issues, such as the overpriced real-estate market, by setting up channels of dialogue to make house prices transparent to Taipei residents.
Comments will be moderated. Keep comments relevant to the article. Remarks containing abusive and obscene language, personal attacks of any kind or promotion will be removed and the user banned. Final decision will be at the discretion of the Taipei Times.