Resolve divided national identity: Lee Teng-hui
'MR DEMOCRACY': The former president said that Taiwan is still haunted by its divided identity, which both the public and a strong leader must work to resolve
Taiwan needs to resolve the issue of its divided national identity to become a full-fledged democracy, and that requires civic awareness and engagement from the public, as well as a humble national leader who is strongly committed to democracy, former president Lee Teng-hui (李登輝) said yesterday.
Lee made the remarks in a speech at a forum hosted by the Taiwan Foundation for Democracy, the first of a series of lectures to celebrate a 10th anniversary of the government-affiliated organization headed by Legislative Speaker Wang Jin-pyng (王金平).
Dubbed "Mr Democracy" by Newsweek magazine in 1996, Lee said he followed two paths to political reform when he served as vice president in the late 1980s under then-president Chiang Ching-kuo (蔣經國).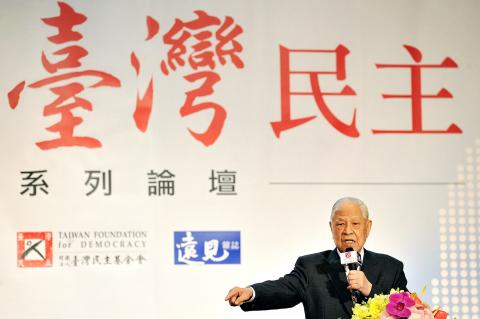 Former president Lee Teng-hui speaks at a forum on Taiwanese democracy organized by the Taiwan Foundation for Democracy in Taipei yesterday.
Photo: George Tsorng, Taipei Times
Lee said that Chiang said on two separate occasions that "I am Taiwanese" and that "the president of the Republic of China is not required to be a member of the Chiang family," which struck Lee as important because that was a marked departure from China's 5,000-year history of imperial rule.
"Though I did not say anything at the time, I was of exactly the same mind as [Chiang] and that put me on the course of political reform" during his 12-year presidency, Lee said.
As influential political scientist Samuel Huntington wrote regarding challenges to democratic consolidation in third-wave democracies, Taiwan was involved in the "dissolution and reconstruction of national identity," he said.
On the road to building a full-fledged democracy, the problem of a divided national identity that continues to haunt Taiwan needs to be resolved thoroughly, Lee said.
Lee said the idea of "new-era Taiwanese" that he put forward in 2005, when political infighting followed Taiwan's first handover of power in 2000 and China began to use a united front strategy to divide Taiwanese, aimed to boost national identification with Taiwan.
"There was no distinction between 'new' Taiwanese or 'old' Taiwanese. Regardless of ethnicity, all 23 million people in Taiwan are 'new-era Taiwanese,'" he said.
Many people in Taiwan who had considered themselves Chinese because that was how they were educated have now come to the realization that this was "a fictitious notion inconsistent with history and reality," Lee said.
"Over 400 years of Taiwan's history, Taiwan was ruled by [China's] Qing Dynasty, Japan, the Netherlands and Spain. If China's claim that Taiwan is part of its territory made sense, why couldn't the other regimes make the same claim? British people would never say that the US is part of the UK," he said.
Taiwan is a society of immigrants, and people in such a society have the right to establish their own government and country, Lee said.
Taiwanese need to develop civic awareness and exert their free will to break out of ethnic boxes, to get rid of the "fictitious notion" that they are Chinese and break away from imperial mindsets so that they can build up identification with Taiwan to ward off anti-democracy elements and Chinese authoritarianism, he said.
Lee said the future of democratic consolidation in Taiwan would also be closely related to whether the country has a capable leader.
Taiwan needs a leader who insists on defending Taiwanese, who has strong convictions about democracy and who is impartial and not concerned with the interests of any particular individual, party or minority, Lee said.
A national leader must also listen to the opinions of opponents and the needs of people with a humble and calm attitude to resolve problems in people's lives, Lee said.
"They don't resolve people's problems by engaging in political infighting every day," he said.
Comments will be moderated. Keep comments relevant to the article. Remarks containing abusive and obscene language, personal attacks of any kind or promotion will be removed and the user banned. Final decision will be at the discretion of the Taipei Times.