Protesters use exercise to make nuclear point
More than 1,000 people gathered in front of the Presidential Office early yesterday to perform a series of anti-nuclear morning exercises and unfurl a large anti-nuclear flag.
After Saturday's anti-nuclear march and events that continued through the night, the remaining crowd and some new participants did a set of "anti-nuclear exercises" facing the Presidential Office.
The movements in the exercises were named after slogans used at the rally such as "Go protest against nuclear power," "Everyone go against nuclear power," and "We want information made public."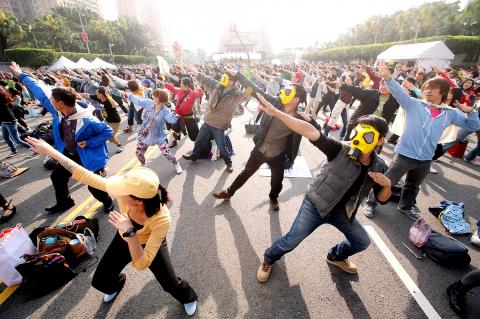 Protesters who spent the night on Ketagalan Boulevard following Saturday's demonstration calling for an end to nuclear power in Taiwan do exercises yesterday morning.
Photo: CNA
Nuclear-Free Homeland Alliance executive director Lee Cho-han (李卓翰) expressed disappointment with the government's response to Saturday's march.
"Don't underestimate the people's will to achieve a nuclear-free homeland and the abandonment of construction of the Fourth Nuclear Power Plant," Lee said. "If [the government] continues to use a politically calculated bird cage referendum to respond to demands for a nuclear phase out, then I believe the referendum result will have a big impact on the government."
A main feature of the event was the unfurling of a large anti-nuclear flag reading "NO NUKES, No more Fukushima" by more than a dozen people surrounded by hundreds more holding smaller flags.
Tsai Chung-yueh (蔡中岳) of Citizen of the Earth, Taiwan, said that the large number of participants at the weekend's events showed the people's will to stop nuclear power. Tsai said the events were only the first of many.
Before the crowd left they were invited to form the Chinese character for "person" (人), to express a slogan used during the march — "I am a human being, I am against nuclear power" — and to echo a flash-mob protest initiated by theater director Ko I-chen (柯一正) at the same location last year.
Comments will be moderated. Keep comments relevant to the article. Remarks containing abusive and obscene language, personal attacks of any kind or promotion will be removed and the user banned. Final decision will be at the discretion of the Taipei Times.