KMT wins Taichung by-election
CLOSE RACE: The DPP's Chen Shi-kai lost the by-election in Greater Taichung's second district to KMT candidate Yen Kuan-hen by a margin of only 1,138 votes
Chinese Nationalist Party (KMT) candidate Yen Kuan-hen (顏寬恆) won the legislative by-election in Greater Taichung's second district yesterday against his Democratic Progressive Party (DPP) counterpart Chen Shi-kai (陳世凱) by a small margin of less than 1,200 votes, managing to only just maintain the KMT's momentum amid low approval ratings for President Ma Ying-jeou's (馬英九) administration.
Yen received 66,457 votes in the by-election, while Chen received 65,319 votes, according to the Tai-chung City Election Commission.
The by-election was held to fill a post left vacant by Yen's father, former Non-Partisan Solidarity Union legislator Yen Ching-piao (顏清標), whose status was revoked after he was found guilty of corruption.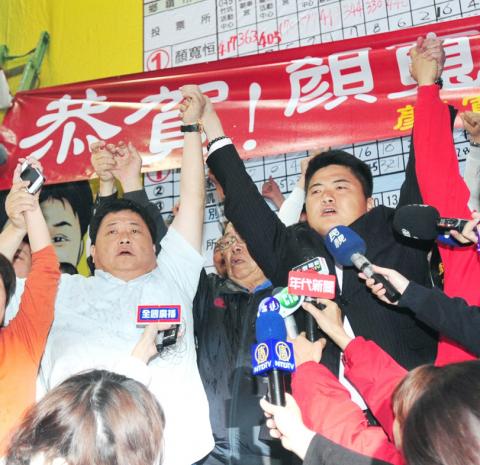 The Chinese Nationalist Party's (KMT) candidate Yen Kuan-hen, right, celebrates after winning the legislative by-election in Greater Taichung's second district yesterday. Yen won with a margin of 1,138 votes.
Photo: Liao Yau-tung, Taipei Times
Yen Kuan-hen's campaign office unfurled a red banner and declared victory at about 5:30pm, while the official vote count at the time suggested that Chen was leading the race by several hundred votes.
Amid deafening cheers from supporters and exploding firecrackers, Yen Kuan-hen and his father showed up at the campaign office shortly after the self-declared victory and thanked voters for their support.
"It was a neck-and-neck race, but we've won the final victory. This is a victory for all Taichung residents in the district. My family and I will work harder to strive for the rights of local residents and to promote local development," Yen Kuan-hen said.
The Democratic Progressive Party's candidate Chen Shih-kai, center, talks to the press after losing yesterday's legislative by-election in Greater Taichung's second district.
Photo: Yu Po-lin, Taipei Times
Yen Ching-piao, an influential politician in the electoral district with a deep political presence even after he was found guilty of corruption, said they had fought a tough battle against the DPP and promised that his son will be dedicated in developing Greater Taichung.
"Thanks to local supporters and our campaign team, we managed to win the by-election while the overall environment is in a bad shape. My son will work harder than me in the legislature and spare no effort to serve the people of Greater Taichung," he said.
Yen Kuan-hen's victory became decisive as the vote count in the districts of Shalu (沙鹿) and Longjing (龍井) — two of the Yen family's big support bases — showed that he was leading Chen.
Yen Ching-piao said the campaign office had planned to announce his son's victory earlier because it finished the vote count after collecting the results from each booth, but delayed the announcement and recounted the votes over and over again to confirm the result as local media outlets suggested that Chen was leading their camp by 500 votes.
KMT Secretary-General Tseng Yung-chuan (曾永權) yesterday said the by-election result showed that Taichung residents approved of Yen Ching-piao and Yen Kuan-hen's dedication to local development, and promised that the KMT and the government will strengthen their efforts to consolidate local support.
"The KMT will not be satisfied with the by-election result. We will be dedicated to local development and seek more support with with pragmatic acts," he said.
According to the Central Election Committee, Greater Taichung's second district, a traditional KMT stronghold, includes Shalu (沙鹿), Longjing (龍井), Wurih (烏日), Dadu (大肚), Wufeng (霧峰) and part of Dali (大里) and is home to about 275,086 voters.
 At about 7pm, Chen arrived at his campaign headquarters for his concession speech, in which he expressed appreciation for people's "fearless support" under strong political pressure from local communities and said that he respected people's choice despite losing the election.
 The 36-year-old said the DPP "had worked extremely hard in the shortest campaign in history against the massive resources the KMT and the Yen family hold" and would keep up his effort in working for people in Greater Taichung.
 The DPP campaign had a roller-coaster experience during yesterday's vote-counting process.
 Chen had taken a lead of about 500 votes less than 20 minutes into the ballot counting, which began at 4pm, and the margin increased to about 1,000 while supporters at the campaign headquarters looked upbeat about the outcome.
 As television broadcasts showed that Yen Kuan-hen's campaign surprisingly claimed victory at about 5:30pm and the vote count suddenly shifted in Yen Kuan-hen's favor, the joyful mood turned into silence, with supporters staring at the TV monitor in disbelief.
 The vote tally showed that Chen lost in the Yen family's stronghold of Shalu by more than 3,000 votes and in Longjing by 1,500 votes, and those margins were too large to overcome.
 The DPP had campaigned extremely hard in the relatively short 40-day campaign, with almost every party heavyweight visiting Greater Taichung every week to campaign for Chen and calling for voters to use the election as a vote of no confidence against Ma, who doubles as KMT chairman.
 The strategy appeared to have worked wonders as the DPP turned the election into a close race, after its legislative candidate Lee Shun-liang (李順涼) lost to Yen Ching-piao by almost 39,000 votes, or about 20 percent of the total votes, in the same constituency in January last year.
 "The DPP may have lost the election, but nevertheless proved that it was able to hold its own and compete with the KMT neck-and-neck in central Taiwan," DPP Tainan City Councilor Wang Ding-yu (王定宇) said.
 DPP spokesperson Lin Chun-hsien (林俊憲) admitted that the low turnout rate was worse than expected and the party had to figure out why voters did not come out to support the DPP, despite not being happy with Ma and the KMT's performance.
Comments will be moderated. Keep comments relevant to the article. Remarks containing abusive and obscene language, personal attacks of any kind or promotion will be removed and the user banned. Final decision will be at the discretion of the Taipei Times.