US rights advocate Cohen visits former president
Jerome Cohen, a law professor at New York University and human rights advocate, yesterday visited former president Chen Shui-bian (陳水扁) at a hospital in Taipei and was said to be planning to establish a committee to review Chen's human rights.
It was the first time Cohen had met Chen since the former president was imprisoned for corruption.
During a 60-minute conversation Chen was eloquent despite speaking weakly, Cohen, 82, told reporters outside the Taipei Veterans General Hospital yesterday morning.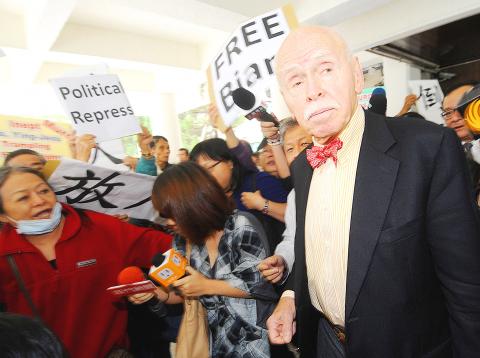 Law professor Jerome Cohen passes supporters of former president Chen Shui-bian after visiting Chen at the Taipei Veterans General Hospital yesterday.
Photo: Fang Pin-chao, Taipei Times
Dozens of Chen's supporters held placards bearing slogans such as "Save A-bian" and "Political persecution" while chanting "A-bian, not guilty" outside the hospital.
Asked for his opinion on medical parole for Chen, who is suffering from various health problems, including depression, Cohen said he intended to collect as much information on the case as possible before making an assessment.
Responding to a media inquiry about how Chen's case would be handled in the US, Cohen said there were three possible scenarios; granting medical parole, sending him back to prison or reaching a settlement and having Chen hospitalized for treatment — inside or outside of prison. He added that the decision on which hospital Chen stayed in would probably have to include consideration of where Chen's family lives so that it would be easier for them to visit.
Democratic Progressive Party (DPP) Legislator Gao Jyh-peng (高志鵬), who accompanied the professor on the visit, said Cohen was planning to establish a committee to make a complete review of Chen's human rights and is scheduled to visit Taiwan again in February.
The committee will conduct a comprehensive investigation before reaching a resolution early next year on whether it would appeal for Chen's human rights, Gao said.
Gao said that Cohen asked Chen in detail about his treatment in prison and hospital, such as the size of his cell, the numbers of permitted family visits, correspondence and a refusal to allow Chen to work in the prison factory.
Chen told Cohen, who played an integral role in securing Chinese dissident Chen Guangcheng's (陳光誠) release earlier this year: "It would be better to be ruled by the Chinese Communist Party [CCP] than by [President] Ma [Ying-jeou (馬英九)]" because no one could help him get out of prison, Gao said.
If Cohen, who was Ma's professor at Harvard University, and the committee decide to support Chen Shui-bian's human rights, "it will be up to Ma whether to respect his professor's cause," Gao said.
The former president's office expressed its gratitude for Cohen's visit and refuted Ma's comment that Chen Shui-bian had received "the best possible medical treatment" in a press release issued yesterday afternoon.
The office said that according to a Control Yuan report, Chen Shui-bian is suffering from four life-threatening complications, including severe depression, and requires further treatment. The former president should not be sent back to prison, the office said.
Cohen, who earlier met briefly with Ma, met with Minister of Justice Tseng Yung-fu (曾勇夫) in the afternoon.
Vice Minister of Justice Wu Chen-huan (吳陳鐶) told reporters after the meeting that Cohen did not offer his position on or suggestions about Chen Shui-bian's medical situation.
It is a "domestic issue," Wu cited Cohen as saying.
Cohen asked whether the former president's judicial cases were all closed and whether his and his family's assets had been confiscated, to which Tseng said that four court cases were still pending and that the assets could be confiscated only after final verdicts are given, Wu said.
Additional reporting by Rich Chang
Comments will be moderated. Keep comments relevant to the article. Remarks containing abusive and obscene language, personal attacks of any kind or promotion will be removed and the user banned. Final decision will be at the discretion of the Taipei Times.