Japan's LDP surges to power, eyes big majority
IN THE HOT SEAT: Shinzo Abe, who is expected to be Japan's next prime minister, has prioritized economic recovery and an end to deflation
Japan's conservative Liberal Democratic Party (LDP) surged back to power in an election yesterday just three years after a devastating defeat, giving former Japanese prime minister Shinzo Abe a chance to push his hawkish security agenda and radical economic recipe.
The LDP win will usher in a government committed to a tough stance in a territorial row with China, a pro-nuclear energy policy despite last year's Fukushima Dai-ichi disaster and a potentially risky prescription for hyper-easy monetary policy to beat deflation and tame a strong yen.
Exit polls showed the LDP winning nearly 300 seats in parliament's powerful 480-member lower house, while its ally, the small New Komeito Party, looked set to win about 30 seats.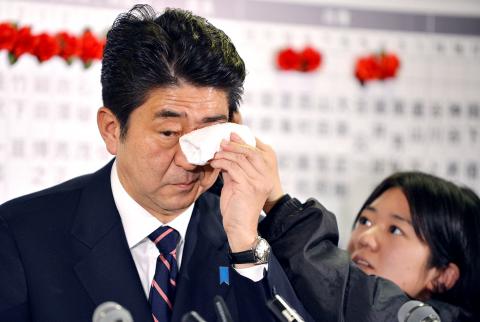 Liberal Democratic Party (LDP) leader and former Prime Minister Shinzo Abe wipes his face at the party's headquarters yesterday in Tokyo, Japan. The LDP won an overall majority in general election.
Photo: EPA
That would give the two parties the two-thirds majority needed to overrule parliament's upper house, where they lack a majority and which can block bills, which would help to break a policy deadlock that has plagued the world's third-biggest economy since 2007.
"What's first and foremost is to achieve an economic recovery and pull Japan out of deflation," Abe, expected to be confirmed on Dec. 26 as the next prime minister, said on live television.
Analysts said that while markets had already pushed the yen lower and share prices higher in anticipation of the LDP's decisive victory, stocks could rise further and the yen weaken if the "super majority" was confirmed.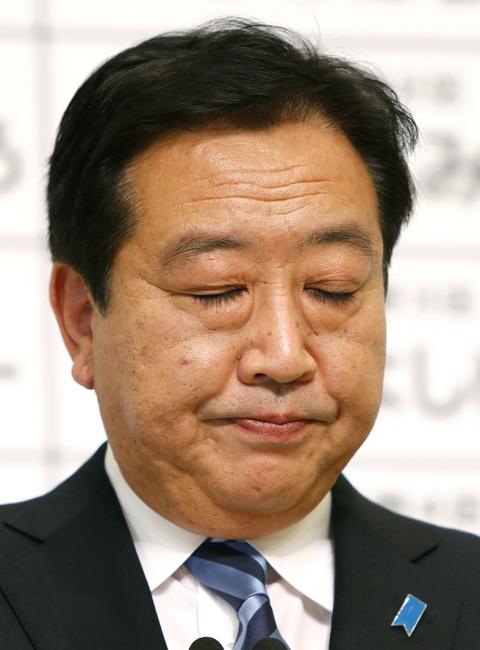 Japan's Prime Minister Yoshihiko Noda, who is also the leader of the Democratic Party of Japan (DPJ), attends a news conference at his party's election headquarters in Tokyo yesterday. Japan's conservative Liberal Democratic Party (LDP) surged back to power in an election.
Photo: Reuters
Top LDP and New Komeito executives confirmed that they would form a coalition.
"The basis of course is a coalition between the LDP and the New Komeito, but if there's room to cooperate with Japan Restoration Party, we need to do so," LDP Secretary-General Shigeru Ishiba said, referring to a new right-leaning party that was set to pick up about 46 seats.
Exit polls showed Japanese Prime Minister Yoshihiko Noda's Democratic Party of Japan (DPJ) winning only 65 seats, slightly more than one-fifth of its tally in 2009.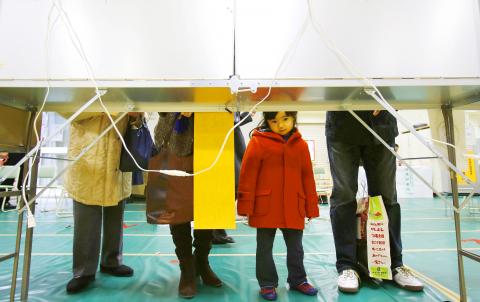 Haruka Tobe waits for her parents to fill out their ballots for Japan's general election at a polling station in Tokyo yesterday.
Photo: Reuters
The DPJ, which swept to power in 2009 promising to pay more heed to consumers than companies and reduce bureaucrats' control over policymaking, was hit by defections just before the vote.
Party executive Kohei Otsuka told NHK that Noda would likely have to quit the party leadership over the defeat, in which several party heavyweights lost their seats.
Many voters had said the DPJ failed to meet its election pledges as it struggled to govern and cope with last year's huge earthquake, tsunami and nuclear disaster, and then pushed through an unpopular sales tax increase with the LDP's help.
Voter distaste for both major parties has spawned a clutch of new parties, including the Japan Restoration Party founded by popular Osaka Mayor Toru Hashimoto. A dozen parties fielded candidates, confusing many voters.
LDP leader Abe, 58, has been talking tough in a row with China over uninhabited isles in the East China Sea, although some experts say he may temper his hardline stance with pragmatism once in office.
Comments will be moderated. Keep comments relevant to the article. Remarks containing abusive and obscene language, personal attacks of any kind or promotion will be removed and the user banned. Final decision will be at the discretion of the Taipei Times.