Cross-strait currency clearing deal progresses further
Central bank Governor Perng Fai-nan (彭淮南) yesterday said the currency clearing agreement between Taiwan and China may take effect before the Lunar New Year, which falls in February next year.
Meanwhile, the Financial Supervisory Commission is to send an official letter to local banks today or tomorrow that would allow them to do onshore business in yuan, a commission official said by telephone yesterday.
Perng made the remark after the People's Bank of China on Tuesday appointed the Taipei branch of Bank of China Ltd (中國銀行) as its clearing bank for yuan trading in Taiwan, a critical step in pushing forward the memorandum of understanding for cross-strait currency settlement signed on Aug. 31.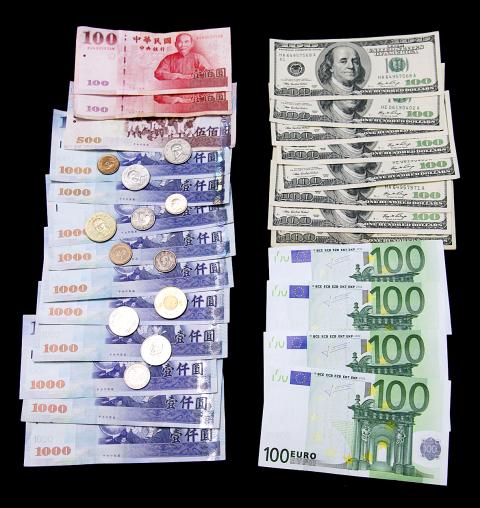 This photo shows Taiwan money (L) placed side by side with Us dollars and Euro. On Tuesday, China's central bank People's Bank of China appointed Bank of China's Taiwan branch to serve as the bank for currency settlement with Taiwan, starting the currency clearing mechanisim across the Taiwan Strait.
Photo: EPA
Earlier in September, the Chinese central bank appointed the Bank of Taiwan's (台灣銀行) branch in Shanghai as the New Taiwan dollar clearing bank in China.
At a meeting of the Finance Committee at the legislature yesterday, Perng said he met officials from the Taipei branch of Bank of China late on Tuesday. He said he hoped the Chinese bank would accelerate follow-up procedures for the yuan settlement.
"The next step now is for clearing banks on both sides to sign a currency settlement agreement," Perng said in a question-and-answer session at the committee.
It may take about a month for such an agreement to take effect, Perng said, adding that he expects domestic banking units in Taiwan to officially launch onshore yuan trading by the Lunar New Year.
However, both sides still need further discussion to determine the quota of yuan Taiwanese banks can process on a daily basis, Perng said, in response to Chinese Nationalist Party (KMT) Legislator Alex Fai's (費鴻泰) request that the Taiwanese central bank should strive to attain at least the same quota of yuan trading as Hong Kong.
"From our perspective, the higher the quota, the better," Perng said.
Currently, the maximum daily quota for yuan deposits in Hong Kong is 20,000 yuan (US$3,180), with remittances on a daily basis restricted no more than 80,000 yuan.
Perng said the central bank would watch future interest rates of yuan deposits in Taiwan to make sure the rates are not significantly different than rates for the NT dollar deposits to maintain a "normal status" in the local banking sector.
Meanwhile, the central bank maintained a relatively optimistic outlook on the global economy, Perng said, adding that many international and domestic economic institutes have forecast more than 3 percent GDP growth for Taiwan next year.
As for the recent net inflows from foreign investors, Perng said he had seen some sovereign wealth funds enter Taiwan and invest in the securities market.
Net inflows of foreign investment have reached US$1.4 billion since Dec. 1, compared with last month's US$1.26 billion in net inflows, Perng added.
Comments will be moderated. Keep comments relevant to the article. Remarks containing abusive and obscene language, personal attacks of any kind or promotion will be removed and the user banned. Final decision will be at the discretion of the Taipei Times.