Chinese music awards performances in Taipei approved
An inter-agency meeting gave the go-ahead yesterday for a controversial China-based music event to be held in Taiwan, although it will be limited to performances only, with no award ceremony permitted, according to the National Immigration Agency (NIA).
After a third round of deliberations by officials from 26 government agencies, the event co-organizer, the Taipei Artist Agency Association, was told to revise the name and the content of the program, the NIA said.
In addition, the Chinese Music Chart Awards (中國歌曲排行榜), originally planned to take place in Taiwan to mark its 20th anniversary, must avoid all language related to "the 20th anniversary" and can only promote the Taipei event as a concert.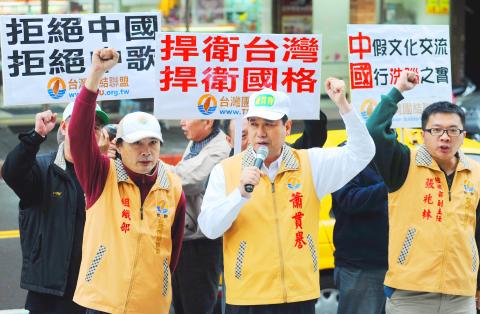 Members of the Taiwan Solidarity Union protest outside the National Immigration Agency in Taipei yesterday against the holding of a Chinese pop chart show in Taipei, which they say would degrade the nation's sovereignty.
Photo: Wang Yi-sung, Taipei Times
At least one Taiwanese must be employed as a host of the event that is scheduled to take place at the Taipei Arena on Dec. 29. The introduction of the geographic areas included in the production will have to be based on the legal terms used by Taiwan — the Taiwan Area, the Mainland Area, Hong Kong and Macau, the NIA said.
The NIA, the Ministry of Culture and the Mainland Affairs Council are to send staff to the rehearsals and to the event itself to make sure that no regulations are violated.
Organizers of the Chinese Music Chart Awards, a famous Mandarin pop music awards in China, announced in Beijing on Nov. 30 that the 2012 award presentation ceremony would be held in Taipei to mark the chart's 20th anniversary.
The announcement drew the ire of opposition parties, which said that if the event were to take place in Taipei, it would be a denigration of the Republic of China's sovereign status because the 16 categories of the awards are divided into two groups — China and Hong Kong/Taiwan.
Meanwhile, the Taiwan Solidarity Union protested outside the NIA yesterday.
TSU official Hsiao Kuan-yu (蕭貫譽) said that a green light should not be granted under any circumstances and demanded that the NIA reject the application.
Comments will be moderated. Keep comments relevant to the article. Remarks containing abusive and obscene language, personal attacks of any kind or promotion will be removed and the user banned. Final decision will be at the discretion of the Taipei Times.