Countries pick sides in Palestine's bid to upgrade UN status
More European states joined France yesterday in backing a Palestinian bid for limited statehood, but Britain held back, saying it wanted an assurance that the Palestinians would not pursue Israel through the International Criminal Court.
Germany said it was opposing the diplomatic upgrade for the Palestinians, joining Israel and the US, which say the only genuine route to statehood is via a direct peace agreement with Israel.
Semi-statehood could allow Palestinian territories to access the court and other international bodies.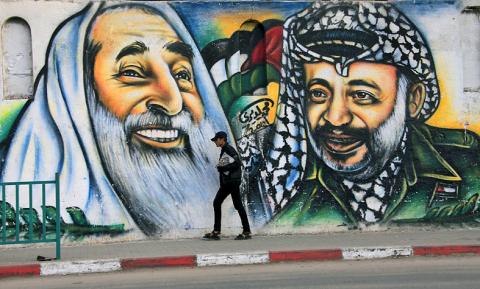 A Palestinian walks in front of a mural showing late Hamas leader Sheikh Ahmad Yassin (L) and late Palestinian leader Yasser Arafat (R), in a street of Gaza City, Gaza Strip, 27 November 2012.
Photo: EPA/Mohammed Saber
Palestinian President Mahmoud Abbas is leading the campaign and several European governments are eager to give him their support after an eight-day conflict this month between Israel and Islamists in the Gaza Strip, who are pledged to Israel's destruction.
With overwhelming support from the developing world, the Palestinians appear certain to earn approval in the 193-member UN General Assembly for a status upgrade to "observer state" today.
Sapin, Norway, Switzerland, Denmark and Austria said they would vote for the upgrade, while France gave its approval on Tuesday.
In Ramallah in the West Bank, senior Palestine Liberation Organization official Hanan Ashrawi said the positive responses from other European states were encouraging and sent a message of hope to all Palestinians.
Two-thirds of UN member nations have already recognized the state of Palestine.
Those leaning in the direction of backing today's bid include Russia, who supported Palestinian membership to UNESCO. The Russian Ministry of Foreign Affairs said it "believes that the Palestinians have the right for such a move."
The Netherlands has not announced its position yet, but is expected to vote no or abstain.
Outside of Europe, Palestine is to be backed by India, while the Chinese Ministry of Foreign Affairs reaffirmed its support for Palestine's aspirations during a meeting on Friday last week with a Palestinian envoy, and Australia has said it will abstain from the vote.
Comments will be moderated. Keep comments relevant to the article. Remarks containing abusive and obscene language, personal attacks of any kind or promotion will be removed and the user banned. Final decision will be at the discretion of the Taipei Times.