Next Media buyout inked, awaits regulator approval
MEDIA MERGED: Opponents of the deal say they will continue lobbying regulatory agencies to review the acquisition, as the Cabinet repeated that it could not intervene
The Next Media Group (壹傳媒集團), controlled by Hong Kong mogul Jimmy Lai (黎智英), agreed to sell its Taiwanese print and television businesses to two consortia for NT$17.5 billion (US$600 million), spokesman Mark Simon said.
Next Media will sell its Taiwanese print assets to four investors: Want Want China Times Group (旺旺中時集團) president Tsai Shao-chung (蔡紹中), Formosa Plastics Group (FPG, 台塑集團) chairman William Wong (王文淵), Chinatrust Charity Foundation (中信慈善基金會) chairman Jeffrey Koo Jr (辜仲諒) and Lung Yen Life Service Corp (龍巖集團) chairman David Lee (李世聰), Simon said.
Lai, known for criticizing the Chinese government, is exiting most of his Taiwanese businesses after battling regulators for licenses and distribution rights.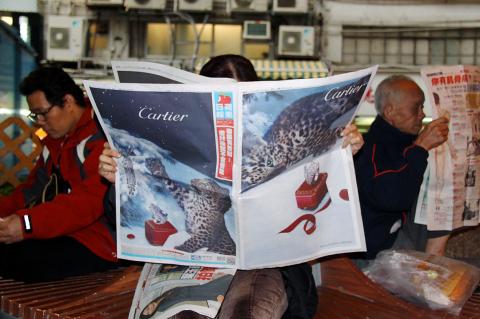 A person reads the Hong Kong version of Apple Daily in Hong Kong yesterday.
Photo: CNA
The investment by Tsai Shao-chung, the son of Want Want China Holdings chairman Tsai Eng-meng (蔡衍明), may raise regulatory concerns as Lai's Apple Daily and Tsai Shao-chung's China Times will have a combined newspaper market share exceeding 45 percent, National Chung Cheng University's Kuang Chung-hsiang (管中祥) said.
"The deal may have to obtain approval from the Fair Trade Commission," Kuang, an assistant professor of communications, said before the announcement. "The overhang is there."
Taiwan Fire & Marine Insurance Co (台灣產物保險) chairman Steve Lee (李泰宏) replaces Tsai Shao-Chung in the group buying the TV assets, Simon said. The pacts were signed at about 11:50pm on Tuesday in Macau, he added.
Apple Daily Taiwan reported the agreements earlier yesterday, which Simon confirmed.
Wong will obtain 34 percent of the shares of the group's print media in Taiwan — the Apple Daily, Next Magazine and the Sharp Daily — followed by Tsai Shao-chung at 32 percent, Koo at 20 percent and Lee Shih-tsung with 14 percent.
Shares of Next TV will be held respectively by Wong with 34 percent, Steve Lee at 32 percent, Koo Jr at 20 percent and Lee Shih-tsung with 14 percent.
In filings with the Taiwan Stock Exchange yesterday, FPG's listed companies said the investments attributed to Wong would be made "indirectly" through "an affiliated company."
The filings did not elaborate on the nature of the indirect investment or the name of the affiliate.
Next Media, which suffered two consecutive annual losses due in part to its TV and multimedia units in Taiwan, on Nov. 12 said it would post a substantial loss for the six months ended on September.
Many are concerned that the deal could jeopardize media independence because the Tsais' China Times Group controls newspapers and TV channels.
The younger Tsai is also a director of Asia Television Ltd (亞洲電視有限公司) and serves on the Straits Exchange Foundation.
His father was granted conditional approval in July to buy some of cable TV operator China Network Systems Co's (中嘉網路) channels for US$2.4 billion after regulators asked for guarantees of independence from Chinese interests.
Various student bodies, civic organizations and legislators say that the acquisition, if approved by regulators, risks increasing Chinese influence over Taiwanese media. Hundreds of young Taiwanese, accompanied by professors and members of the public, protested in front of the Executive Yuan on Monday and Tuesday, requesting to meet Premier Sean Chen (陳冲) and asking that the government carefully scrutinize the deal.
Unions representing Next Media employees in Taiwan have issued a statement asking the new ownership to respect their journalistic freedom and not intervene in editorial decisions — accusations that have often been leveled at Tsai Eng-meng.
FPG officials said the company will respect Next Media's editorial independence.
The Executive Yuan says it has full confidence in the ability of the Financial Supervisory Commission, the Fair Trade Commission and the National Communications Commission to monitor the deal, adding that it would be improper for a government in democracy to intervene in a private sector deal.
Chen repeated the government's position of non-interference in the case yesterday.
The government agencies tasked with screening media mergers and acquisitions will act pursuant to its authority to review the case in accordance with law, he said.
Chen said the Investment Commission at the Ministry of Economic Affairs would also look into the sources of funding.
Under the Measures Governing Investment Permits to the People of the Mainland Area (大陸地區人民來台投資許可辦法), media is included in the list of sectors in which Chinese investors are not permitted to invest.
Student groups are planning a two-pronged protest today beginning at 9:30am outside the Fair Trade Commission as it convenes to evaluate the deal. The groups will then move outside the legislature to repeat their demands.
Democratic Progressive Party (DPP) Chairman Su Tseng-chang (蘇貞昌) yesterday reiterated his party's opposition to the deal, saying the buyout would place media autonomy and freedom of speech in jeopardy.
Su condemned President Ma Ying-jeou's (馬英九) silence on the controversial case and his Chinese Nationalist Party (KMT) caucus' blocking of every legislative proposal urging government agencies to strictly review and monitor the deal, adding that the increasing Chinese influence on Taiwan's media was a serious concern.
"Right after martial law was lifted, we were concerned about corporations becoming another Garrison Command and capital becoming their weapon, which was why we have been very cautious over this issue [media being controlled by large corporations]," former premier Frank Hsieh (謝長廷) said yesterday.
"Two decades later, our deepest fear has come true. It will take more than students to protest against media monopoly, all of society must join," he said.
The Apple Daily and Next Magazine are banned in China because of their critical stance on Beijing and human rights in the country. Lai started the Taiwanese version of Next Magazine in 2001, followed by the Apple Daily, known for celebrity gossip and graphic depictions of violent crimes.
Additional reporting by J. Michael Cole, Shih Hsiu-chuan and CNA
Comments will be moderated. Keep comments relevant to the article. Remarks containing abusive and obscene language, personal attacks of any kind or promotion will be removed and the user banned. Final decision will be at the discretion of the Taipei Times.